Commentary
World Series photo gallery
Originally Published:
November 5, 2009
By
DJ Gallo
| Page 2
While pictures speak for themselves, that's not good enough for Page 2.
So here are 27 photos to honor the Yankees' 27th World Series victory.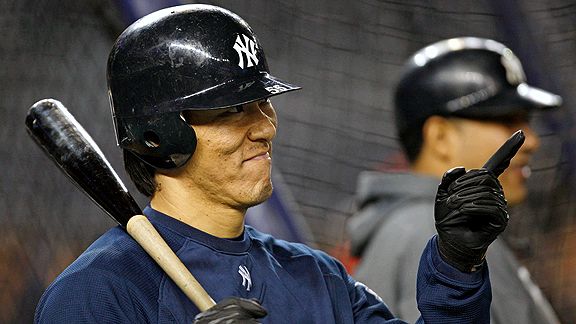 Jared Wickerham/Getty ImagesAfter seeing Pedro Martinez warm up in the bullpen, Hideki Matsui shows where he will deposit his home run.
• "Hey, I thought this was a party. What, no hors d'oeuvres? Chips and dip? Anything?"
• "Dude, your ear looks weirder right now than Posada's."
• "Please let me have the strength to defeat them and/or beat up any of their older coaches."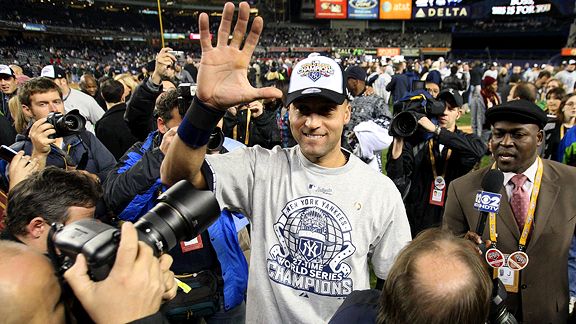 Jed Jacobsohn/Getty ImagesDerek Jeter shows how many championships he's won. Or maybe he's telling the guys how many his hot tub seats.
• "I called for a fastball. You threw a changeup." "That was my fastball." "Oh. Crap."
• "Whoa. I can't believe he almost slid into my hoof."
• "I mean, you're hitting like a pitcher. What do you think about giving it a try on the mound?"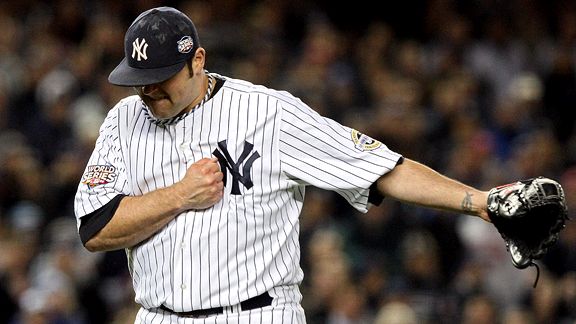 Jed Jacobsohn/Getty ImagesJoba Chamberlain traps a midge on his chest as he takes the mound.
• "Actually, this is how I was going to pitch Game 7. You know, just to give the Phillies a chance."
• "Who taught you how to high-five? Tiger Woods?"
• "Who are you and what have you done with the real Hideki Matsui?"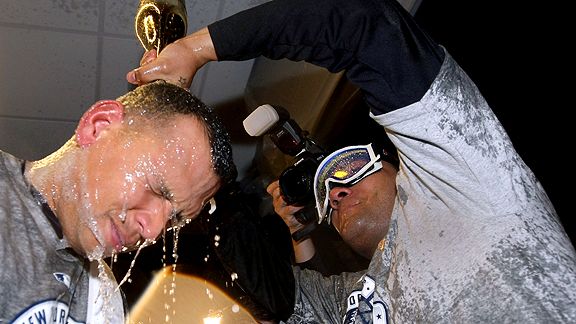 Nick Laham/Getty ImagesCentauRod gets a deserving champagne wash of his mane.
• "That Hideki Matsui is kind of a looker. You know what they say about guys with big earlobes … "
• "The power of Tex compels you! The power of Tex compels you!"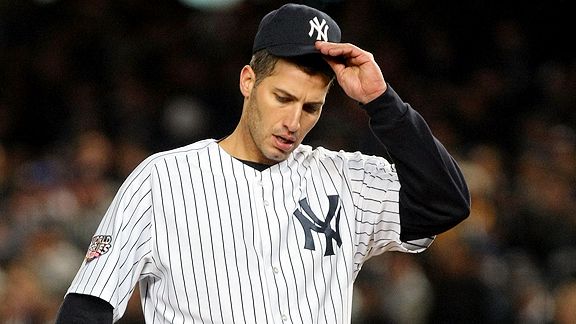 Nick Laham/Getty ImagesAndy Pettitte doffs his cap to show the crowd that his head has never noticeably changed size.
• "I'm just saying … I walk all the way up on this hill and I'm still the shortest. It sucks."
• "My, God, Girardi. A breath mint now and then would be nice."
• "Whoa … that Lambeau Leap thing looked way easier on TV."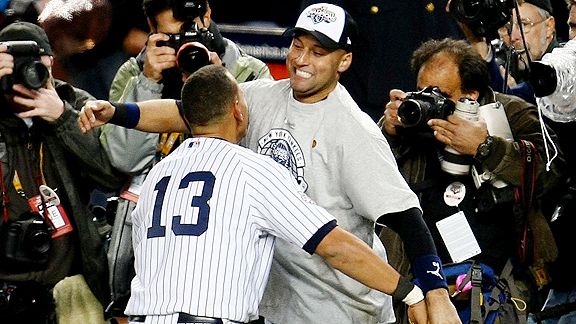 Chris McGrath/Getty ImagesDerek Jeter accepts A-Rod's invitation to have a sleepover again, just like old times.
• "You did an amazing job for us, Brett Gardner. Congratulations."
• "An interview? Now? But I don't have my face on."
• "Yes! Ryan Howard is up soon!"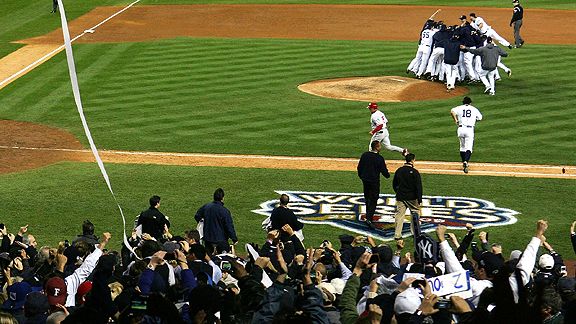 Al Bello/Getty ImagesStrips of toilet paper used by mob-linked contractors to build the facade of Yankee Stadium fall off as the Yankees record the final out.
• "See, wiping my nose is just one of the many intangibles you provide to a team."
• "Newspapers still exist! Awesome."
DJ Gallo is the founder of and sole writer for the sports satire site SportsPickle.com. He also is a regular contributor to ESPN The Magazine and has written for The Onion and Cracked. His first book, "SportsPickle Presents: The View from the Upper Deck," is on sale now.