Commentary
DJ Gallo's NFL Hangover, Week 10
Originally Published:
November 16, 2009
By
DJ Gallo
| Page 2
Oh, Bill Belichick. What were you thinking? Going for it on fourth-and-2 from your own 28?
Andy Reid thinks you burned your timeouts too early. Jim Zorn understands now why some head coaches have no authority to make any decisions of any kind. Tom Cable thinks someone should punch you. Dick Jauron is excited to no longer be the worst coach in his division. And Rich Kotite wishes he could get back in the NFL to coach against you.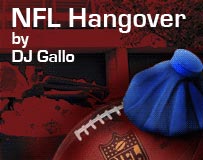 I … I … I don't even know what to say. Worst coaching decision ever? It's at least up there among the worst in NFL history.
The evil emperor has no hoodie.
This is like if in "Star Wars," Darth Vader said: "Luke, I'm … Rick Moranis from 'Spaceballs.'"
This is like the grade school bully getting stuck in his own locker.
This is like the greatest coach of our generation having his titles forever tainted in the eyes of the public by a stupid cheating scandal. Well, maybe that's a poor example. (Or perfect example? Not sure.)
Anyway, you know what this calls for? The first-ever "Yo coach …" jokes.
Yo coach is so stupid … he went for it on fourth-and-2 from his own 28 when he was up six points with two minutes left in the game.
Yo coach is so stupid … his coaching tree contains Eric Mangini, Romeo Crennel and Charlie Weis.
Yo coach is so stupid … he drafted Laurence Maroney in the first round.
Yo coach is so stupid … he is incapable of showing the normal range of human emotion.
Yo coach is so stupid … he once lost only one game all season … and it was the Super Bowl.
Yo coach is so stupid … he lost in the Super Bowl to Eli Manning.
Yo coach is so stupid … he had to illegally film other teams to get an advantage.
Yo coach is so stupid … he had to cheat to beat the Rams.
Yo coach is so stupid … he just lost his division to the Dolphins.
Yo coach is so stupid … he almost lost a Super Bowl to Jake Delhomme.
Yo coach is so stupid … he almost lost a Super Bowl to Andy Reid.
Yo coach is so stupid … even the Cleveland Browns didn't want him.
Horrible Fantasy Team That Crushed Your Team
Jake Delhomme, QB, Panthers: 15-for-24, 195 yards, 2 TDs
Justin Forsett, RB, Seahawks: 149 total yards, 1 TD
Jamaal Charles, RB, Chiefs: 117 total yards, 1 TD
Donnie Avery, WR, Rams: 4 catches, 67 yards, 2 TDs
Roy Williams, WR, Cowboys: 5 catches, 105 yards, 1 TD
Will Heller, TE, Lions: 4 catches, 33 yards, 1 TD
Stat of the Week
3-for-31 -- The Chiefs and Raiders combined to go 3-for-31 on third downs Sunday. However, in their defense, neither team was ever forced to punt after first or second down.
Quotes of the Week
"They're clearly the best team in our division."
-- Ryan Clark, S, Steelers, on the Cincinnati Bengals
"You're not going to blow everyone out. It's a lot harder to blow teams out when for a lot of teams, this is like their playoff game."
-- Randall Gay, CB, Saints, on New Orleans just slipping by St. Louis
The Cincinnati Bengals are the best team in the AFC North. Opponents are playing the New Orleans Saints like it's their Super Bowl. USC is giving up 55 points at home to Stanford. Michelle Wie is winning golf tournaments. And Bill Belichick has his name forever attached to one of the worst coaching decisions in NFL history.
What is going on? I don't know if Nostradamus followed sports, but you might want to tell your family that you love them. The end is nigh.
Pictures of the Week
"If only this offense was as potent as Stanford's."
"No way. You wore that Peyton Manning jersey. Get away from me."
"I'm just sayin' -- we may look foolish, but your coaching decisions are making you look much worse."
"Don't cry. My mascara will run."
"Hey, now that the game is over, is it OK if I lay a hand on you?"
"Dude, you should come out with me. I know this place where it's kickers' night."
"These aren't working! What I'm seeing looks nothing like the Bengals!"
"Hold on. I think I might actually have a good play this once."
"Wait … does this thing have a pompom on it?"
"Oh, brain. Another bad one for us today."
"I really admire all the aesthetic improvements they made to the old facade here at Lambeau. Maybe I could get an appointment with their guy."
"Dear God, please let me play for the Bengals again. I don't know what I was thinking."
"It's such an honor to be his commercial stunt double."
"Who said I had to button my shirt in a conservative manner? Rawwwrrrrr."
"I haven't gotten advice this bad since that fashion photographer told me to cuddle with that goat."
"Now look, D, I have absolutely zero faith in you. So you just sit back and relax and let me work my genius, OK?"
"I wonder what Coach Belichick would do in this situation. Because I'm sure it wouldn't be incredibly stupid."
DJ Gallo is the founder of and sole writer for the sports satire site SportsPickle.com. He also is a regular contributor to ESPN The Magazine and has written for The Onion and Cracked. His first book, "SportsPickle Presents: The View from the Upper Deck," is on sale now.