Commentary
Tiger's tips to the president
Originally Published:
December 3, 2009
By
DJ Gallo
| Page 2
The January issue of Golf Digest features a Photoshopped image of Tiger Woods caddying for President Obama with the headline: "10 Tips Obama Can Take from Tiger." Yes, really. And, yes, the issue obviously closed before the recent … unpleasantness.
What might those 10 tips be? Here's a guess.
[+] Enlarge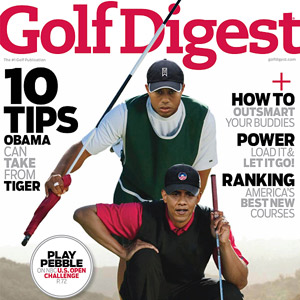 Golf DigestHere's the January issue of Golf Digest.
10 Tips Obama Can Take From Tiger
1. Cherish your chauffeur -- Not all rich and powerful men have someone whose job it is to drive them around. You are lucky. You don't know how hard it is sometimes to make it out of your own development unscathed. Trust me on this.
2. Pick an intimidating shirt/tie color -- On Sundays I wear red. It shows that I mean business. You need to do the same when you're trying to push through a piece of legislation. Have you considered a Congressional Red or Senatorial Black? How about a Veto Green?
3. Don't let anyone record your conversations -- From Nixon to … well, someone I know very well … recorded conversations have been the downfall of many.
4. Focus on the majors -- That's where your legacy will be decided. The State of the Union addresses, re-elections, military actions, the economy. Win those and you'll be remembered as one of the greats. It's great to win the John Deere Classics of the political season, like tort reform, but most people only care about the big ones.
5. A strong wingman is integral -- My caddie, Stevie, makes sure no one screws with me. Your chief of staff, Rahm, does the same for you. Give him 10 percent of your winnings or whatever it's called that you non-golfers make.
6. Release a video game -- Video games are played by old and young alike. And they're a great way to sell yourself. Think about it: "EA Politics' President Obama White House '11." Sounds boring? So does golf.
7. Get a cool nickname -- No disrespect, sir, but "Barack" is not nearly as cool as "Tiger." President Ace Obama sounds much cooler. Or maybe President Maverick Obama. Yeah, that's the one.
8. Don't speak out on any issues -- You are a brand. People don't want to hear your political opinions. By speaking out, you limit your marketability. Remember: You will be president for only four to eight years. Whereas you have a lifetime to cash in on your name.
9. Ignore the tabloids -- I have been dismayed to realize what the full extent of tabloid scrutiny really means. On one of my 2:25 a.m. trips to the grocery store, I've seen some pretty awful things about you on tabloids.
10. I don't have a tenth -- I always come in under par.
DJ Gallo is the founder of and sole writer for the sports satire site SportsPickle.com. He also is a regular contributor to ESPN The Magazine and has written for The Onion and Cracked. His first book, "SportsPickle Presents: The View from the Upper Deck," is on sale now.