Commentary
DJ Gallo's NFL Hangover, Week 16
Originally Published:
December 28, 2009
By
DJ Gallo
| Page 2
There's a week left in the NFL season and the playoff picture still isn't clear. In the NFC, all the teams are set, but none are seeded. While in the AFC, seven teams are at 8-7 and battling for two wild-card spots. Those two spots will be determined by tiebreakers. (If only the NFL had an ingenious system like the BCS!)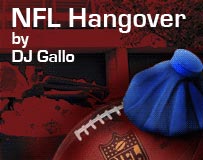 Let's see which teams have the best hope.
Baltimore Ravens: Week 17 at Oakland Raiders
Hope: High. Win and they're in. And their opponent, the 5-10 Raiders, is not a top team. But don't forget the Raiders have beaten the Philadelphia Eagles, Cincinnati Bengals, Pittsburgh Steelers and Denver Broncos this season. This team does well in the spoiler role. This franchise knows spoilage.
New York Jets: Week 17 home vs. Bengals
Hope: Medium. Win and they're in. But they have to close out Giants Stadium by playing the 10-5 Bengals. Also, they're the Jets. Rex Ryan, however, was shown the way on Sunday in Indianapolis. He needs to do as the Colts did and bench his quarterback. It would be for different reasons, of course: health for a Super Bowl run in Peyton Manning's case versus not wanting Mark Sanchez to make 11 turnovers in a do-or-die game. But still.
Denver Broncos: Week 17 home vs. Kansas City Chiefs
Hope: Medium. The Broncos can get in with a win versus the lowly Chiefs and a loss by either the Ravens or Jets. So the Broncos need help. As they have shown for two months now.
Houston Texans: Week 17 home vs. New England Patriots
Hope: Low. They need to upset the Patriots and have two of the above teams lose. All that is not likely to happen. And is it worth it anyway? With a win the Texans would move to 9-7, blowing their streak of 8-8 seasons. Those 8-8's on top of each other look like a thick chain running through the Texans' record book. Pretty cool. Why mess that up?
Pittsburgh Steelers: Week 17 at Miami Dolphins
Hope: Low. To make the playoffs the defending champs have to beat the 8-7 Dolphins and then have several of the above teams lose. That's a problem. The bigger problem, of course, is that the Steelers unleashed hell too late. Obviously, Mike Tomlin made a classic young coach mistake: Ordering hell from some cut-rate outfit, and it was delivered long after they promised -- just days before Christmas on the last play against the Green Bay Packers. Now Pittsburgh's best shot might be to unleash swine flu at the practice facilities of the Ravens, Jets, Broncos, Texans and Dolphins.
Miami Dolphins: Week 17 home vs. Steelers
Hope: Low. The Dolphins are coming off back-to-back losses, and need an upset win and tons of help. There is only one solution: Blast Jimmy Buffet and Gloria Estefan music Noriega-style outside the stadium of the teams standing in their way until they agree to forfeit. I know I would fold under that auditory torture.
Jacksonville Jaguars: Week 17 at Cleveland Browns
Hope: Low. Yeah, you're not going to make the playoffs, Jaguars. But at least you'll move up in the draft now to reach for Tim Tebow. Hey, maybe you can get Urban Meyer, too! That fan-friendly combo might allow you to remove as many as two upper-deck tarps!
Horrible Fantasy Team That Crushed Your Team
Matt Moore, QB, Panthers: 15-for-20, 171 yards, 3 TDs
Darren Sproles, RB, Chargers: 61 yards, 3 TDs
Brandon Jackson, RB, Packers: 39 yards, 3 TDs
Jabar Gaffney, WR, Broncos: 7 catches, 69 yards, 2 TDs
Jacoby Jones, WR, Texans: 2 catches, 79 yards, TD
Chris Baker, TE, Patriots: 2 catches, 32 yards, TD
Wow. Tough to lose to those guys in your league championship. What's amazing is that this team made it to the championship game. Your league must really stink.
Stat of the Week
1,000: Terrell Owens became the sixth receiver in NFL history to reach 1,000 career receptions. Just think how impressive that is, considering he's never played with a good quarterback.
Quote of the Week
"I'd be careful analyzing my facial expressions. I was not surprised by what happened. I knew it was potentially part of the plan. ... I was told before the game to be flexible."
-- Peyton Manning
We should be careful analyzing Peyton Manning's facial expressions? Peyton Manning? The guy who's every emotion on the field shows up on his face? The guy who, if he plays poker, not only weeps openly about a bad hand, but probably writes "I have a 2 and a 7 unsuited" on his forehead in marker?
But maybe he's right. What's to analyze? With facial expressions that obvious, there's really no need for analysis.
Pictures of the Week
• "And what did you get for Christmas, little guy?"
• "Maybe next week we just do a 'D' with one of those little fence things. Less annoying for the people in our row that way."
• "This must be what it feels like for twins when they're about to be born."
• "Same here. As long as the paychecks keep showing up, I will, too."
• "Hey, coach, I refuse to come out of the game. No, I'm kidding. I'm not that guy."
• "And also have these bearded guys stop staring at us like that."
• "Walked right by me. Am I really that much of a nobody in this league?"
• "Ouch! My hand! Can they call penalties against coaches?"
• "Who dat think they every going to get a date? Who dat?"
• "Great game. And I really admire your headwear."
• "We should have used this emergency exit earlier."
• "Chin up, buddy. Remember that no matter what you do, you'll always be highly regarded because of your last name."
• "Supergirl cannot watch. Must see if there are any super things in my super purse to change this outcome."
• "Does anyone have a marker so I can add: 'This game excluded'?"
• "Let me just take a private moment here to ... ah, come on!"
• "You realize I could have you fired tomorrow, right?"
• "Keep this up and you'll never get backstage at a Kenny Chesney concert."
• "I don't think he saw our sign, boys. Or maybe he hates children."
DJ Gallo is the founder of and sole writer for the sports satire site SportsPickle.com. He also is a regular contributor to ESPN The Magazine and has written for The Onion and Cracked. His first book, "SportsPickle Presents: The View from the Upper Deck," is on sale now.