Commentary
A reason to watch every bowl game
Originally Published:
December 30, 2009
By
DJ Gallo
| Page 2
At the start of every new year, millions of people make resolutions. Lose weight, get in shape, spend more time with family -- that sort of thing.
But right at the start of every year is a slew of bowl games calling us to sit on the coach for days at a time and pretty much crushing all of our resolutions in their infancy.
That's why I try to base all of my New Year's resolutions on all the bowl games themselves. It's a flawless plan. Take a look.
PAGE 2 PODCAST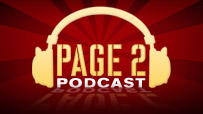 It's time for the Page 2 Podcast, where you'll learn:
• Quien Es Mas Macho?
• Who gets the Page 2 Game Ball
• Who should Stay Classy
• Who made the Final Countdown
Click here to listen up!

• Subscribe to the Page 2 Podcast through iTunes or the RSS feed reader of your choice for automatic updates as soon as the latest show is posted.
SATURDAY, JAN. 2
International Bowl: South Florida vs. Northern Illinois -- noon ET on ESPN2
New Year's resolution: Exert my authority.
My candidate for college football quote of the year? USF head coach Jim Leavitt's: "Before you say anything, just know that I am the most powerful man in this building." And what building might that be? This one. The USF athletics building. That means Leavitt was saying he was more powerful than men's basketball coach Stan Heath, baseball coach Lelo Prado, and men's golf coach Jim Fee. I don't know about women's soccer coach Denise Schilte-Brown. She may be more powerful. Leavitt only specified he was the most powerful man in the building, not the most powerful person. Still, that is the kind of statement you need to make in the new year to show how big you are.
PapaJohns.com Bowl: South Carolina vs. UConn -- 2 p.m. ET on ESPN
New Year's resolution: Be more positive.
Steve Spurrier: "We're fired up to be here. We're probably a lot like [UConn]. We have a bunch of young guys who are looking forward to trying to improve this month and trying to play our very best." Yeah. That's the way to approach a bowl game between two 7-5 teams. Look at the bright side. I bet Spurrier heard there might be free pizza.
AT&T Cotton Bowl: No. 19 Oklahoma State vs. Mississippi -- 2 p.m. ET on FOX
New Year's resolution: Associate myself with good people.
Oklahoma State opened the season ranked in the top 10. Then Dez Bryant got in trouble for hanging out with Deion Sanders and the Cowboys' season went down in smoke. Now they're in the Cotton Bowl instead of a BCS bowl. What's the difference between a BCS bowl and a non-BCS bowl? I'll let Deion explain.
AutoZone Liberty Bowl: Arkansas vs. East Carolina -- 5:30 p.m. ET on ESPN
New Year's resolution: Be more patriotic.
It might be easy to ignore a game between a 7-5 SEC team and a 9-4 C-USA team, but that would mean you hate America. To paraphrase the great Patrick Henry: Give me the AutoZone Liberty Bowl or give me death.
Valero Alamo Bowl: Michigan State vs. Texas Tech -- 9 p.m. ET on ESPN
New Year's resolution: Be Flexible.
Texas Tech's players have to take the field and perform as though nothing has happened. Their interim head coach? Defensive coordinator Ruffin McNeal. Fun Fact: Ruffin McNeal was the original name for this character.
MONDAY, JAN. 4
Tostitos Fiesta Bowl: No. 6 Boise State vs. No. 4 TCU -- 8 p.m. ET on FOX
New Year's resolution: Achieve my goals no matter the obstacles.
It's a BCS bowl game between two undefeated teams! The winner is therefore the national champion. Let's all agree on this. Sure, the BCS people say it's the winner of the other BCS game between undefeated teams. But I think they have shown that they can't be trusted.
TUESDAY, JAN. 5
FedEx Orange Bowl: No. 10 Iowa vs. No. 9 Georgia Tech -- 8 p.m. ET on FOX
New Year's resolution: Take time to celebrate accomplishments.
This BCS bowl features teams from two universally mocked football conferences: the Big Ten and ACC. But one conference will get to tout a win in a BCS bowl game after this is over. Well, probably. Is it possible for a bowl game to end in a tie? I need to look into that. At the very least, the NCAA should allow a bowl game between the Big Ten and ACC to not have a winner.
WEDNESDAY, JAN. 6
GMAC Bowl: Central Michigan vs. Troy -- 7 p.m. ET on ESPN
New Year's resolution: Cherish the little things in life
We will have just run through four BCS bowls in five days. The BCS title game is the next day. It would be easy to overlook this game. But that was the old you. And, what, you're not going to watch the one bowl game that you sponsored?
THURSDAY, JAN. 7
Citi BCS National Championship Game: No. 2 Texas vs. No. 1 Alabama -- 8 p.m. ET on ABC
New Year's resolution: Remember that change isn't always good.
The majority of college football fans want a playoff. But do we really? Have you carefully thought this through? Think about it, the holiday season is busy enough already? Do you really have time for night after night of meaningful and exciting college football games? It's a lot easier to go shopping or spend time with family when the Pets.com Lead Bowl presented by Joe's Discount Carpet Emporium is the only thing on TV. Please continue to save us from ourselves, BCS. Please continue to give us ... this.
DJ Gallo is the founder of and sole writer for the sports satire site SportsPickle.com. He also is a regular contributor to ESPN The Magazine and has written for The Onion and Cracked. His first book, "SportsPickle Presents: The View from the Upper Deck," is on sale now.