Commentary
Super Bowl XLIV: Where are they now?
Originally Published:
February 8, 2010
By
DJ Gallo
| Page 2
The New Orleans Saints are Super Bowl champions. It was a storybook ending to a storybook season.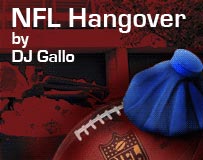 The stuff of Hollywood. A movie.
But what happened to all the characters in "Super Bowl XLIV: The Movie" after it ended? Here's your postscript.
Jeremy Shockey: Shockey used his winning catch in the Super Bowl as the inspiration for a tattoo on his bare left arm. The tattoo depicts him pointing and laughing at Tiki Barber.
Reggie Bush: Bush married his girlfriend, Kim Kardashian. They live in the same house he had in college. After a few more years in the NFL, he left football, and now is employed as a famous person.
Tracy Porter: Porter continued to intercept heroic quarterbacks at the end of big games. He picked off Tom Brady at the end of Super Bowl XLV, Tony Romo at the end of the 2011 NFC Championship Game and Tim Tebow's only NFL pass. The football media eventually put a hit out on him.
PAGE 2 PODCAST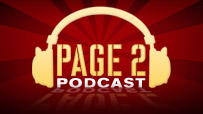 It's time for Monday's Page 2 Podcast with your hosts Mike Philbrick and DJ Gallo. Have a listen and you'll learn why:
• The robots are more macho than the winners.
• Lamar Odom stole a game ball from Reggie Bush.
• Peyton Manning forgot to be mean.
• The NBA is having a two-thirds off sale.
Click here to listen up!

• Subscribe to the Page 2 Podcast through iTunes or the RSS feed reader of your choice for automatic updates as soon as the latest show is posted.
Tim Tebow: After his Super Bowl XLIV commercial aired, Tebow continued his career as a commercial actor and football player. Proving doubters wrong, he ended his career with only one fewer Super Bowl title than quarterbacking legend Peyton Manning.
Peyton Manning: Manning worked with his father, Archie, to push for an NFL rule change that would require Rex Grossman to be the opposing quarterback in any Super Bowl that Manning reached.
Pierre Garçon: Despite a big drop in the Big Game, Garçon went on to a legendary career in the NFL. He was inducted into Canton in 2024 and a year later saw the cedilla added to U.S. keyboards.
Jim Caldwell: Caldwell was sent back to its manufacturer for new software to enable risky calls. Caldwell 2.0 ran smoothly at first but was destroyed after bugs appeared and it called for an onside kick in the 2010 AFC Championship Game when the Colts had a second-and-goal from the 2.
Tony Dungy: Dungy vowed never to say anything interesting again. He succeeded.
Garrett Hartley: For his flawless Super Bowl performance, Hartley became a hero to small, weak children. Kids around the country went to the barber and demanded a "Hartley" to look like their hero and because the high levels of hair gel hold up to swirlies.
Matt Stover: Stover returned for one more season with the Colts and did not miss any kicks in 2010 because he never attempted one longer than his age.
Sean Payton: Payton was offered a $100 million contract from his former employer, the Dallas Cowboys. He responded "Geaux #%&* yourselves."
Reggie Wayne: Wayne's role in Peyton Manning's loss-clinching interception left him angry and bitter. He began hanging out with former teammate Marvin Harrison.
Dwight Freeney: After his ankle let him down in the second half of the Super Bowl, Freeney broke up with it. Today they share visitation rights with his foot.
Charles Barkley: Barkley ate the Taco Bell diet girl.
Curtis Painter: Painter lost his job in the NFL. He was last seen wearing an ironic "Without me, you would have been 18-1" T-shirt.
Drew Brees: Brees became an NFL star and earned the respect of the football media, who now regard him as the second-greatest quarterback in Saints history behind Archie Manning.
Mark Brunell: Brunell retired on top as a Super Bowl-champion quarterback.
Archie Manning: Manning consoled his son, Peyton, in the postgame locker room. He then jumped on a flight to New Orleans with his son Cooper to party it up.
Eli Manning: A disappointed Eli Manning locked himself in his room and didn't come out for three days until he ran out of animal crackers.
The Who: All the members of The Who sadly passed away soon after their Super Bowl XLIV performance. However, the NFL still booked them for several halftime shows after that, and critics said the deceased performances were "just as rockin' as their Super Bowl XLIV show."
Tom Benson: The Saints' 83-year-old owner was booked for the Super Bowl XLV halftime show.
Roll credits.
DJ Gallo is the founder of and sole writer for the sports satire site SportsPickle.com. He also is a regular contributor to ESPN The Magazine and has written for The Onion and Cracked. His first book, "SportsPickle Presents: The View from the Upper Deck," is on sale now.