Commentary
The debut of Offseason Pigskinpalooza
Originally Published:
February 18, 2010
By
DJ Gallo
| Page 2
September through December gives us week after week of college football and the Varsity Tailgate. September through February gives us week after week of NFL football and the NFL Hangover.
[+] Enlarge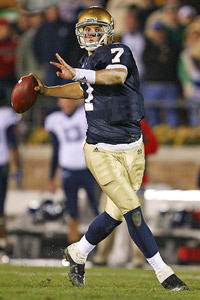 Jonathan Daniel/Getty ImagesShould Clausen do something with his hair before the combine?
But the months from February through August are a bleak, football-less landscape. (Unless you like watching hours upon hours of the NFL combine, in which case you have a problem and should seek some help. Seriously.) But that doesn't mean things aren't happening off the field. So it's time for a weekly offseason NFL/college football column written by yours truly. Presenting: the Varsity Tailgate/NFL Hangover Offseason Top 20. Catchy name, eh? (Maybe we'll shorten it a bit.)
1. Notre Dame quarterback Jimmy Clausen is still recovering from surgery on a tendon in his right toe, and he will miss out on drills at the NFL combine next week in Indianapolis. So, according to this report, he'll have to "impress teams with his head, not his arm." He's doomed.
2. The Raiders and Sebastian Janikowski have agreed to a four-year, $16 million deal -- the richest in NFL history for a kicker. Remember that when they signed JaMarcus Russell, it was the richest rookie contract in NFL history. So know this: Al Davis is a chubby chaser.
3. Jets quarterback Mark Sanchez is having surgery this week to repair the patella tendon in his left knee. He's expected to be healthy by the start of training camp in July -- although it could be difficult to recover with drunken Jets fans yelling "R-E-S-T! Rest! Rest! Rest!" outside his apartment at all hours.
4. Cowboys linebacker DeMarcus Ware is also scheduled for surgery this week, to shave down a bone spur. Nice. Got to keep those bone spurs trimmed up. Ware said he didn't get the procedure done until now because he wanted to wait until after the Pro Bowl. Really. He said that. Next up? Brain surgery.
5. Texas A&M head coach Mike Sherman has hired three assistant coaches: Dat Nguyen (inside linebackers), Nick Toth (outside linebackers) and Steve Kragthorpe (wide receivers/the opposite of what he did at Louisville).
6. Nebraska head coach Bo Pelini has received a one-year extension through 2014, and a pay raise to a $2.1 million annual base. Let's hope he has enough money now to afford a new wardrobe and coat of paint.
7. The fallout continues at Central Florida regarding major recruiting violations, committed when staffers contacted recruits via non-permissible phone calls and text messages. Head coach George O'Leary said the "violations that took place are extremely disappointing." But O'Leary will work through this. No doubt he suffered many disappointing defeats when he played at New Hampshire, and perhaps he even majored in disappointment studies at NYU-Stony Brook.
[+] Enlarge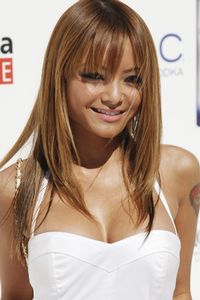 AP Photo/Dan SteinbergA golden opportunity to post a picture of Tila Tequila.
8. Shawne Merriman and Tila Tequila have settled their lawsuits against each other. Yay! Terms of the settlement have not been disclosed, but Merriman's attorney said the dispute was resolved "amicably." Great. And I'll bet the entire amount of the settlement that neither Tequila nor Merriman knows what "amicably" means. "What did you say?! Amicably? Who's that? The girl you've been cheating on me with?"
9. I'll just quote from this Chris Mortensen story: "The NFL Players Association is charging the NFL Management Council with short-changing low-revenue clubs on the amount of money that has been distributed from the supplemental revenue pool, according to the union's filing Tuesday with the Special Master." I have no idea what any of that means. But here's a rough guess at who this "Special Master" is.
10. When is the NFL draft, you ask? There is a countdown clock on ESPN.com's NFL page. Really. Stare at it for 10 seconds and I promise you'll feel motivated to go out and accomplish something in your life.
11. I hope you didn't just eat lunch.
12. The 49ers reportedly will franchise Aubrayo Franklin. Of course they will. Because when you think San Francisco 49ers, you think Montana, Rice, Aubrayo Franklin.
13. Drew Brees led a Carnival parade in New Orleans on Sunday night and dressed as Bacchus. Bacchus, according to Greek mythology, is … well, I don't know who he is. And I don't care. If someone who makes as much money as Oprah doesn't have to do research, neither do I.
14. The Bears on Monday fired Bobby DePaul, their senior director of pro personnel for the past nine seasons. DePaul was the architect of the Jay Cutler deal. So … yeah. Or I guess you could say he was the guy who brought in Kyle Orton. Or Rex Grossman. Either way, he's no longer employed.
[+] Enlarge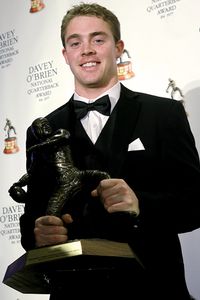 AP Photo/Jeffery WashingtonColt McCoy, picking up some hardware.
15. Speaking Monday night at the Davey O'Brien award banquet, Colt McCoy said his younger brother Case -- the youngest of three McCoy brothers -- made a "perfect decision" by choosing to follow in his footsteps and play quarterback at Texas. Wait … there are three McCoy brothers? Two I've heard of: Colt and Case. I'm going to guess the third one is named Cooper McCoy.
16. The NCAA has announced its intention to inflict tougher penalties on taunting, and also to prevent players with concussions from returning to action. Easy. You taunt, you receive a blow to the head. And if you try to play with a concussion, you are mercilessly taunted. No need to send this to the rules panel. It's incredibly simple.
17. Washington's only political action committee dedicated to instituting a college football playoff last year raised … wait for it … $5,974. Ugh. That's barely enough to cover paper and toner costs at your office for printing out tournament brackets.
18. Former NFL defensive back Darrell Green said he ran a 4.43 40 on his 50th birthday. Impressive … if perhaps unbelievable. Maybe Green can one day best Pat Robertson's 2,000-pound leg press record.
19. The former Lions coach who went through a Wendy's drive-thru naked said he doesn't remember it. What? How can you not remember something like that? This should be Wendy's new advertising campaign: "Wendy's: So good you'll forget you're going through our drive-thru naked."
20. And in case you didn't lose your lunch earlier, here's a vomit opportunity for the road. See you next week!
DJ Gallo is the founder of and sole writer for the sports satire site SportsPickle.com. He also is a regular contributor to ESPN The Magazine and has written for The Onion and Cracked. His first book, "SportsPickle Presents: The View from the Upper Deck," is on sale now.