Commentary
DJ Gallo's Offseason Pigskinpalooza!
Originally Published:
February 25, 2010
By
DJ Gallo
| Page 2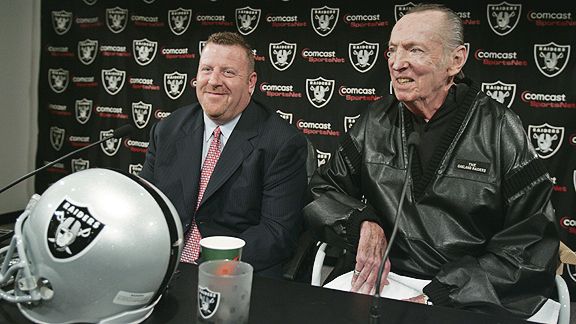 AP Photo/Paul SakumaTom Cable escaped penalty from the NFL for off-the-field issues, but he still has to work for Al Davis.
It's NFL combine week -- when college and professional football meet in a sweaty, shirtless ritual full of ridiculous projections and inane analysis. So pretty much what the Offseason Pigskinpalooza provides every week.
1. David Brandon takes over as Michigan's athletic director on March 8. Brandon's last job was CEO of Domino's. Perhaps his first task at Michigan will be to create a series of ads admitting that Michigan sports have been disgusting over the past few years. Mmmmm … Appalachian State tastes like cardboard crust.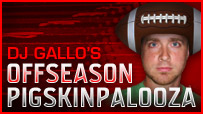 2. Philadelphia Eagles coach Andy Reid said Brian Westbrook "had no weaknesses" after cutting him. Past tense: "had." And he said it after cutting Westbrook. Reid even struggles to get off compliments in the allotted time.
3. The Seattle Seahawks have placed their franchise tag on kicker Olindo Mare. Really. And the Pittsburgh Steelers have placed their franchise tag on kicker Jeff Reed. Really. Reed probably would have preferred a Johnny Walker red label.
4. Ole Miss is seeking a new mascot. Colonel Reb was booted off the field in 2003. Last year, the school stopped playing its fight song because of the line "The South will rise again" in just the latest attempt by the university to separate from Old South images that began with a ban on waving Confederate flags at sporting events in 1997. So … Shamus the Shamed anyone? It's a fine name for a mascot, and Ole Miss can have a cheer like Penn State at its games: "We Are … Sor-ry!"
5. The NFL reportedly will not punish Oakland Raiders coach Tom Cable over various incidents he has been involved with in the past year. Because, really, what else can be done to a man who already coaches the Oakland Raiders? A death sentence, maybe? But Cable already works with the Grim Reaper. Death doesn't scare him.
6. Colt McCoy reportedly won't throw at the NFL combine and instead will wait to throw at the Texas pro day on March 31. So this means McCoy, Tim Tebow and Jimmy Clausen are not throwing at the combine. Sam Bradford isn't even attending the combine. How are NFL scouts supposed to evaluate these guys? From three to four years of game tape? Impossible!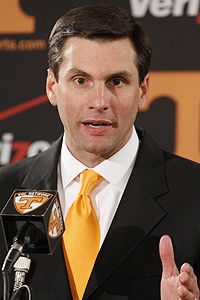 AP Photo/Lisa Norman-HudsonSurely, Derek Dooley's success will be commensurate with his salary.
7. New Tennessee coach Derek Dooley will make $1.8 million in the first season of his six-year contract. This is a significant raise over his contract at Louisiana Tech, where he went 17-20 over three years and obviously didn't make enough money to be successful.
8. New England Patriots owner Robert Kraft bristled at Randy Moss' assertions that the team won't pay him. "Do you know how much he has made over the last two years? Over $20 million, so I don't think we don't pay for quality, and I think you can see that." Then, to lighten the mood, Kraft signed longtime Patriots receiver Troy Brown and then promptly cut him.
9. Texas athletic director DeLoss Dodds said Texas is not going to the Big Ten and that he is happy with the Big 12. "People around the country kind of pick on [the Big 12] because we don't have 'tradition.' I don't think we need that. I think we're pretty darn good. You don't have to be 100 years old to be good." Whoa, whoa. Cheap shot. "You have to be old to be good" is the unofficial slogan of both the Big Ten and cougars everywhere. I, for one, won't stand by and let DeLoss Dodds take shots at cougars.
10. The Oakland Raiders and San Francisco 49ers playing in the same home stadium? I don't know if that's really the right solution. That's a lot of suffering for one venue to take. Instead of using one stadium, why not just merge the franchises into one semi-competitive Bay Area team? Alex Smith and JaMarcus Russell -- two No. 1 overall draft picks at one position! How will the San Franoakland Raidy9ers ever decide on who to start?
11. The NFL wants to test for HGH. The NFL Players Association does not. I wonder who will win this debate. I'd bet a $50 million NFL player contract (worth only $7 million after the player is cut after two years) on the union losing this one.
12. Chad Ochocinco is a featured in singer Monica's new video. He plays Monica's husband, Chad Ochocinco-Monica. It's probably the best appearance by a Bengals receiver in a music video since Cris Collinsworth.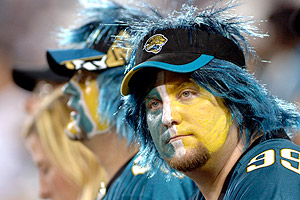 Al Messerschmidt/Getty ImagesHave no fear. If the NFL leaves Jacksonville,
the NBA will likely zoom in to fill the vacuum.
13.Developer Ed Roski thinks Los Angeles will have an NFL team by 2011. The Jacksonville Jaguars are a possible candidate to move West. But do not fear, Jacksonville sports fans. You may lose your NFL team, but considering you regularly hit 50 percent capacity attendance, most any NBA team would happily relocate to your fair town.
14. The Cincinnati Bengals and Dallas Cowboys will play Aug. 8 at the Hall of Fame Game in Canton, Ohio. It will be a special week for Bengals fans, as one of their best head coaches, Dick LeBeau, will be inducted into the Pro Football Hall of Fame.
15. Wes Welker is reportedly "doing very well" in his recovery from knee surgery, but won't be ready for the start of the 2010 season. So, if we put that in our Patriots injury translator … Wes Welker is dying, yet should be 100 percent for mini-camp.
16. Joe Paterno's glasses went for $9,000 in a charity auction. Two Penn State grads purchased them. I was afraid they would be bought by a madman who lives atop a volcano, who would then harness the power of the sun by refracting rays through the lenses and zap all the major cities of the world. So that's a relief.
17. I'm still not sure what Pitt linebacker Elijah Fields -- now ex-Pitt linebacker Elijah Fields -- was thinking when he posted this picture on Twitter. See down at the bottom-right? See it? That's a $5 bill. Lame. If you're going to end your college football career, make sure it's for big bills only.
18. If you're not doing anything Wednesday night, and you're in Los Angeles, feel free to drop by. I hear the Mass wine will be served through a funnel.
19. While we are all excited for the NFL combine, don't forget that Tim Tebow doesn't unveil his new throwing motion -- Tebow 2.0 -- until March 17 at Florida's pro day. All eyes will be on him. Partly because every other Florida player scheduled to attend will have been arrested by then.
20. Brett Favre is going to be on the fourth night of Jay Leno's return to "The Tonight Show." Ugh. Do not want. Somewhere, in a far superior alternate universe, Conan O'Brien is hosting "The Tonight Show" and interviewing Tracy Porter. And I have a huge smile on my face.
DJ Gallo is the founder of and sole writer for the sports satire site SportsPickle.com. He also is a regular contributor to ESPN The Magazine and has written for The Onion and Cracked. His first book, "SportsPickle Presents: The View from the Upper Deck," is on sale now.