Commentary
DJ Gallo's Offseason Pigskinpalooza!
Originally Published:
March 4, 2010
By
DJ Gallo
| Page 2
Spring practices have begun on college campuses, and the NFL free agents can begin signing tomorrow. What a perfect time for another edition of the Offseason Pigskinpalooza.
1. Cut that neck! Cut that neck! Cut that neck! Peyton Manning had surgery Monday on a pinched nerve in his neck. The procedure reportedly went well. Which is impressive because Manning has had only a few weeks since the Super Bowl to study film on neck surgery. The man has a laser-rocket arm, a steady hand and high pain tolerance.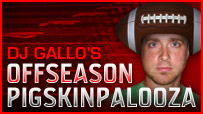 2. Tim Tebow wowed scouts at the NFL combine with a 38.5-inch vertical leap. He also ran the 3-cone shuttle drill in 6.66 seconds. So, to me, at least, that means his vertical leap is less impressive. It's a lot easier to get up when you can use your devil spear like a pole vault.
3. Clemson receiver Jacoby Ford ran a blazing 4.28 40 at the combine. But scouts stress that he is not a good route runner and has inconsistent hands. On the plus side, he's not possibly the anti-Christ.
4. Greg Paulus will appear at Syracuse's pro day today in hopes of getting a shot in the NFL. Paulus struggled at quarterback this past season, so any chance he has in the NFL likely will be as some sort of specialist. Maybe he can be an offensive lineman who specializes in drawing offsides.
5. Georgia Tech quarterback Jaybo Shaw has decided to transfer to Georgia Southern. Shaw will still have two years of eligibility left at Georgia Southern, then it's off to being a character in every stereotypical book about the South.
6. Alabama is scheduled to be honored by President Barack Obama on Monday on the South Lawn. And, yes, Nick Saban is scheduled to attend. If you'll recall, in 2006 Saban turned down the opportunity to have dinner with President George W. Bush because he didn't want to leave Miami Dolphins training camp. He stressed his decision was not political: "I feel like my first responsibility is our team," he said at the time. Exactly. Who could have doubted Nick Saban's dedication to the Miami Dolphins?
7. Players at Division II Texas A&M-Commerce stole copies of The East Texan newspaper because of a front-page article about the players being arrested on drug charges. And, if the pattern holds, when the upcoming edition of The East Texan comes out and reports on the thefts, the Texas A&M-Commerce players likely will use it for rolling papers.
8. Texas A&M-Commerce coach Guy Morriss said in the incident report: "I'm proud of my players for doing that. This is the best team building exercise we have ever done." Really, Guy? Your team obviously needs to do more team-building exercises. You were 5-5 this past season. Have you considered football team practice?
9. With the NFL draft set for three days this year, the league reportedly is considering inviting possible second-round picks to attend the second night's broadcast, which will include the second and third rounds. What this means is the NFL is considering having Tim Tebow in the building Friday night to boost ratings. But what if Tebow doesn't get picked? It will be humiliating. And what's he supposed to do with himself while he's sitting there. Tebow gets very circumcisey when he's bored.
10. Back to the combine for a moment, Maryland offensive tackle Bruce Campbell ran a 4.78 40, the fastest ever for an offensive lineman. Let's see … a Maryland player … with a fast 40 time … sounds like Darrius Heyward-Bey again. Campbell is all but guaranteed to be drafted by the Raiders and converted into a wide receiver. Oh, what -- don't think even the Raiders would make a lineman into a receiver? Well then explain why they have a lineman playing quarterback.
11. The Jets have assigned a first-round and third-round tender to restricted free agent Braylon Edwards. Although I presume that officially, they assigned him a "tender" with sarcastic quote marks in light of his hands.
12. Back to the Raiders: They decided to place first- and third-round tenders on cornerback Stanford Routt. This move could backfire because: (A) Routt isn't all that good; and (B) all this talk of tenders is going to send JaMarcus Russell on a Burger King binge.
13. Six-time Pro Bowler Chris Samuels is retiring from the Redskins on Thursday. NFL free agency opens on Friday. Uncapped. Dan Snyder would like to announce that the first person who shows up to FedEx Field on Friday at 12:01 a.m. and has proof of having played football at some level will receive a $100 million guaranteed contract. Yes! Madden counts!
14. Check out this video of the Penn State football team dancing at THON 2010, the university's charity for pediatric cancer: Pretty impressive. You give Joe Paterno some LASIK, slap a No. 17 jersey on him and that dude can really Lindy Hop!
15. If you think I'm not linking that picture again, you are wrong.
16. Speaking of dancing, as I'm sure you've heard, Chad Ochocinco will appear on the upcoming season of "Dancing with the Stars." Then, once the show is over, it's back to Cincinnati to film another season of "Oz." He's quite the entertainer.
17. Tennessee safety Eric Berry might have had the best performance at the NFL combine, wowing scouts in every drill. Good for him. The kid needed some good news because I assume he's despised back in Tennessee these days for leaving the school early for his dream job.
18. A safety who didn't do quite as well is USC's Taylor Mays. Well, he ran a 4.32 40, which is great. But scouts feel he is unusually slow running in reverse, which is obviously important for a defensive back. Never fear, Taylor, there is an easy fix for that. At USC's pro day, just wear your clothes backward.
19. This is a football column. So I usually can't speak too much about centaurs. That's reserved for the baseball writers who cover Alex Rodriguez. However, I do have some centaur-related news to share. You know the guy who sits backward on a horse in those Old Spice commercials? The guy in those commercials was a receiver on Arizona State's 1996 Rose Bowl team.
20. By the way, that's another option, Taylor Mays -- ride a horse backward at your pro day. You'll look very fast. If any scouts get suspicious, just distract them with some Song Girls.
DJ Gallo is the founder of and sole writer for the sports satire site SportsPickle.com. He also is a regular contributor to ESPN The Magazine and has written for The Onion and Cracked. His first book, "SportsPickle Presents: The View from the Upper Deck," is on sale now.