Commentary
DJ Gallo's Offseason Pigskinpalooza!
Originally Published:
March 11, 2010
By
DJ Gallo
| Page 2
It's Thursday. That can only mean one thing: Tomorrow is Friday.
But it can also mean that it's time for another addition of the Offseason Pigskinpalooza.
1. Tim Tebow reportedly got a 22 on his Wonderlic exam. That's 22 out of 50 -- less than Sam Bradford, Colt McCoy and Jimmy Clausen. It's also two points below the 24 average for quarterbacks. Wow. Tim Tebow. Below average. This is just ... what's the word ... it's ... I don't know ... it ... it ... hurts my brain part. Maybe Tebow needs to take a few weeks away to work on his delivery of information to his brain.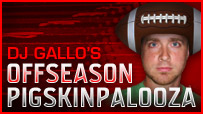 2. And what does this mean about some of our nation's finest academic institutions? We have always heard that Tebow gets great grades. Are the University of Florida and the Tebow Family Prep School not all we thought they were? Up is down, down is ... whatever the opposite of down is.
3. In Tebow's defense, a Wonderlic score of 22 converts to an IQ of 104 -- which is actually average for an adult, not below average. But if you score much lower than a 22, it means you have below-average intelligence and likely just spent the entire Wonderlic exam muttering: "Mmmmmm ... wonderlick," while trying to eat the paper.
4. The troubles continue for Oregon. Running back LaMichael James is scheduled to appear Friday for a hearing on domestic violence charges, and quarterback Jeremiah Masoli is facing a burglary charge. It's obvious Oregon needs to make some changes. First off: a public safety campaign. Tell the public the Duck is not a noun, but a verb -- so if anyone sees an Oregon player in public, take cover!
5. With Antonio Bryant signing with Cincinnati, it's looking less likely Terrell Owens will join the Bengals. And that's disappointing. Consider the following: Jeff Garcia's quarterback rating in his years with Owens was 88.3. Donovan McNabb's was 96.2. And Tony Romo's was 94.7. Carson Palmer's quarterback rating over the past three years? 83.5. We, as a nation, lose out by not getting to see Terrell Owens react to a Carson Palmer duck. Ah! Did someone say "Duck"? Run for your life!
6. Brady Quinn is on the trading block in Cleveland. He could be dealt today, he could be dealt a month from now, he could be dealt never. Who knows? So the best thing to do is probably to dress him up in an expensive suit, sit him at a table with his girlfriend and give him a cell phone with unlimited text messages. Then just let the cameras roll. Ratings gold.
7. Jessica Simpson told David Letterman that she still enjoys looking at Tony Romo's "cute little butt." Is Romo's butt cute? I'll let you take a look and judge for yourself. Verdict? I'd say if you're not a Cowboys fan, you'd have to admit his butt looks pretty amazing in that picture.
8. Sen. Orrin Hatch, R-Utah, and Sen. Max Baucus, D-Mont., sent a letter this week to BCS executive director Bill Hancock inquiring about the fairness of the bowl system. Hancock says he will respond, but he is not sure when and said he thinks Congress "has more important things to do." Really. He said that. And maybe he's right. It's like how back in December and January I realized I had better things to do than watch 33 completely pointless bowl games.
9. Notre Dame AD Jack Swarbrick says that if the Pac-10 and Big Ten expand, Notre Dame may be forced to join a conference of its own. "You can each come up with a scenario that would force our hand," he told reporters. Hmm. It's good I'm not a reporter because I'm drawing a blank. Let's see ... Aliens attack Earth and all the nations of the world band together to fight off the invasion. However, in the battle the campus of Central Michigan is destroyed. So, looking to replace CMU with a program of similar quality, the MAC invites Notre Dame to join. Did I get it? Is that one of the scenarios?
10. Texas A&M-Commerce head coach Guy Morriss has apologized for commending his players for stealing school newspapers that contained a negative story about the program. Morriss said he had a "lapse in judgment." And again. He should have said: "My name is Guy Morriss, and consider me the head coach of Texas A&M-Remorse." We get limited opportunities in life for such puns, and Morriss blew it.
11. Vikings head coach Brad Childress is ready to try to convince LaDainian Tomlinson to join the Vikings ... but only as a backup to Adrian Peterson. Said Childress: "I would think he knows that, but I always want to overcommunicate clarity so we won't hopscotch around that. We'll have to show him what his role will be." He then probably made a very clear and succinct comment about confusion.
12. Sources tell ESPN NFL Insider Adam Schefter that the Redskins are set to meet with Larry Johnson. And sources tell me that, despite new management, the Redskins still have no idea what they're doing and are pretty much hopeless.
13. A Utah quarterback recruit has been expelled from his high school after he wrestled his baseball coach to the ground upon being told he was being dismissed from the team. Utah has not withdrawn his scholarship. And kudos to the Utes. Kids make mistakes. Plus, the kid's baseball coach was probably wearing those tight, polyester baseball shorts. He got what was coming to him.
14. New Michigan AD David Brandon, the former Domino's pizza exec, said this week that nothing in the NCAA allegations hanging over the school's football program should threaten Rich Rodriguez's job. So remember, RichRod ... Fail to avoid NCAA sanctions: Keep your job. But fail to avoid the Noid: Lose your job.
15. Ohio State head coach Jim Tressel granted an interview to Outlook Columbus, a gay publication in Columbus. It was a courageous move, considering football is not the world's most progressive culture. "We try to tell our guys that an authentic you is the best you," he told the magazine. "That's truly what freedom means, and the beauty of living in America. People can live their beliefs." Sorry, Rich Rodriguez, but you've lost to Jim Tressel again. Live your life > Get a life.
16. Derrick Mason has signed a two-year deal to stay with the Ravens, giving Baltimore a 2010 receiving corps of Mason, Anquan Boldin and Donte' Stallworth -- the best wide receiver trio in franchise history. Unfortunately, they will still have the best quarterback in franchise history throwing them the ball.
17. Clemson head coach Dabo Swinney has received a one-year contract extension and a raise of $900,000 -- to $1.75 million -- after leading the Tigers to the ACC title game last year. I wonder: Did Swinney sign the contract with his given name: "William C. Swinney"? Or did he stay in character and merely agree with a handshake over some mint juleps?
18. Terrence Cody weighed in at 349 pounds on Alabama's pro day on Wednesday -- 22 pounds lower than at the Senior Bowl and six pounds below his NFL combine weight. That's an impressive dedication to fitness and a great way to win over scouts. He is obviously getting good advice. I would have just told him to put on a shirt.
19. Alabama had a reception at the White House this week with President Obama for winning the BCS title. And the Crimson Tide gave the president a very original jersey. See, unlike other teams, this jersey with the president's name on it and No. 1 was a red Alabama jersey. Subtle, but creative.
20. The Pinstripe Bowl is set for Dec. 30 at Yankee Stadium. Really. That's the name of the bowl. It pits the No. 3 team in the Big East versus the No. 6 team in the Big 12. Really. Those are the teams. "I think no matter what sport, every kid who grows up wants to play at Yankee Stadium," said Yankees president Randy Levine. Really. He actually said that. So if it wasn't your dream as a child to play at Yankee Stadium, either you are: (A) a liar; (B) misremembering a la Andy Pettitte; or (C) not human. (Which means the alien invasion may have already begun! Start filling out that MAC application, Notre Dame!)
DJ Gallo is the founder of and sole writer for the sports satire site SportsPickle.com. He also is a regular contributor to ESPN The Magazine and has written for The Onion and Cracked. His first book, "SportsPickle Presents: The View from the Upper Deck," is on sale now.