Commentary
Welcome to the last nickname bracket
Originally Published:
March 15, 2010
By
DJ Gallo
| Page 2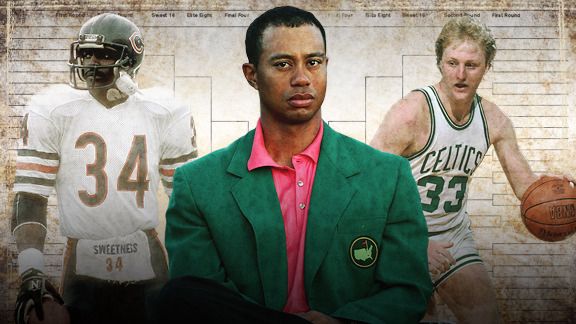 ESPN.com Illustration
The NCAA men's basketball tournament is only a couple of days away and you're likely being inundated with bracket invitations, analysis and more information than you ever need to know.
That being said, we at Page 2 felt we would be remiss in our pledge of irresponsibility if we didn't add to your collection of useless information this week. So we present to you the sports nickname bracket.
Monday you get the field of 64 (we're old-school, no play-in game here), Tuesday we move on and we'll wrap it all up by the end of the week.
And the contestants are ...
BASEBALL
Mordecai "Three Finger" Brown
After losing parts of two fingers on his right hand in his youth, Brown pitched in the majors from 1903 to 1916 -- a time in America when it was OK to give someone a nickname based on a physical disability. Today we are a kinder culture, hence no nicknames like Mark "Big Bacne" McGwire.
Stan "The Man" Musial
Simple yet descriptive. Also evidence of what women looked like in the early 20th century. It was necessary to clarify that Musial was not a woman. Terrifying.
Reggie Jackson, "Mr. October"
Perfect nickname for someone who performed well in the postseason. Also gave us George Steinbrenner's nickname for Dave Winfield: "Mr. May."
Ryan Braun, "The Hebrew Hammer"
Listed in appreciation of a modern player having a somewhat unique nickname. Every other player nickname today is generated this way: take initial of first name, add a dash and then take the first sound of the last name. Yet "The Hebrew Hammer" is the nickname of R-Brau. Refreshing.
Mike Hargrove, "The Human Rain Delay"
Hargrove earned the nickname "The Human Rain Delay" during his playing days for his deliberate routine at the plate between each pitch. Today he manages a semi-pro team named the Liberal Bee Jays, whose nickname we probably shouldn't investigate for decency reasons.
Hugh "Losing Pitcher" Mulcahy
Mulcahy had a career record of 45-89 and, like "Three Finger" Brown, his nickname was the product of a different age. Oliver "Single-Handedly Losing Games" Perez is glad he wasn't born 50 years earlier.
Ron Cey, "The Penguin"
Given the nickname because he looked like a penguin when he ran. Unfortunately, he didn't wear a monocle, didn't have webbed hands or feet and wasn't prone to capers.
Ty Cobb, "The Georgia Peach"
He was from Georgia. It's not because he once bludgeoned someone to death with a peach. That we know of.
Pete Rose, "Charlie Hustle"
He played hard. And we later learned that he liked to gamble. It's about 100-to-1 that a nickname ever has more than one meaning.
Ted Williams, "The Splendid Splinter"
Perhaps the greatest hitter ever. Although why was he breaking so many bats? Hit it on the barrel, Ted!
Jimmy Wynn, "The Toy Cannon"
The outfielder of the '60s and '70s earned the nickname because he was small, yet powerful. Great nickname. Better nickname? J-WOWW.
Babe Ruth, "The Sultan of Swat"
Perfect nickname for baseball's first power hitter. And also impressive in that time that he wasn't named Babe "But The Fat And Ugly Kind" Ruth.
Dennis Martinez, "El Presidente"
They say he could have been president of Nicaragua. That may be a bit of hyperbole, but "El Secretary of Housing and Urban Development" is not a very good nickname.
Pepper Martin, "Wild Horse of the Osage"
You know you're a unique personality when your name is "Pepper," yet people still think: "You know what you need? A nickname!"
Joe Page, "The Gay Reliever"
He pitched in the '40s and '50s. "Gay" meant "happy" back then. Also, "reliever" meant someone who was allowed to pitch to more than one or two batters in an inning.
Bob Ferguson, "Death to Flying Things"
Ferguson was a great defensive infielder from 1871 to 1884 -- a time when sports writers were far more descriptive ... and also probably didn't understand much of what was happening yet on baseball fields. Sample game description: "Hurler of Whitish Orb takes the mound, chucks that ballish thing at Stick-Wielding Swinger ... he connects and ... the flying thing has been killed! Death to Flying Things does it again!"
BASKETBALL
Earvin "Magic" Johnson
Johnson was nicknamed "Magic" by a sports writer in high school. His mother felt it was sacrilegious. His mother did not work in marketing.
Charles Barkley, "The Round Mound of Rebound"
"Round Mound" is a bit negative, but it's nicer to talk about his weight than his golf swing or commercial acting.
Vinnie Johnson, "The Microwave"
He was small and would quickly heat up the scoreboard upon entering the game. Although considering teammate Isiah Thomas later went into the popcorn and became known for nuking franchises, perhaps the nickname was given to the wrong Pistons player.
Larry Bird, "The Hick from French Lick"
Rhymes. Descriptive. Great nickname. Although it loses a few points for implying that there is only one hick from French Lick, Ind.
Jerry West, "The Logo"
When a major professional sports league designs its logo on your image, you've done well for yourself. And "The Logo" is far better than his other nickname: "Zeke from Cabin Creek." You know, 'cause his name was not "Zeke." That's like calling Larry Bird "Rick from French Lick."
Dominique Wilkins, "The Human Highlight Film"
Today he would be called "The Instant YouTube Sensation."
Michael "Air" Jordan
He could dunk, he sold Nikes and when he didn't strike out in baseball, he hit pop ups. Greatest nickname ever?
Rafer Alston, "Skip to My Lou"
Alston earned the nickname from skipping when he dribbled during his streetball days. The song "Skip to My Lou" is an untapped resource for basketball names. "Fly in the Buttermilk" would have been a great nickname for Shawn Bradley.
Darryl Dawkins, "Chocolate Thunder"
The food/weather nickname is probably too good for a career of Dawkins' caliber. His nickname should have been Darryl "Cloudy with a Chance of Meatballs" Dawkins.
"Dr. J," Julius Erving
He was not a licensed physician. "The Doctor" played with precision and professionalism. Therefore, he could not give Charles Barkley a gastric bypass before retiring.
Marvin Webster, "The Human Eraser"
Perfect nickname for a defensive specialist. Or a hit man. (Webster was the former.)
"Pistol Pete" Maravich
Perfect nickname for a great shooter. Or a hit man. (Maravich was the former.)
Karl Malone, "The Mailman"
He always delivered. Unfortunately, championships of the '90s only were air delivery, so Michael Jordan handled those.
John Wooden, "The Wizard of Westwood"
Theory: the Harry Potter series, in which a good-hearted person achieves victory after victory while those around him are experimenting with all kinds of potions, is based on John Wooden coaching in the '60s.
George Gervin, "The Iceman"
Nicknamed "The Iceman" for his cool demeanor on the court. He played his entire NBA career in San Antonio before one last season in Chicago. Perhaps it was too cold for even him there.
FOOTBALL
"Sweetness," Walter Payton
A perfect description of Payton on the field, off the field and even of his lyrical flow as a rapper.
"Mean" Joe Greene
He played mean on the field, but off the field he was a nice guy. (Except for that time he chucked dirty laundry at a kid who offered him a Coke. What a jerk!)
Ed "Too Tall" Jones
When you're getting commercial work 21 years after your playing career is over simply for your nickname ... yeah, you deserve to be on this list.
Eugene "Mercury" Morris
He was fast like Mercury on the football field. Not as fast as he is off the field in finding a TV camera to brag about the '72 Dolphins, but fast.
Elroy "Crazy Legs" Hirsch
Awesome nickname. Made more awesome by the fact Elroy Hirsch is one of the least cool names ever. It's clear the sports writer who gave him the nickname took pity on him for his parents' crimes against him.
"Ironhead" Craig Heyward
Heyward was given the nickname "Ironhead" for his bruising running style. And an uber-manly nickname also gave him cover to star in a Zest commercial with a loofah.
"Broadway" Joe Namath
Namath is a New York sporting icon with the nickname to match. It's a good thing he won that Super Bowl, though, because the rest of his career deserves a nickname referencing some back alley in Queens.
Dick "Night Train" Lane
Great nickname. Necessary nickname. When you have a name like Dick Lane, you need something eye-catching to break it up and distract people. This is sadly something former major leaguer Dick Pole never learned.
O.J. Simpson, "The Juice"
Orenthal James, O.J., The Juice, Det. Nordberg, whatever you call him ... well, it's probably best you just don't call him.
Chad Ochocinco
When you legally change your name to your nickname, that's commitment. And when the name you take means "eight five" instead of the intended "eighty-five," that's poor research.
Lester "The Molester" Hayes
The Raiders cornerback earned the nickname for his tight coverage. But he played in a different NFL era. Today his nickname would be something like Lester "12 Pass Interference Penalties Per Game" Hayes.
Rod Smart, "He Hate Me"
It's such a memorable nickname, it's probably the first thing many people think of when they think of the XFL. Which is good for Vince McMahon, because the only other thing to think is "unbearably awful football."
Johnny "Blood" McNally
McNally played a year of pro football under the name "Johnny Blood" while in his final year of college football as John McNally. Really. Don't be surprised if half of Lane Kiffin's USC roster suddenly adopts the nickname "Blood."
Jevon "The Freak" Kearse
Kearse earns a spot as one of the few football players of recent years with a decent nickname. Consider: LaDainian Tomlinson was one of the best players of his era, yet no one bothered to even give him a nickname that was more than his initials -- initials already made famous by Lawrence Taylor. How incredibly uncreative. It's surprising Mark Sanchez isn't being called "Broadway" Mark Sanchez. Oh. Sigh.
Paul "Bear" Bryant
Bryant earned the nickname "Bear" for agreeing to wrestle a bear when he was 13. Really. Yeah, that's probably deserving of a good nickname. And a coupon for a visit to a psychiatrist.
Billy "White Shoes" Johnson
A colorful nickname for a colorful personality. It's just too bad he was born three decades too early. Today, Nike, adidas and Reebok would bid big money to be associated with those white shoes.
MISCELANEOUS
Eldrick "Tiger" Woods
A unique, singular nickname befitting a unique, singular golfer. "Tiger" is also convenient because it's short and doesn't take up much space in tabloid headlines.
Georges Vezina, "The Chicoutimi Cucumber"
Chicoutimi is the Quebec hometown of Vezina, and "Cucumber" is a reference to his cool play in net. It's a shame the NHL doesn't give out the Chicoutimi Cucumber Trophy to the league's top goalie.
"Iron" Mike Tyson
It was an intimidating nickname for an intimidating boxer. Even so, armed with 007 373 5963, courage and perfectly timed evasive moves on the directional pad, Little Mac could defeat him.
Wayne Gretzky, "The Great One"
I don't get it. Oh, right. 'Cause he was great.
Roberto "Hand of Stone" Duran
"Hand of Stone" is a great nickname for a boxer. But it's too bad Duran doesn't declare "No mas" and hand the name over to any number of active and highly paid NFL wide receivers.
Shaun "Flying Tomato" White
He has red hair and he flies through the air. Hence: flying tomato. Best part of the nickname: It contains words that actually have meaning to the general populace, unlike every other term related to snowboarding.
Chuck "The Bayonne Bleeder" Wepner
What an appropriately terrifying nickname for a boxer. Bayonne, N.J. Yikes.
James "Bonecrusher" Smith
James Smith is a mediocre boxer with a 44-17 career record. James "Bonecrusher" Smith is a mediocre boxer with a 44-17 career record ... who scares the crap out of you.
Robert Craig "Evel" Knievel
Knievel broke 37 bones doing his stunts. But when your bones are the ones doing the breaking, you don't want a nickname like "Bonecrusher."
Stu "The Grim Reaper" Grimson
Grimson was one of the most punishing hockey players of all time. Fun fact: The Grim Reaper's nickname is Grim "The Stu Grimson" Reaper.
Rudolph "Minnesota Fats" Wanderone
Minnesota Fats never won a major pool tournament. Yet he is one of the most famous billiards players of all time. "Minnesota Fats" : Rudolph Wanderone :: being attractive : Anna Kournikova.
Dale "The Intimidator" Earnhardt
Earnhardt earned his nickname for obvious reasons: he was intimidating. How intimidating? So intimidating he got people to believe his son is good at racing.
Dave "Cementhead" Semenko
Semenko was Gretzky's personal bodyguard back in the early days in Edmonton. With only 153 points in 575 career NHL games as a left wing, he was little more than hired muscle. He just as easily could have been nicknamed "Cementskates."
Eric "Butterbean" Esch
Butterbean started his career on the Toughman circuit and needed to drop weight to meet the 400-pound weight limit. So he lost weight on a diet of chicken and butterbeans. Hence the nickname. ("Chicken" isn't a great name for a fighter.)
Usain "Lightning" Bolt
Someone as fast as Bolt -- named Bolt -- doesn't really need a nickname like "Lighting." It's repetitive. Like his opponents don't already know they're going to get humiliated. Who knows -- "Usain" probably means "Really friggin' fast."
Steve "The Puck Goes Inski" Buzinski
Buzinski played in only nine NHL games. Because he had a goals against average of 6.11. Far from a Hall of Fame career. But he had a Hall of Fame nickname.
DJ Gallo is the founder of and sole writer for the sports satire site SportsPickle.com. He also is a regular contributor to ESPN The Magazine and has written for The Onion and Cracked. His first book, "SportsPickle Presents: The View from the Upper Deck," is on sale now.