Commentary
DJ Gallo's Offseason Pigskinpalooza!
Originally Published:
March 18, 2010
By
DJ Gallo
| Page 2
It's the first day of the NCAA tournament! That means it will be only a few weeks until college basketball is over and we can focus on football players running at half speed on practice fields. Yes!
Let's begin this week's Pigskinpalooza.
1. Tim Tebow reportedly showed good accuracy and an improved throwing motion at his pro day at Florida on Wednesday. The only problem is that the scouts are worried about his arm strength. That's right. They are worried about the arm strength of Tim Tebow -- the guy whose eye black often sports PHIL 4:13: "I can do all things through Christ who strengthens me." Come on, NFL scouts. Let's hear it. Let's hear one of you go on the record saying that Jesus isn't a good strength coach. You won't do it, will you? Didn't think you would. So let's just make Tebow the No. 1 overall pick and forget this ever happened, shall we?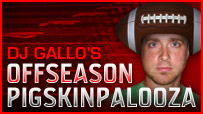 2. Among the approximately 3,000 fans and more than 100 NFL people in attendance at Tebow's throwing session were NFL head coaches John Fox, Tom Coughlin, Mike Tomlin, Eric Mangini and Raheem Morris. No doubt they all want him. And no doubt every NFL team wants him. But only one team can draft him. So it will be just like college -- Tim Tebow can play for only one team, but he will live inside all of our hearts.
3. Good news, Raiders fans! JaMarcus Russell has slimmed down and is sort of in shape. Bad news, Raiders fans! Unless there were huge, immovable fat deposits around his eyes, a slimmer body will not stop Russell from staring down his receivers.
4. Jake Delhomme says he picked the Browns over opportunities elsewhere because "I had to decide if I wanted to still try to compete or if I wanted to hold a clipboard." Whoa. Who was going to let Delhomme hold a clipboard? Those things are full of plays and secret information. You couldn't have him turning that over to the other team. It's much better if he just throws a few interceptions and fumbles a couple of times instead of losing your entire playbook. Good move, Browns.
5. That reminds me … Browns GM Mike Holmgren was probably the highest on Tebow after the Florida star's workout, saying he didn't even think Tebow needed to change much. "I don't think everybody in the room thinks he needs to change dramatically, so we'll see where it goes." Mr. Tebow, please note that Holmgren is the guy who thought it was a good idea to pay Jake Delhomme $7 million to play quarterback this season. So if you want to have success in the NFL, change. And change dramatically.
6. And here's more Holmgren on Tebow: "He's a wonderful young man. I pull for guys like that, and he's going to make some team very happy." Or some lucky lady very happy, am I right, Mike? Holmgren has four daughters and four granddaughters. Matchmaker, matchmaker, make me a match! Find me a find! Catch me a catch!
7. For those of you who didn't see Tebow's new throwing motion, here are the basic changes. First of all, he drops back with a more fluid motion and shorter steps. He holds the ball higher. And then when he's about to throw, he … well, I don't even remember. Because by that point you're just like: "Ohmigod! I'm seeing Tim Tebow throw up close in person! This is so awesome!"
8. Gators coach Urban Meyer is at Florida's spring practices and says he's back for good. So you've heard it here first: Meyer will announce his retirement in 16 hours.
9. Ohio State extended Jim Tressel's contract two years through 2014. His annual salary of approximately $3.5 million will not change because Ohio State's athletic department is experiencing financial problems. And if Ohio State's athletic department is struggling, it's safe to assume every other Big Ten school is broke. Northwestern probably hasn't paid a bill since the late '70s.
10. Jim Leavitt has sued South Florida over his firing. And who is his lawyer? Oh, only the MOST POWERFUL ATTORNEY IN THE ENTIRE COURTHOUSE. You're in big trouble, USF.
11. After a 9-5 season that included a victory in the Humanitarian Bowl, Idaho gave head coach Robb Akey a five-year contract extension. His current contract pays him $258,000 a year, less than any other coach in the WAC. How does someone live in Moscow, Idaho, on $258,000 a year?
12. A graffiti artist erected a billboard in Eugene, Ore., depicting all the Ducks players who recently have been arrested or suspended as clowns. The billboard includes funny noses, wigs and clown makeup. Only headshots of the players are included, however, because showing Oregon's clownish uniforms would have been over-the-top.
13. Esquire.com has a 64-woman bracket going for the title of Sexiest Woman Alive. Currently in the voting, No. 1 seed Natalie Gulbis is being routed by No. 16 seed Lane Kiffin. Oh. Heh. I get the joke. Kiffin got ripped off on the seeding.
14. Derek Anderson has signed a two-year deal with the Cardinals with the promise that he can compete for the starting job. So with Matt Leinart, he'll have basically the same opportunity he had with Brady Quinn in Cleveland. Soon Anderson will have competed with every young, pretty-boy quarterback in the NFL. Next up likely will be Joe Flacco in two years. (What? You don't think Flacco is hot? Well, what do you know? You just voted for Lane Kiffin over Natalie Gulbis.)
15. The Redskins signed Rex Grossman and apparently plan to give him a shot at the starting job. Really. "We want competition," Redskins coach Mike Shanahan said. "As you look at Rex's background, you can see what he's done, the experience he has." And then I assume some sort of laugh track played because Dan Snyder is a big spender and wouldn't skimp on something necessary like that.
16. If you're not a Redskins fan, I highly recommend following their offseason moves for amusement purposes. They have now signed Rex Grossman and Larry Johnson. As Shanahan says, the Redskins want competition at every position. And the competition at worst signing will be ferocious.
17. New England's Ty Warren is skipping the team's first voluntary workout to get his degree at Texas A&M. A. Congratulations to Warren. And B. … or perhaps C. Only in the NFL does skipping a "voluntary" workout make news. That's a heck of a union you have there, gentlemen. The only truly voluntary thing in the NFL's labor deal is if the owners want to pay a player for the agreed-upon terms of his contract.
18. According to several reports, Brett Favre was "heavily involved" in recruiting LaDainian Tomlinson to Minnesota. Tomlinson signed with the Jets. No doubt Favre built a long and impressive case about the Vikings for Tomlinson and then, right at the end with the signing in his grasp, suddenly blurted out: "YOU SHOULD PLAY ANYWHERE BUT HERE!"
19. Former Oklahoma State quarterback Bobby Reid performed for NFL scouts on Monday at LSU's pro day. Why do I mention this? Because Reid was once the subject of a well-known newspaper headline.
20. And, finally, Michigan's only known wolverine is dead. I'm not kidding. A bit symbolic, no? And Rich Rodriguez, already on the hot seat, failed to bring it back to life by yelling: "Get a life! I said get a life, you wolverine!"
DJ Gallo is the founder of and sole writer for the sports satire site SportsPickle.com. He also is a regular contributor to ESPN The Magazine and has written for The Onion and Cracked. His first book, "SportsPickle Presents: The View from the Upper Deck," is on sale now.