Commentary
NCAA tournament Sweet 16 photos
Originally Published:
March 22, 2010
By
DJ Gallo
| Page 2
What better way to celebrate the completion of the first two rounds of the NCAA tournament than with photo captions? Here goes:
"The mascot is dead, and still her spirit is not dampened. What a remarkable young woman."
PAGE 2 PODCAST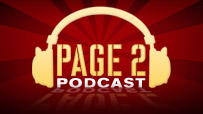 It's time for Monday's Page 2 Podcast with your hosts Mike Philbrick and DJ Gallo. Have a listen and you'll learn why:
• You're insane if you're leading your bracket.
• Marathoners plan bad honeymoons.
• Charlotte is apparently "arrogant".
• The Dog Pound rules at Cornell.
Click here to listen up!

• Subscribe to the Page 2 Podcast through iTunes or the RSS feed reader of your choice for automatic updates as soon as the latest show is posted.
"Don't worry. I won't let them put you crying on 'One Shining Moment.' I'm giving the camera the bird."
"Give us a … high-paying job following graduation! Yay!"
"What are you doing?! You're losing to nerds! NERDS!"
"Coach said he's rewarding us with an extra hour of study hall!"
"Just drink this potion that I give to ACC refs, and I'm sure you will come to see my point of view."
"This is kind of like when Villanova beat Georgetown in '85. Unfortunately."
"I wish the ref was a Shakespeare fan so that he would know that my biting my thumb at him is a grave insult."
"Out of my way. I dunked on LeBron. Juan Dixon's little brother doesn't scare me."
"Let's have a moment of silence for our conference."
"I want your autograph only if you get good grades. What's your GPA?"
"Sure, she's more than twice your age. But she's much better looking than her sister Wynonna. Just give her a chance."
"Get off me, Basketball Elvis!"
"Hit this shot, and I swear I'll learn how to pronounce your name properly."
"Hey, don't take it so hard. Historically, this is actually quite normal for our program."
DJ Gallo is the founder of and sole writer for the sports satire site SportsPickle.com. He also is a regular contributor to ESPN The Magazine and has written for The Onion and Cracked. His first book, "SportsPickle Presents: The View from the Upper Deck," is on sale now.