Commentary
DJ Gallo's Offseason Pigskinpalooza!
Originally Published:
April 1, 2010
By
DJ Gallo
| Page 2
There is no Pigskinpalooza this week. April Fools'! There is. BOOM! Got you.
Let's begin.
1. As of publishing, Donovan McNabb has yet to be traded to the Raiders. Still, I think just the use of the word "Raiders" in a sentence is a nice way to start off this column. Apologies in advance for not being able to keep up the same level of humor throughout. Not that it would be possible.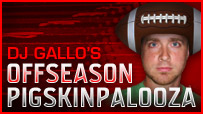 2. ESPN's Sal Paolantonio is reporting that there is no front-runner in the McNabb dealings and that his status may not be resolved until draft day. And ESPN's DJ Gallo is advising that if you happen to travel to the Philadelphia metro region any time between now and draft day, please, for the love of God, don't listen to local sports radio. Trust me. I'm trying to do you a favor here. You will hear callers propose trades that will make you want to steer your car into oncoming traffic.
3. Arizona Cardinals linebacker Joey Porter will not be charged for his DUI-related arrest in the parking lot of a Bakersfield, Calif., fast-food restaurant last weekend. The DA said there was not enough evidence for a jury to convict. Obviously. I mean, Joey Porter eating fast food? Very unlikely. Have you seen the man's abs? (If not, he will gladly show you.)
4. Rex Ryan has lost 40 pounds since getting lap-band surgery. And he is no longer consuming 7,000 calories a day. Although, considering that he did normally consume 7,000 calories a day, maybe the lost weight is due to the fact that he's no longer holding a roasted pig at all times.
5. The Jets and Giants will open Meadowlands Stadium together by playing each other in a preseason game. Good. So that's decided. Now the thing Jersey residents really care about: Should Jovi have gotten the first concert over Springsteen?
6. By most accounts, Colt McCoy had an outstanding pro day Wednesday, completing all 46 of the passes he threw. "I've been waiting for this day a long time. I thought I went out there and killed it today," said McCoy. Packers head coach Mike McCarthy said he thought McCoy had a better workout than Sam Bradford. "I thought he did a very good job," McCarthy said. And then there was Seahawks coach Pete Carroll, who said he would expect McCoy to complete all of his passes: "This is not real football; this is a workout." Sounds like someone is still bitter about losing the BCS title game to Texas.
7. Jerry Rice signing a one-day contract to retire with the 49ers? Great. Emmitt Smith signing a one-day contract with the Cowboys? Fantastic. But please, let's keep this practice to big-name players only. This week Jason Elam, a kicker, signed a one-day contract so he could retire with the Broncos. We're letting kickers do this now? Is this the sort of country we want to live in, where kickers are afforded the same rights and privileges as respected members of society? I hope the terms of Elam's contract at least required him to clean the team's bathroom. After he was given a swirlie.
8. USC held open practices under Pete Carroll. Not so with Lane Kiffin. The school has announced that practices will only be open to "pre-approved guests who submit requests 24 hours in advance." So remember that, torch-wielding mobs from Tennessee: If you submit your written request before you drive out to L.A., you should be good to go upon arrival.
9. And with spring practice under way, Kiffin has also vowed to change the culture that existed under Carroll. "Not one of these coaches is trying to be your friend, and that's what we need," said linebacker Chris Galippo. "I think the attitude has changed," said quarterback Matt Barkley. "We're more disciplined now, and I think it starts with today." Carroll won 11 games in seven of his nine seasons at USC. He won two national titles. And he was 7-2 in bowl games. The rest of the Pac-10 strongly supports Kiffin's efforts to change that culture.
10. Tennessee has taken steps to ensure that new head coach Derek Dooley doesn't bolt for a different job like Kiffin did. His contract requires him to pay $4 million if he resigns before Feb. 15, 2012. Smart move, Tennessee. You may also consider routinely telling schools with job openings that Dooley was 17-20 at Louisiana Tech.
11. Bad news, bowl lovers: The International Bowl is no more. Also coming to an end are the Cappy's Shipping Bowl and the Star Health Systems Samaritan Bowl. Try to contain your grief.
12. Texas Tech and Alabama will reportedly open the 2012 season at Cowboys Stadium. "We've agreed to do it," Texas Tech athletic director Gerald Myers told the Lubbock Avalanche-Journal. "I think Alabama's agreed to do it. But we haven't gotten down to signing a contract or anything like that." Don't sweat it, Gerald. You're dealing with Alabama. Nick Saban doesn't really do contracts anyway.
13. Texas Tech quarterback Steven Sheffield will miss eight to 10 weeks of practice due to surgery on his left foot. Come on, kid. Time to prove the "student" part of student-athlete and use your tech training to build yourself a RoboCop foot. (A) It would be awesome; (B) I'm sure you could get some independent study credits; (C) you're welcome.
14. New Notre Dame head coach Brian Kelly after four spring practices: "We stink right now." Lou Holtz always talked the Irish down. Charlie Weis always insisted they were good. It's refreshing that Notre Dame finally has a coach grounded 100 percent in reality.
15. Oh, should I point out that only one of the bowls mentioned in No. 11 is real? Probably.
16. Oregon quarterback Jeremy Masoli pled guilty to a misdemeanor burglary charge March 12. He has been suspended for the season. Many people think he will transfer. Yet there he was at practice Tuesday when the Ducks opened spring workouts, stealing reps from other players.
17. Check out Joe Paterno's fancy new glasses. He says he can see well enough to go without, but his doctor says he should wear them outside to protect his eyes from the sun. And yes, if the sun were to fall out of the sky and strike Joe Paterno in the face, I think those glasses would hold up quite well.
18. Pitt head coach Dave Wannstedt has been given a two-year contract extension through 2014. Unfortunately, the left side of his mustache was again refused an extension that would allow it to equal the length of the right side of his mustache. Poor mustache.
19. A Tallassee, Ala., couple, J.J. and Jackie Redd, had a son in January and named him … Crimson Tide Redd. Really … they did. The father's name is really J.J. What kind of grown man uses initials for his first name?
20. Raiders. There. This week's edition of the Pigskinpalooza was bookended by hilarity. I'll take it.
DJ Gallo is the founder of and sole writer for the sports satire site SportsPickle.com. He also is a regular contributor to ESPN The Magazine and has written for The Onion and Cracked. His first book, "SportsPickle Presents: The View from the Upper Deck," is on sale now.