Commentary
Welcome to the minors, Mr. Strasburg
Originally Published:
April 12, 2010
By
DJ Gallo
| Page 2
ALTOONA, Pa. -- Stephen Strasburg made his minor league debut with the Harrisburg Senators on Sunday. He earned the win, throwing 82 pitches in five innings. He gave up four runs (one earned), struck out eight and walked two.
That's stuff you can learn from the box score.
Here's some stuff I learned from attending the game.
• Strasburg was impressive but uneven. In the first inning he gave up a run on 24 pitches. In the second inning he threw eight pitches, all strikes, and struck out two. In the fourth inning he gave up three runs -- all unearned -- threw 24 pitches and even allowed an RBI single to the Altoona Curve's starter, Rudy Owens, who had never batted in a pro game.
Here is a picture of Strasburg standing on second base after he hit an RBI double in the top of the fifth.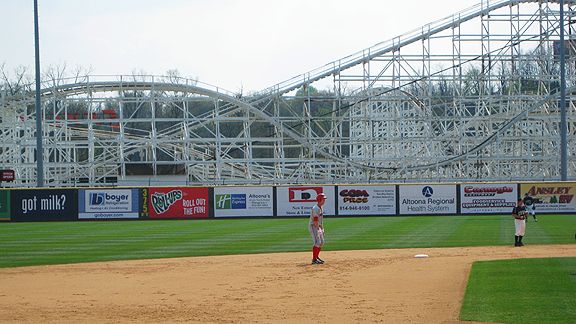 DJ Gallo
Beyond the right-field fence at Blair County Ballpark is a roller coaster. If only there were some sort of metaphor to describe Strasburg's debut.
PAGE 2 PODCAST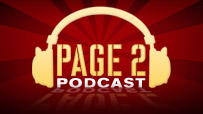 It's time for Monday's Page 2 Podcast with your hosts Mike Philbrick and DJ Gallo. Have a listen and you'll learn why:
• Stephen Strasburg is ready for the majors.
• Canadian judges rule.
• You don't go Manning at the Masters.
• Jerry Jones cried this weekend.
Click here to listen up!

• Subscribe to the Page 2 Podcast through iTunes or the RSS feed reader of your choice for automatic updates as soon as the latest show is posted.
• After the game, Strasburg seemed happiest with his double. He had never batted at San Diego State because his manager, Tony Gwynn, didn't let him. "I don't know what happened, but it feels great," Strasburg said of his double over the head of Altoona right fielder Miles Durham, who was playing shallow, apparently unaware he was facing the modern-day Babe Ruth. "I'm definitely going to call Gwynn up tomorrow and let him have it." Strasburg's career batting average: .500. Gwynn's career batting average: .338. Numbers don't lie.
• Strasburg consistently hit 96, 97 and 98 mph on the stadium radar gun with his four-seam fastball and 79, 80 and 81 with his off-speed stuff. However, the Altoona Mirror recently reported that the stadium radar is 2 mph slow. So Strasburg may have hit 100 mph. Whatever the exact speed was, I am confident enough to file this report: Strasburg can hurl a baseball very fast through the air.
• A standing-room-only crowd of 7,887 fans packed into Blair Country Ballpark to see Strasburg's debut. Traffic was so backed up that many fans didn't make it into the park for the first pitch. But it wasn't the biggest crowd in Altoona Curve history. That came in July 2004, when 9,100 came out to see former Vice President Dick Cheney throw out the first pitch. (I don't know for sure, but let's just assume Cheney's pitch hit someone in the face.)
• Strasburg's debut was broadcast on ESPNEWS, but only his half-innings. The Altoona Mirror reported that it was the first live, nationwide broadcast of a sporting event from Altoona since ESPN2 showed the 1995 Women's Basketball Coaches Association High School All-America Game from the Altoona Area High School field house. "It's great that you guys wanted to televise this game so my family could watch it back home in San Diego," Strasburg said. (Note: By "this game," he likely was talking about his debut, not the 1995 All-America Game.)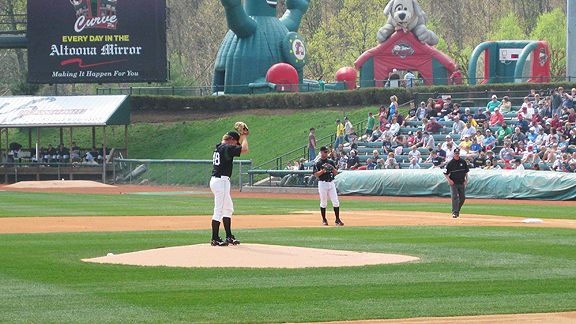 DJ Gallo
• Although Strasburg was the star of the show, Owens threw out the first pitch of the game. Owens, 22, was the Pittsburgh Pirates' minor league pitcher of the year last season, when he went 11-2 with a 2.10 ERA. He outpitched Strasburg for four innings on Sunday. But nobody cares about him. Really. Ask Owens.
"I thought the whole game was going to be on TV," he said. "I told my dad, 'Oh, hey, I'm going to be on TV maybe.' But he called and told me they're only going to show his innings, which makes sense. Nobody cares about me."
SEE STRASBURG'S DEBUT
Check out Stephen Strasburg's pitching debut for Double-A Harrisburg against Altoona on ESPN3.com. Watch replay

• The Hall of Fame had authenticators at the game, and Strasburg's first pitch -- a ball -- and one of two lineup cards will make their way to Cooperstown. No doubt the Hall of Fame wanted to commemorate the first game by a highly touted, No. 1 overall draft pick. And it probably also is really desperate for some Nationals-related stuff.
• Kevin Horne, a Williamsport, Pa., high school student, came out to the game to get his own collectibles. As the crowd exited, he held a sign that read "CAN I PLEASE HAVE YOUR EXTRA TICKET STUBS?" One father passed by with his young daughter and asked: "Do you mean these things?" and handed over his tickets, happy to rid his pocket of some trash. Kevin received 150 to 200 of "these things" and plans to put them up on eBay. Perhaps they'll make enough money to put that guy's daughter through a year of college.
• Joe Galanick, an Altoona native who lives in northern Virginia, drove six hours round-trip to see the game. He thought Strasburg pitched "all right."
"The Hall of Fame stuff is a little overblown," Galanick said. "Let the guy pitch first. I told a neighbor's kid to drop his cleats off at the house in case he becomes famous." Mr. Galanick was joking. He says he is a Pirates fan and was wearing a Nationals jersey, so he has to have a sense of humor.
• Many fans were wearing Nationals jerseys at the game, but Altoona is less than two hours from Pittsburgh, so most of the baseball jerseys I spotted were Pirates jerseys. Andrew McCutchen, Ryan Doumit, Roberto Clemente … and also Jason Kendall, Nate McLouth and Freddy Sanchez. Sad. But like a typical Pittsburgh crowd, there were just as many Penguins and Steelers jerseys. Although I saw only one of these: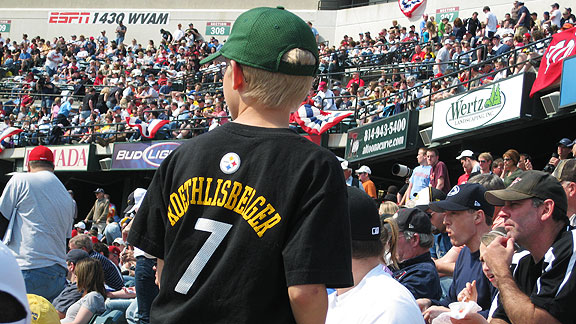 DJ Gallo
• The crowd was respectful and supportive of Strasburg. Someone yelled: "Come on, Strasburg! Don't screw up!" during his first windup. And a few people chanted "Overrated!" after he allowed three runs in the fourth inning, but that was it. In fact, the only booing came in the first inning, when the ump failed to call strike three on Harrisburg batter Adam Fox. Fox was the game's "McDonald's Strikeout Guy," and the whole crowd would have gotten a free Big Mac had he struck out. Minor league baseball is awesome.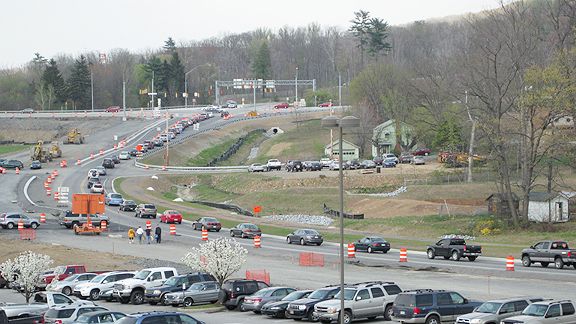 DJ Gallo
• Much of the crowd, maybe even one-third, left as soon as Strasburg was pulled from the game after the fifth inning. This picture is of traffic exiting the stadium in the sixth. The stadium was half-empty at the end of the game. Hey, the Masters was on.
• Before the game I asked my @DJGalloESPN Twitter followers what I should ask Strasburg during his postgame news conference. @dhm said I should ask, "How do you get out of Altoona?" (Rude!) @WisconsinRob said I should ask, "Do you have an actual clock that counts down the time toward the end of your Nationals contract, or do you just do it mentally?" (Rude!) And @frewmark said I should make Strasburg aware of the bug situation at his home stadium on Harrisburg's City Island. (The stadium sits in the middle of a slow-moving river, and there are enough mayflies there to make Joba Chamberlain wet himself.) But I went with "I heard your mom taught you to cook your own burritos when you were in college. What do you put in the perfect burrito?"
• Actually, that question was asked not by me but by Altoona native Elliot Mast, 11, a reporter for the nationally syndicated TV show "Kid Pitch" and one of the 70 credentialed media for the game. This new generation of reporters … I don't know. I bet this kid still lives with his mom!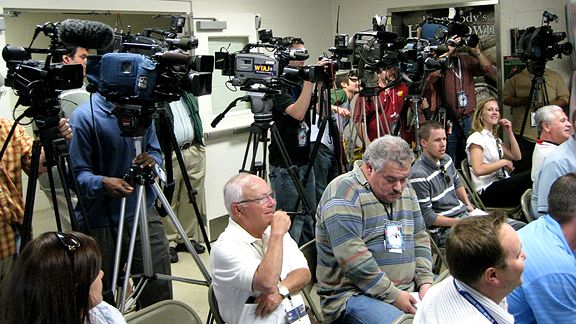 DJ Gallo
• Of the 70 credentialed media, I counted only 50 at Strasburg's postgame news conference. Either 20 or so didn't show or … everyone else was interviewing Rudy Owens to show him that people care. WE LOVE YOU, RUDY!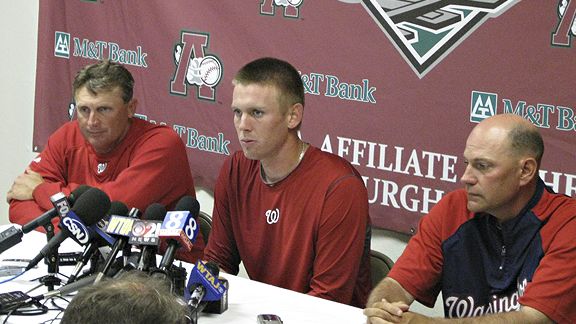 DJ Gallo
• Here is the postgame news conference. On the left is Harrisburg Senators manager Randy Knorr. He hit .226 in 11 major league seasons. On the right is Senators pitching coach Randy Tomlin. He was 30-31 with a 3.43 ERA in five big league seasons. At center is Stephen Strasburg. He has never played in a major league game but soon will earn more money than Knorr and Tomlin did in 16 seasons combined.
• Strasburg said all the right things during his news conference. He was polite and boring … which I mean as a compliment. Although Strasburg may turn into a major league star, D.C. sports blogs will have to continue to get their LOLs from Alexander Ovechkin, Gilbert Arenas and all of Daniel Snyder's personnel moves.
• Nationals fans in D.C. might see that The Washington Post's article about Strasburg's debut has the headline: "Strasburg struggles, dazzles and wins in pro debut." Apt. But I prefer the line given to me by Nationals fan Brian Garrett, who drove four hours round-trip to the game from Chambersburg, Pa.: "He was all right. He wasn't good. He wasn't sh----." Now that headline -- STRASBURG ALL RIGHT: NOT GOOD, NOT SH---- -- would make me read a newspaper article.
• I stopped a group of three young fans on their way out of the stadium -- Ryan, a student at Penn State Altoona; Britney, a student at Mount Aloysius College; and Shannon, a student at Altoona High. Ryan thought Strasburg "struggled at times." Britney had "no idea" who I was talking about. And Shannon was pretty sure Strasburg is "some new pitcher."
"He was the No. 1 overall pick in the draft!" Ryan told his friend. "He can throw, like, 100 mph!" "Oh," Britney said. "That's really good!" Shannon said. So it looks as if Strasburg won over Shannon. But he still needs to work on Britney.
• Strasburg said he knows he's not yet ready for the majors. "You'd like to say that you're playing at the highest level possible," he said. "But right now there are things I need to work on and things I need to improve on." And when he does, Strasburg will achieve a major league call-up and the respect of Britneys everywhere.
DJ Gallo is the founder of SportsPickle.com. His first book, "SportsPickle Presents: The View from the Upper Deck," is available from only the finest bargain book retailers. His next book project will be released soon. You can follow him on Twitter at @DJGalloESPN.