Commentary
DJ Gallo's Offseason Pigskinpalooza!
Originally Published:
April 15, 2010
By
DJ Gallo
| Page 2
We are just days away from the NFL draft, where the worlds of college and pro football collide. Oh, really original idea there, draft. Those worlds have been colliding for months already in the Offseason Pigskinpalooza. STOP RIDING MY COATTAILS!
Let's begin ...
MONEY
• According to ESPN sources, Brandon Marshall has agreed to a four-year, $47.5 million contract extension with the Dolphins that would make him the highest-paid receiver in NFL history. Does Marshall deserve to be the highest-paid receiver in NFL history? Not at all. But remember -- he is more than just a receiver. Considering he plays two positions -- receiver AND punter -- the Broncos got themselves a bit of a bargain.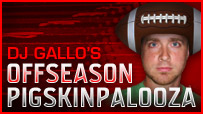 • Last season Dave Christensen became the first coach in Wyoming history to lead the Cowboys to a bowl victory in his first season. He was rewarded this week with a one-year contract extension through 2014. His base pay, $180,000 a year, remains unchanged. That's right. He gets paid only $180,000 a year. Urban Meyer spends more than that every year on vacation cancellation fees alone.
• Cowboys receiver Miles Austin missed the first two weeks of voluntary workouts, but he says it's not because he's trying put pressure on Dallas to give him a long-term deal: "I would love it, really, but that's stuff I can't control. I can just go out and be a player and play as hard as I can. That's what I love to do." And, cut to trademark Miles Austin smile. Aaah! Aaah! Uncut! Uncut! Pay him, Jerry Jones! Pay him to make the nightmares stop!
(Side note: Only in the NFL does it makes big news when a player misses a "voluntary" workout. NFL players, if you're reading: You guys should totally get one of those unions. They're all the rage in other sports.)
QUOTES
• It was a "very productive meeting." -- Ben Roethlisberger, on his Tuesday face-to-face Roger Goodell. Roethlisberger cut his hair for the meeting with the commissioner. And, if the quarterback is serious about proving he is a good person, he should donate his mullet to Locks of Love. And to reiterate, Ben -- the organization is called Locks of Love. I do not advise donating your mullet to Locked Bathroom of Love. Very different organization.
• "We're going to pass on that." -- Dave Ablauf, Michigan's director of media relations, cutting off a reporter at Rich Rodriguez's weekly press conference who was trying to ask the coach about NCAA violations at West Virginia. I wasn't there, but let's assume the pass attempt was intercepted and returned for a touchdown.
• Jeff Garcia, in an e-mail to the Associated Press, on the possibility of returning to the Eagles: "I would welcome the opportunity to return to Philly and be a part of the Eagles' organization and to be in front of those great fans again. I know that I would be a great addition/mentor for Kevin as well as many of the other young guys on the team. Time will tell." That's right. Time will tell. And it's actually telling me something right now. It's telling me that Jeff Garcia is 40 and hasn't thrown a pass since the 2008 season. Thanks, time! Now, Jeff, I have some bad news. Time told. And you will not be getting a contract from the Eagles. (Also, your comment about Eagles fans? You are showing early signs of senility and dementia. Get help.)
COACHES
• Texas A&M head coach Mike Sherman has invited A&M students -- of the non-student-athlete variety -- to participate in a practice. Players can catch a pass from A&M quarterbacks, throw to receivers, or even line up and try to block a lineman. Sounds fun. The only negative is that the event is called ... "Pigskin Palooza." What a dumb name.
• Lane Kiffin won his(?) first-round matchup with Natalie Gulbis in Esquire's Sexiest Woman Alive poll and now he is on to the second round against Danica Patrick. I am voting for Kiffin. Danica Patrick would not care to be objectified in this manner! That's why I plan to register DanicaPatrickIsNotAPieceOfMeat.net on GoDaddy.com.
LAWS
• Reggie Bush will be deposed April 23 in a lawsuit brought by a sports marketer claiming the running back and his family got $300,000 in cash and gifts while he was playing at USC. Bush's attorneys are hoping Pierre Thomas and Mike Bell will handle the brunt of the deposition, allowing Bush to answer situational questions.
• Spygate is still alive. A Jets fan is seeking $185 million in damages for Jets fans alone, arguing that New England's videotaping program essentially rigged the outcome of games and robbed fans of their money. Does he have a point? I have no idea. What I do know is that he probably hurt his case by showing up to court like this.
MISCELLANEOUS
• Former Notre Dame stars Joe Montana and Kris Haines were inducted into the Cotton Bowl Hall of Fame this week. Also inducted were Phil Harris of Texas, Warren Lyles of Alabama, former Cotton Bowl executive director Wilbur Evans, and longtime Texas A&M and Mississippi State coach Jackie Sherrill. Sherrill was inducted despite an intense campaign against him by the Steers Against Castration League of Voters, better known as SACLOV.
• Bill Belichick says the Patriots have been getting a lot of trade interest in their three second-round draft picks. But here are New England's second-round picks since 2006: Chad Jackson, Terrence Wheatley, Sebastian Vollmer, Ron Brace, Darius Butler and Pat Chung. Yikes. Attention NFL teams: DO NOT trade for New England's second-round picks! There are apparently very few decent players available then.
• Hey, guess what? Brett Favre showed up for Vikings' workouts! No. No, he didn't. That would be absurd. However, he did send Wrangler jeans to all of his Vikings teammates. Really. What a ... nice gesture? "Sorry about the NFC title game, fellas! Here is a pair $20 jeans."
• Ladies, only a few days remaining in Jeremy Shockey's Facebook contest. The Saints tight end will judge videos posted on his page and then pick one girl to take on a date. That person will be the contest loser. Not sure what the winners get.
• Roger Goodell may have to consider punishing Jerry Jones in the wake of a video that came out showing Jones mocking Bill Parcells and Tim Tebow in a dimly lit bar. On the video Jones says: "Bill's not worth a [expletive]." And the Cowboys' owner also stated that he wouldn't draft Tebow because "he'd never get on the field." Wait ... so thinking Bill Parcells is overrated and that Tim Tebow won't have a good NFL career could get Jones in trouble with the commissioner? I guess we all better go await our punishments from Goodell and reconvene here next week.
DJ Gallo is the founder of SportsPickle.com. His first book, "SportsPickle Presents: The View from the Upper Deck," is available from only the finest bargain book retailers. His next book project will be released soon. You can follow him on Twitter at @DJGalloESPN.