Commentary
DJ Gallo's Offseason Pigskinpalooza
Originally Published:
May 6, 2010
By
DJ Gallo
| Page 2
NFL rookies have been to minicamps, and many college teams have had freshmen enroll early to attend spring practice.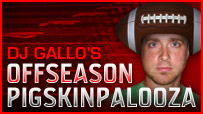 That means the newcomers must be hazed. It's the circle of life. We know that younger people will replace us someday, so while we still have the strength and energy, we must humiliate them as best as we can. That is why we dress children in ridiculous outfits with princesses and cartoon figures on them. No adult would go out dressed like that. But kids can't do anything about it. Ha! Stupid kids.
So let's take a look at how some NFL and college teams chose to haze their new players this spring.
Carolina Panthers
The Panthers' first pick was in the second round, and they selected Jimmy Clausen. That was his hazing -- a leaguewide prank to make him sit through two days of the draft in agony … to then get picked by the Carolina Panthers. Boom. Hazed. College football also was in on the prank -- that's why Clausen played at Notre Dame. (However, that guy who punched Clausen in South Bend was just a guy who punched Clausen in South Bend. A freelance hazer, if you will.)
Florida Gators
The Gators haze their freshmen every year with the same prank. An upperclassman tells a recruit that he must go off-campus to Urban Meyer's house, hide in the bushes and take a picture of the coach relaxing and spending time with his family. The recruit is told he can't leave until he gets the picture. Of course, Meyer is at the team facility the whole time, so several days into the prank, the recruit staggers back to campus as a failure, starving and near death. Then, everyone has a good laugh, and the recruit is taken to the hospital.
Cleveland Browns
Cleveland's first-round draft pick, cornerback Joe Haden, was forced to show respect for his veteran teammates. In his first practice with the team, he was forbidden to intercept quarterback Jake Delhomme more than 12 times.
Michigan Wolverines
Wolverines coach Rich Rodriguez told new recruits that they would have to take part in a 20-hour practice. But no. Later he informed them it was only the usual 18-hour practice.
New York Jets
First-round draft pick Kyle Wilson had to spend his first weekend with the team baby-sitting Antonio Cromartie's kids.
Denver Broncos
As with most teams, Broncos hazing is all about humiliation. So the Broncos made first-round pick Tim Tebow say this to the media to sound like a complete moron: "I was jacked leaving that room [at the NFL scouting combine]. I didn't even want to visit another room. It was not enough time. We were excited, we were enthusiastic. There was passion. It was just intense, and it was ball, and it was juice. The juice level in that room was high, and it was awesome." Well played, Broncos vets. Well played. And mission accomplished.
The rest of the Broncos' rookies were forced to give this jersey to their girlfriends -- the Tim Tebow Women's Field Flirt Fashion Jersey, complete with rhinestones around the collar.
The Tebow flirt jersey reminds ladies that flirting is OK, but they must never ever put out.
Jacksonville Jaguars
First-round pick Tyson Alualu was forced to undergo extreme and very painful plastic surgery. The team wants him to look like Tim Tebow for an upcoming meeting with season-ticket holders.
South Carolina Gamecocks
Transfers and recruits were forced to stare at this photo for an hour with their eyelids peeled open "A Clockwork Orange"-style.
Oregon Ducks
All incoming freshmen had to commit a felony.
USC Trojans
Trojans recruits were called together at midfield and reminded that Lane Kiffin, not Pete Carroll, is head coach at USC.
Texas Tech Red Raiders
Texas Tech tried to keep a bit of continuity in the program by locking its players in a small closet.
Miami Dolphins
General manager Jeff Ireland called up all the rookies in front of the team one by one and asked them whether they had ever walked in on their parents while they were having sex. If yes, Ireland demanded they tell everyone about what they saw in graphic detail.
Dallas Cowboys
Cowboys rookies had to go out drinking with Jerry Jones and hear what he really thought about them.
New York Giants
First-round pick Jason Pierre-Paul had to chaperone Eli Manning on a date and make sure he was home by 10:30 p.m.
Oakland Raiders
All Raiders rookies and new acquisitions were forced to sit through a 12-hour employee orientation program presented by Al Davis via overhead projector.
Philadelphia Eagles
The Eagles' first-round pick, Brandon Graham, was forced by his teammates to run out onto the field during a Phillies game the other night. He was subsequently Tasered by a Philadelphia police officer. He also had to run out late at night and get head coach Andy Reid three cheesesteaks. But the veterans have to do that, too, so it really can't be considered hazing.
Pittsburgh Steelers
New Steelers center Maurkice Pouncey probably got the worst hazing of all. He had to bend over while Ben Roethlisberger repeatedly put his hands between Pouncey's legs.
St. Louis Rams
No. 1 overall pick Sam Bradford was duct-taped to the goalpost in the end zone and left there for hours. He wasn't supposed to be there for hours, but after Steven Jackson duct-taped Bradford, he left the facility. No one else on the team knew how to get into the end zone. The rest of the Rams' draft picks were forced to listen to jokes with setups as long as that one.
DJ Gallo is the founder of SportsPickle.com. His first book, "SportsPickle Presents: The View from the Upper Deck," is available from only the finest bargain book retailers. His next book project will be released soon. You can follow him on Twitter at @DJGalloESPN.