Commentary
DJ Gallo's Offseason Pigskinpalooza
Originally Published:
May 20, 2010
By
DJ Gallo
| Page 2
There's not much happening in football. We're far removed from the draft. Spring games are over. And training camps won't open for two months.
NFL teams are working out. But that's it. We are deep into the news-less offseason. Even commissioner Roger Goodell has lost the energy to suspend anyone for the last few weeks.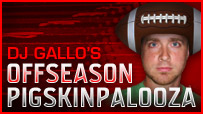 So what's a football columnist to do in such a situation? What can I write about?
Thankfully there is one person who piques the interest of both college and pro football fans: Tim Tebow. Writing about him guarantees an audience. Now I just need to find something newsworthy to write about.
To Google!
When you type "Tim" into the Google search box, "Tim Tebow" is only the seventh suggestion in the drop-down menu after: time zones, time, time warner cable, time magazine, tim holden and times leader.
Really, Google? Tim Tebow comes in seventh? Absurd, unless Alabama broke into six different teams. I can maybe see time itself trumping Tim. Maybe. But Time Warner Cable? The people who thought it was a good idea to merge with AOL? They don't deserve that honor. And Time Magazine? Magazine publishing is last century. 2010 is Tebow. Oh. Note to self: Launch Tim Magazine. It will be like Oprah's magazine, but with a Tebow twist. Intangibles recipes, rankings of the best home schools across the country, features on both ball and juice, Cosmo-inspired articles like: "10 Ways to Make Your Partner Go Wild in Bed" (No. 1, of course, is: Marry them), advice on how to get involved in charity work, fundamentals of the jump pass, travel articles on the best circumcision spots around the world, tips on giving inspirational speeches. Maybe even vacation tips from Florida coach Urban Meyer. That sort of thing. It would be huge.
But I digress. My entrepreneurial ideas can wait.
Who is Tim Holden and the Times-Leader, the last two Google suggestions ahead of Tim Tebow? Well, the Times-Leader is the newspaper for Wilkes-Barre, Pa., northeastern Pennsylvania's largest town. After Scranton. Tim Holden is a congressman from central Pennsylvania. To my knowledge, The Times-Leader does not publish on plaques and Rep. Holden never won the Heisman.
So Google has some explaining to do. You know, this Tebow disrespect could be just the opening AltaVista and HotBot need to return to glory.
But for this column, I'll give Google another shot and type in "Tim Tebow." Now the suggestions are:
• tim tebow
• tim tebow commercial
• tim tebow girlfriend
• tim tebow ad
• tim tebow super bowl commercial
• tim tebow virgin
• tim tebow pro life commercial
• tim tebow commercial super bowl
• tim tebow commercial youtube
• tim tebow biography
I have no idea why anyone is typing in "tim tebow biography." All the information you need to know about someone is right there in Google's drop-down suggestions. It's like the CliffsNotes of Wikipedia.
From that list we can generate this biography: "Tim Tebow is a noted commercial actor who is a pro-life virgin. He may or may not have a girlfriend." Huh. Too bad he doesn't play football. He could've been really famous!
The Google drop-down suggestions are really the best -- or at least fastest -- way to learn about someone. Here. Take a look at Alex Rodriguez's list:
• alex rodriguez
• alex rodriguez bio
• alex rodriguez stats
• alex rodriguez steroids
• alex rodriguez dallas braden
• alex rodriguez salary
• alex rodriguez and kate hudson
• alex rodriguez girlfriend
• alex rodriguez mercedes
• alex rodriguez bio
From all that, we know this: "Alex Rodriguez is a statistician who earned a large salary for his work in the area of steroids, allowing him to buy a Mercedes. His girlfriend is either Kate Hudson or Dallas Braden." Thanks, Google!
It even works for me.
• dj gallo
• dj gallo amazon
• dj gallo espn baseball promotions
• dj gallo wiki
• dj gallo twitter
• dj gallo nfl hangover
• dj gallo espn
• dj gallo blog
• dj gallo bio
• dj gallo hangover
Pretty simple: "DJ Gallo is an Internet writer employed by ESPN who is prone to hangovers." Huh. That's actually not too bad.
Now that we know pretty much all there is to know about Tim Tebow, it's time to click the Google News link to see what the latest is with our famed commercial actor. You know, to give this column some direction. (If you click Google Images, your day will go in an entirely different direction. One that could lead you to a meeting with HR over looking at scantily-clad women on the Internet. They won't buy that you were just looking at Tim Tebow pictures. Only Tebow himself can keep his thoughts pure around such women.)
OK, Google News link clicked. And ... boring.
Let's try Google Shopping. Hey! Blue and orange! Lots of it. But bright, nausea-inducing colors do not a column make.
I'm running out of options. Wait. What's this ... Google Maps?
Click.
Oh. My. God. This is it. This is what I've been looking for!
Tim Tebow is in no less than 10 places at once. Soon he will be in your town to help you with your problems. Our nation is saved! Tim Tebow is multiplying.
(Which is no small feat for a virgin commercial actor.)
DJ Gallo is the founder of SportsPickle.com. His first book, "SportsPickle Presents: The View from the Upper Deck," is available from only the finest bargain book retailers. His next book project will be released soon. You can follow him on Twitter at @DJGalloESPN.