Commentary
DJ Gallo's Offseason Pigskinpalooza
Originally Published:
May 28, 2010
By
DJ Gallo
| Page 2
The Super Bowl is going to New York/New Jersey. Since it seems the NFL's marquee event is no longer limited to warm-weather cities and domes, let's take a look at how other nontraditional NFL cities might do as Super Bowl host.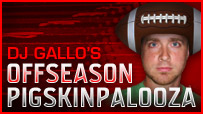 Washington, D.C.
Washington isn't so much cold in February as it is annoying. For all the people complaining about the possibility of a Super Bowl in the snow, that would be much better than a Super Bowl in a 40-degree rain. Plus I don't think we want Daniel Snyder anywhere near a Super Bowl. Plunking down $2,000 for one Super Bowl ticket is expensive enough as it is without having to pay an extra $750 for parking.
Denver
Denver would give the NFL a cold-weather Super Bowl set against the Rocky Mountains. It doesn't get more wintry than that. One major problem, though: The effects of alcohol are accelerated at higher altitudes. And the Super Bowl is a two-week party capped by a few hours of football. If it was played in Denver, no one would make it to the game.
Nashville
Nashville's average February high is 52, so a Super Bowl there would hardly be a cold-weather game. However, Nashville is a fun town that would keep the always-demanding football media entertained. (You'll recall that Jacksonville's entertainment options were not sufficient for the refined, cosmopolitan palates of NFL beat writers.) The city has one major strike against it, however: the potential halftime show. Ever since Janet Jackson's nipple-baring performance, the league has demanded that its halftime acts be very old and mostly irrelevant. Add "country" to that equation, and the NFL is tempting a nationwide uprising.
Green Bay
A Super Bowl in Green Bay would be awesome. But there are simply not enough hotel rooms in town to handle the influx of people. The Super Bowl regularly gets almost two times the amount of media as a fake Brett Favre retirement news conference.
New England
New York is getting a Super Bowl, so you can guarantee Boston will want one. But do we want to risk that? The two best teams in football playing at Gillette Stadium? It would be too tempting for Bill Belichick. He'd have the whole place bugged.
Cleveland
You may have heard that Cleveland doesn't really do championships. So this would at least let them have a championship in Cleveland. And maybe they can even arrange it so the two Super Bowl teams arrange a football instructional clinic for the Browns. The Cleveland economy gets a boon and Jake Delhomme learns how to hold a football. Win-win.
Philadelphia
We all know the reputation of Philly fans. We know even better how much the NFL likes to protect its reputation. It would be a big risk to have a Super Bowl in Philadelphia. But an even bigger risk would be if nothing happens. Then Philly fans could point to the fact that they were on their best behavior at the Super Bowl. Like: "Oh, sure. Everyone always talks about how A, B, C, D, E, F, G, H, I, J, K, L, M, N, O and P happened here. But no one ever seems to mention how nobody vomited on the Super Bowl MVP."
Seattle
Seattle gets a rain shower most days in February, so at least the weather there would be known instead of feared. Really the only stumbling block to having a Super Bowl in Seattle is the same with any West Coast city having it: The pregame show has to start three hours earlier in local time. Few TV people like to start work at 2:30 a.m.
Oakland
The average high temperature in Oakland in early February is around 60 degrees. That's perfect football weather. Plus, KISS is really the only old-man rock band left that hasn't played the Super Bowl. And these people probably love KISS.
San Francisco
San Francisco, like Oakland, is temperate in February. Fog could be a problem, I suppose. The network needs at least some visible football now and again to justify running three hours of ads.
Charlotte
It's not especially cold in February. It's not especially warm. It's not a big city. It's not a city with a long NFL tradition. Yeah, Charlotte is never getting a Super Bowl.
Chicago
Chicago's average February temperature is below freezing. A Super Bowl in Chicago would be a true cold-weather Super Bowl and likely an advantage to a team built to win in those conditions. So, oddly, not the Bears.
Cincinnati
For years the idea of a cold-weather Super Bowl was laughed at. But once New York was interested ... suddenly it was a good idea! Shocking. The first cold-weather Super Bowl goes to the media capital of the world. If there's a second one, Cincinnati should be considered. It may not have as much media as New York, but it is the headquarters of OCNN.
Pittsburgh
Pittsburgh is only a midsized city. True. But last year it hosted the G20 summit, so there's no reason Pittsburgh can't handle a Super Bowl. And if the halftime act is as bad as The Who were last year, there's probably some extra tear gas lying around.
Baltimore
Baltimore seems as good a host for the Super Bowl as any city. And their players complaining about the "disrespect" of other teams playing in their stadium would be a nice side story every Super Bowl needs.
Kansas City
Taxpayer dollars built Arrowhead Stadium. It's only fair that an event is held there once after late December.
Buffalo
The Bills would be a great host for a Super Bowl. Having the game in Toronto would really expand the NFL's international appeal.
DJ Gallo is the founder of SportsPickle.com. His first book, "SportsPickle Presents: The View from the Upper Deck," is available from only the finest bargain book retailers. His next book project will be released soon. You can follow him on Twitter at @DJGalloESPN.