Commentary
Who to root for in the Finals?
Originally Published:
June 3, 2010
By
DJ Gallo
| Page 2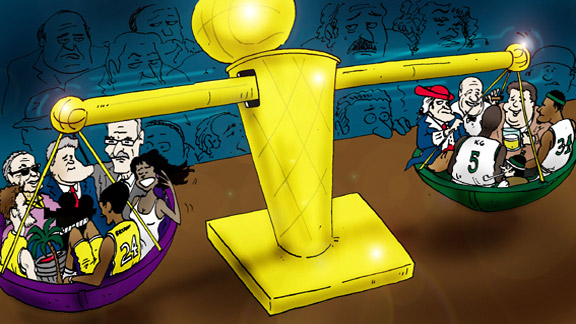 Kurt Snibbe / ESPN.com
For those of us who aren't fans of the Lakers or Celtics, it's hard to know who to root for in the NBA Finals. Usually we root for anyone but those teams, just to see someone new win.
Perhaps the best way to find a rooting interest is to compare some of the similarities between the two cities.
FAVORITE PARTY
Boston:
Tea Party
Los Angeles:
Post-Oscar party
The Boston Tea Party is significant in the creation of our country. And I appreciate that. I do. But none of the tea partiers could have pulled off a revealing, low-cut dress. Not even Samuel Adams. Advantage: Los Angeles.
ACTING DUO
Boston:
Matt & Ben
Los Angeles:
Cheech & Chong
Damon and Affleck are far superior actors, so you have to give the advantage to Boston here. However, I would love to see Cheech and Chong star in a remake of "Good Will Hunting."
"Do you like apples?"
"What?"
"Do you like apples?"
"Yeah."
"Well, I can make a bong out of them. How do you like them apples?"
FAVORITE WALK
Boston:
Terry Francona walking out of the dugout to pull Daisuke Matsuzaka
Los Angeles:
Hollywood Walk of Fame
We'll call this one a tie. The Hollywood Walk of Fame is world-famous, but it can't even spell the names of its stars right. It's almost as embarrassing as the Red Sox just giving away $51 million a few years ago to have dinner with Matsuzaka. Almost.
MOST REGRETTABLE KNIGHT*
Los Angeles:
Suge Knight
Boston:
Jordan and Jonathan Knight (tie)
The Boston area claims not only the Knight brothers, but all of New Kids on the Block. Huge advantage: Los Angeles.
*Note: Shared reality of having employed Travis Knight excluded.
THOUGHTS ON PETE CARROLL
Boston:
Greatest coaching mistake ever!
Los Angeles:
Greatest coaching hire ever!
Another tie. Carroll had tons of talent at USC; in New England he had very little. Patriots fans, don't forget: Carroll was six games over .500 (27-21) with a roster that featured the likes of Shawn Jefferson, Robert Edwards and Terry Allen. Many of those Patriots couldn't have made a USC roster.
GREENEST PLACE
Boston:
Boston Common
Los Angeles:
Corner medical marijuana shop
Af first, you have to give the advantage to Boston here. There's nothing quite like spending a relaxing afternoon in a beautiful city park. Except … oh, no! I got sunburned. I sure could use some medical marijuana to treat my serious medical condition. Advantage: Los Angeles.
MOST FAMOUS SQUARE
Boston:
Copley Square
Los Angeles:
Center square
Copley Square is named for American portraitist John Singleton Copley. Copley was the greatest and most influential painter in colonial America, is noted as one of the most accomplished realists and blah blah blah blah. He's not nearly as famous as Paul Lynde. Advantage: "Hollywood Squares"/Los Angeles.
PROJECT THAT FAMOUSLY WENT WAY OVER BUDGET
Boston:
The Big Dig
Los Angeles:
"Waterworld"
Hmm. Tough call. Let's call it a tie. But next time Boston wants to commit public money for a dig-related project, it could save some cash by debuting a Kevin Costner movie in town. His box-office bombs are more powerful than any explosive.
FAMOUS SIGN
Boston:
Citgo sign
Los Angeles:
Hollywood sign
As corrupt and depraved as Hollywood might be, it's not an oil company. And definitely not an oil company headquartered in Hugo Chavez's Venezuela. And definitely not an oil company headquartered in Hugo Chavez's Venezuela with a prominent sign outside Fenway Park. Advantage: Los Angeles.
TRADEMARK SKYSCRAPER
Boston:
Hancock Place (790 feet)
Los Angeles:
U.S. Bank Tower (1,018 feet)
The U.S. Bank Tower may dwarf Hancock Place, but the latter is an attractive glass structure, whereas the U.S. Bank Tower is tall but quite ugly. I hear in architecture circles it's referred to as "the Pau Gasol of buildings." Advantage: Boston.
FAVORITE SOUP
Boston:
New England clam chowder
Los Angeles:
"The Soup"
Hey, I like clam chowder as much as the next guy. But I think, like most readers, I much prefer seeing people make fools of themselves on talk shows. Maybe if more people on "The Jerry Springer Show" chucked hot chowder at one another this would be a little closer. Advantage: Los Angeles.
ACADEMIC CONTRIBUTORS
Boston:
Harvard and M.I.T.
Los Angeles:
Caltech
Harvard and M.I.T. have molded some of America's best minds for hundreds of years. But it's hard to discount the more recent contributions made by Caltech. And if you throw the USC Song Girls into the debate, this one becomes pretty easy. Advantage: Los Angeles.
LENO-NESS
Boston:
Born and raised
Los Angeles:
Where he has lived for decades
Yikes. Tough call here. There are those who say Leno was once a great stand-up. So perhaps Boston should get credit for his early years and Los Angeles is to blame for the decay that led to his present form. However, Conan O'Brien is also from the Boston area, and Los Angeles didn't ruin him. Although maybe it would have if Leno hadn't stolen his job. Hmm. This is only getting more confusing. So is Leno the good guy or the bad guy here? Maybe I'm asking the wrong questions. Where's Kevin Eubanks from? Philadelphia? OK, then let's call Philadelphia the loser on this one. Sorry, Flyers.
WELL-KNOWN BAR
Boston:
Cheers
Los Angeles:
Bar Refaeli.
Stop the fight! Los Angeles wins. Unless you switch Bar Refaeli with Barbra Streisand. Then Boston wins. Yeah, we accomplished very little here. Go Blackhawks!
DJ Gallo is the founder of SportsPickle.com. His first book, "SportsPickle Presents: The View from the Upper Deck," is available from only the finest bargain book retailers. His next book project will be released soon. You can follow him on Twitter at @DJGalloESPN.