Commentary
DJ Gallo's Offseason Pigskinpalooza
Originally Published:
June 3, 2010
By
DJ Gallo
| Page 2
College footballocalypse. That's what I'm calling it. Perhaps the term is a bit unwieldy.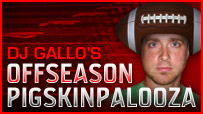 But that's OK. This is Pigskinpalooza, after all. So with all that has happened in the past 48 hours -- and will likely happen as you're reading this -- let's step back and see where everything stands with some FAQs.
So what has happened so far?
As of this writing, Colorado has joined the Pac-10 and Nebraska is joining the Big Ten. That's it. However, those moves are likely to cause a mass exodus of other schools out of the Big 12. But the initial dominoes have been just Colorado and Nebraska, meaning the conference tallies are currently ... Big Ten: 12; Big 12: 10, Pac-10: 11. Nothing confusing about that. Fun Fact: The Big East is still actually in the East, which -- you have to admit -- is incredibly adorable.
Where did the Pac-10 come from?
The Big Ten was thought to be the conference that would start Armageddon. They are happy to avoid that blame ... although their planned changes are what caused the Pac-10 to act, but I digress. With Colorado now on board, the Pac-10 is reportedly prepared to bring in Texas, Texas A&M, Oklahoma, Oklahoma State and Texas Tech. Notre Dame would also like to come out, but not to join. They just want to point and laugh at USC.
Was USC's punishment more than a slap on the wrist?
Yes. USC was hit with a two-year bowl ban, four-year probation, the loss of 30 football scholarships over three years and the loss of 14 wins from December 2004 through the 2005 season. That is definitely more than a slap on the wrist. Which is good. Because USC wears a very expensive gold and diamond watch on its wrist and it probably wouldn't even feel a slap.
So if USC's wins from December 2004 through the 2005 season are gone, that gives Oklahoma a national title, right?
No. The NCAA doesn't decide the outcome of the national title. That decision is up to the BCS. They could strip USC of the title or just asterisk it. (Oooh! An asterisk! The most damning of all textual symbols!) But it's very unlikely Oklahoma will be given the title. You can't just rewrite history. Plus, the Sooners lost that game 55-19. I'm OK with a team being given a retroactive title ... as long as they lost the title game to the cheating party by fewer than 36 points. I think we can all agree on that.
Does Reggie Bush lose his Heisman?
That also hasn't been determined yet. Consider that O.J. Simpson wasn't stripped of his Heisman, soooo ... Bush has that going for him. Of course, Bush's misdeeds happened while he was "earning" his Heisman and Simpson's (some word several billion times stronger than "misdeeds") did not.
But it's hard to just go back and change history. Think about it: If Reggie Bush hadn't played in 2005, he wouldn't have been there to push Matt Leinart into the end zone and Notre Dame would have pulled off the upset of USC. Forget the massive contract Charlie Weis earned from nearly beating USC, Notre Dame would have signed him to something like a 20-year, $800 million contract for actually beating the Trojans. And he'd still be the coach of Notre Dame today because the school wouldn't have been able to afford his buyout.
So if you take Bush's Heisman away, you also have to reinstall Charlie Weis as Notre Dame's head coach. And only the most ardent Fighting Irish hater would want to do that to them.
How does this affect the legacies of Pete Carroll and Reggie Bush?
It doesn't look good for them now, but that question is for historians to answer. And Pete Carroll will likely give historians some maple bars and they'll treat him well for it.
As for Bush, he will be a pariah at USC. But in a way, this whole outcome might silence his critics who say he's been a bust as a pro. How wrong does that thinking look now? As a pro in 2005, he ran for 1,740 yards and 16 TDs. Suck on that, critics!
Back to the conferences -- how do the SEC, ACC and Big East figure into all that's happening?
The SEC is fine. They could add a couple of teams if they'd like, or not. The SEC already has 12 teams and a conference title game because they added Arkansas and South Carolina way back in 1990. They can just sit back and, like always, smugly dismiss the rest of the conferences for being slow.
The ACC hoped it had positioned itself for the long run a few years ago when it nabbed Miami, Virginia Tech and Boston College from the Big East. Unfortunately, Miami (and Florida State) football went in the toilet and now they're just sitting there hoping the SEC doesn't want to expand. In Jimbo Fisher and Dabo Swinney, they've already got coaches with SEC names.
The Big East? Who knows. Everyone thought they'd be the conference that would get destroyed and, instead, the Big 12 is probably going under. Rutgers and Syracuse were (are?) considered top candidates to move ... and maybe that's what could save the conference. Who wants Rutgers and Syracuse?
What will Tom Izzo's likely departure to the NBA do to Big Ten basketball?
Wait. You're asking a question about basketball? The first two programs on the move are Colorado and Nebraska. Rutgers is being discussed. Clearly none of this has anything to do with basketball. You should have figured this out before on your own, moron. Football is the king of college sports.
Why do you have to be so rude?
Sorry. Please come back for next week's edition of the Pigskinpalooza! Please. I beg you. Don't leave. Don't do me like Colorado.
DJ Gallo is the founder of SportsPickle.com. His first book, "SportsPickle Presents: The View from the Upper Deck," is available from only the finest bargain book retailers. His next book project will be released soon. You can follow him on Twitter at @DJGalloESPN.