Commentary
DJ Gallo's Offseason Pigskinpalooza
Originally Published:
June 17, 2010
By
DJ Gallo
| Page 2
The college footballocalypse is over. Sort of. Maybe. Possibly. When Utah officially accepts a bid to the Pac-10, this round of conference shifting and changing will be over.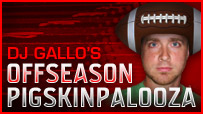 Unless, you know, Central Florida and Memphis go to the Big East. And then there's always the chance that the Big Ten will try to expand again. Or that the Big 12 will try to get back to 12. Or that the SEC will make a move. And then there's always Notre Dame.
This is never-ending, isn't it?
Let's just take a look at who the winners and losers are in the latest bit of reshuffling. My apologies if anything major happens by the time you finish reading this. I hear USC is considering an offer from the NFC West.
Texas: Winner -- They got to hear the Pac-10 and Big 12 beg and tell them how awesome they are and, by doing absolutely nothing, ended up getting a ton of money and their own TV network. Heck, they were even handed a show idea for that network this week: "When Vince Young Attacks!" It was a good week for the people of Texas. Let's hope they stay humble about their football and their state.
Boise State: Loser -- "The Big 12 is dissolving! A replacement BCS conference will be needed! If we join the Mountain West, that will make the Mountain West the obvious choice!" So Boise State joined. And then the Big 12 stayed together. And then Utah left to join the Pac-10. And now Boise State is pretty much back where it started. Soooo ... yeah. But, who knows, a few years from now, when the Pac-10 tries for a 64-team conference, you have to think Boise State might be considered for that.
Dan Beebe: Winner -- The Big 12 was reportedly just hours from dissolving, but commissioner Beebe was able to fight off the marauding Pac-10 and keep the conference intact as a 10-team conference. It's probably the second-greatest last-second save by a Beebe in history. Actually, let's make it the greatest save by a Beebe in history. The Bills lost that game 52-17. That Don Beebe strip of Leon Lett would be like Dan Beebe scrambling to keep the Big 12 as a two-team conference featuring Baylor and Iowa State.
Larry Scott: Winner -- Scott failed in his goal to make the Pac-10 a 16-team "super conference," but by adding Colorado and -- presumably -- Utah, the commissioner still got the Pac-10 to 12 teams and a conference championship game. Plus, he'll go down in history as the guy who was in office when USC got hammered by the NCAA. Surely that will endear him to 11/12ths of the conference forever.
Colorado: Winner -- Colorado feels it fits better "culturally" in the Pac-10. Whatever. They hoped to be the first domino leading to the Pac-10 super-conference; now they're just in a different 12-team league. Saying you moved to a conference for "cultural" reasons sounds as sincere as a school saying it moved for "academic" reasons. This is college. Culture and academics have no place. But consider this: Colorado athletics made the news and it wasn't for losing a game. Yay! I wonder what the Boulder parade route will be.
Nebraska: Winner -- Nebraska is a perfect fit for the Big Ten. I could give you a long list of reasons why, but that would be incredibly boring. Although maybe I should do that. My list might get an invite to join the Big Ten.
Big East: Winner -- Many thought the Big East, not the Big 12, was the endangered conference. But it looks like the conference will make it at least a few more years. In fact, the Big East is reportedly thinking of adding Central Florida and Memphis.
People who like to make fun of the Big East: Winner -- See the preceding sentence about the Big East adding Central Florida and Memphis.
Utah: Winner -- With good football and basketball, Utah has been punching below its weight class for years. Moving up to a BCS conference and the Pac-10 is a much-deserved promotion. Plus, it had to be a ton of fun to mail Boise State a "Welcome to the Neighborhood!" card one day and a change-of-address card a few days later.
Notre Dame: Winner -- The Irish are free to continue on in independent bliss with that big NBC contract for the foreseeable future. And thank God. No matter how much you might dislike Notre Dame or how bad their football program has become, it's much better to have them on television than pretty much anything else NBC airs. "When Vince Young Attacks!" would actually be one of the network's best shows.
Basic math: Loser -- The Big Ten has 12 teams, the Big 12 has 10 teams, the Pac-10 has 11 or 12 teams. Confusing? Sure. I guess. But consider we're talking about: (A) athletes; and (B) people who routinely talk about giving 110 percent. Math has never been a strong point.
Big 12 teams not named Texas: Loser -- You still have a conference, but absolutely no power. Since the Big 12 will need a new name and logo, how about this one? (Oklahoma and Texas A&M, you guys can Photoshop your logos in as the longhorn's eyes or something.)
USC: Loser -- The Trojans didn't figure into the conference changes. But it would be an unforgivable omission to leave USC off of a list about losers in college sports.
DJ Gallo is the founder of SportsPickle.com. His first book, "SportsPickle Presents: The View from the Upper Deck," is available from only the finest bargain book retailers. His next book project will be released soon. You can follow him on Twitter at @DJGalloESPN.