Commentary
Next up, the NFL free agents
Originally Published:
July 1, 2010
By
DJ Gallo
| Page 2
There has been a bit of coverage in recent days weeks months years about LeBron James' free agency. But this is a football column. So unless James feels incredibly passionate and joins the Browns like in that one Nike commercial, there's not much of a hook here.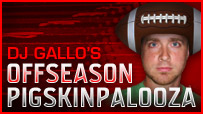 Unless … ooh! I know! Let's take a look at the top 2011 NFL free agents!
TOM BRADY: Brady took lower than his market value on his last contract to allow the Patriots to sign other players. Now he may want to cash in, adorably not understanding how the Patriots work. And don't forget he'll turn 34 before the 2011 season starts and will probably be coming off six consecutive seasons without a championship. Oh, and Randy Moss will also be a free agent and on his way out.
Likely destination: Bill Belichick has seemed distracted in recent years. My guess is it's because he's so eager to laugh at and mock his star quarterback's upcoming contract demands. It will be Belichick's career highlight. (In fact, after turning Brady down, Belichick may even retire to go out on top.) If Brady is still wearing his Justin Bieber hairdo in 2011, it will provide him not only with preteen style, but with much-needed warmth, too … as he'll be playing in Buffalo.
PEYTON MANNING: Manning will be a whole year older than Brady in 2011. But he doesn't have an injury history, and he's pretty much the entire Colts franchise. If Manning wants to play until he's 65, the Colts will have to keep paying him, even as he becomes more frail and starts forgetting his own audibles.
Likely destination: Indianapolis. Although he may be tempted by a bigger market. You know, to cash in on some of those endorsement opportunities he's missed out on.
BRETT FAVRE: The summer before the 2011 season will be exactly like every other offseason, only Brett Favre will get to dramatically decide whether he will play for all 32 NFL teams instead of just one.
Likely destination: I'm getting nauseated already. Does purgatory have an NFL team? Let's just move on.
DONOVAN MCNABB: McNabb will turn 35 during the 2011 season, he's had more injury troubles than Brady and, unlike Brady and Manning, he's never won anything. He won't be in position to earn a very big contract.
Likely destination: Except he is now on the Redskins. The Redskins are owned by Daniel Snyder. And the Redskins haven't seen anyone play anything remotely approaching competent at quarterback in decades. If McNabb is even decent this year, in 2011 he'll get a contract that Snyder will figure out using this formula:
New NFL Team Payroll Max -- (52 players x league minimum salary) = Donovan McNabb's Salary
MICHAEL VICK: Vick will be 31 in 2011 and five seasons removed from having started for an NFL team.
Likely destination: Probably Roger Goodell's office for something.
MILES AUSTIN: Austin is still young and is just starting to reach his potential. He can team with Dez Bryant to give Tony Romo a dynamic receiving combo for years to come.
Likely destination: Out of the league, maybe? Look, he's dating a Kardashian now. Everyone knows dating a Kardashian brings you a title in the first year of the relationship. So the Cowboys should win the Super Bowl this year. Why re-sign him for big money in 2011 when his Kardashian-ness will be worn off? They need to use that money to sign Kim Kardashian's next boyfriend.
VERNON DAVIS: Kevin Boss, Owen Daniels, Antonio Gates, Zach Miller and Tony Scheffler will all be free agents in 2011. But Davis' combination of youth and production might make him the most attractive free-agent tight end.
Likely destination: 49ers. Unless he turns pro in this by then. There is no way we can know what will be the most lucrative sport in the future.
SANTONIO HOLMES: In 2011, Holmes will be a 27-year-old receiver entering the prime of his career with a Super Bowl MVP on his résumé.
Likely destination: Jets. He should never be allowed to leave New York. I mean, he doesn't take his iPod earbuds out during landing! The man is a menace! He can't be allowed to board our nation's planes!
HALOTI NGATA: Ngata is a former first-round draft pick for the Ravens and has probably become the best player on their defense. They won't want to let him get away.
Likely destination: Anywhere he wants. Who is going to tell Haloti Ngata where he can and cannot play? He will destroy you high school rugby-style.
CHAMP BAILEY: Bailey will be 33 in 2011, but he has remained one of the top cornerbacks in the league and will be in demand.
Likely destination: Anywhere but Denver. But likely in the AFC West. A cornerback like Bailey has to salivate over the opportunity to play against a team that has Kyle Orton, Tim Tebow and Brady Quinn as its quarterbacks. All those interceptions in practice don't count for the official record books.
BRANDON MARSHALL: Marshall would have been the top free-agent receiver in the 2011 class, but he signed a four-year contract with the Dolphins in April.
Likely destination: Miami. But if he can get away to Denver for a weekend to punch Josh McDaniels in the face, he probably should take that opportunity.
YOU: This was a fun exercise, but there's not going to be any NFL football in 2011. You'll have to fill your time some other way.
Likely destination: Chores around the house and visiting family. What -- you thought college football? Ha! College football isn't on on Sundays. No, sir. Housework and family time it is. You know, you might want to consider donating to the owners and players to make the lockout end quickly.
DJ Gallo is the founder of SportsPickle.com. His first book, "SportsPickle Presents: The View from the Upper Deck," is available from only the finest bargain book retailers. His next book project will be released soon. You can follow him on Twitter at @DJGalloESPN.