Commentary
Measuring the NBA post-"Decision"
Originally Published:
July 9, 2010
By
DJ Gallo
| Page 2
The Decision is final. LeBron James is a member of the Miami Heat. As the dust begins to settle, let's take a look at whose stock is up and whose stock is down.
Mikhail Prokhorov: Down
Less than two months after officially becoming the Nets' majority owner, the shine is already off Prokhorov. New Jersey missed out on LeBron and all the other free agents, too. The only thing that's different about the Nets since Prokhorov took over is that they have a much higher long-distance bill.
Jay-Z: Down
LeBron said he tried not to make an emotional decision. Clearly. Because in addition to spurning the folks of Ohio, he didn't listen to his friend, either. Although Jay-Z kind of had this coming. You can't write a song like "Empire State of Mind" one day and the next be like: "Hey, remember how I said how awesome New York is? No, no, no. It's New Jersey that's great. You should totally come to New Jersey."
I think we're all just disappointed that by turning down Jay-Z, LeBron also turned down a rumored clothing line and a cologne. LeBron's "The Decision" could have gone head-to-head with Mike Sorrentino's "The Situation" for the top New Jersey scent.
PAGE 2 ON LEBRON'S DECISION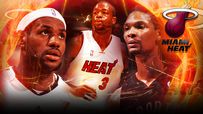 In the aftermath of a historic sports day, you can always count on Page 2 to put everything in preposterous perspective:
• Hruby: Open letter to Dan Gilbert
• Gallo: Winners, losers of decision
• LaTulippe: Cleveland will survive
• Inside the brain of Dan Gilbert
• Wilson: Story of Plain Dealer cover
• Hruby: Top 10 trios in history
• Page 2 Podcast: The macho of fonts

MSG: Down
Literally. Madison Square Garden stock (ticker symbol: MSG) went up Wednesday after rumors that LeBron would sign with the Knicks. But it leveled out yesterday and will drop today. In fact, its chart for this week should look kind of like the arc of a basketball shot. Wall Street investors also call this kind of chart the "Eddy Curry belly curve."
New York Knicks: Down
James Dolan sent Isiah Thomas to speak to LeBron in a last-ditch effort to convince LeBron to sign with the Knicks. I am not making that up. Isiah Thomas. This was the most insane idea ever. The only way it makes any sense at all is if Dolan sent Thomas to deliver a sealed, hand-written message to LeBron. A message that read: "LeBron: Just wanted to remind you that this guy is no longer employed by the Knicks. Sincerely, James Dolan."
Chicago Bulls: Up
They missed out on LeBron, but they have a great core in Derrick Rose, Joakim Noah and Carlos Boozer. Also, there's a decent chance that the reigning division champion will be vulnerable this year. And for unlimited years into the future.
Miami Heat: Down
They're the prohibitive title favorites. No, not the NBA title -- although they're definitely the favorite for that, too. I was referring to the title of the most hated team in sports. And it's not even close. (Sorry, Patriots!)
Everyone will be rooting for the overdog to fail. And fair warning: If you live outside of Miami-Dade County and don't have some sort of time-stamped, official documentation verifying you as a longtime Miami Heat fan, do not even try to wear Heat gear around. Bandwagons are like any vehicles: they have brake lines that can be cut. Don't think we won't do it.
Pat Riley: Up
The NBA mastermind brought this all together in Miami. At least that's the narrative. But as skilled as Pat Riley is, Chris Bosh and LeBron James probably wouldn't have signed with Miami if they weren't both friends with Dwyane Wade. It's not like Riley introduced them to each other at the 2003 draft and then fiendishly laughed as he watched them converse from across the room, knowing his plan was in motion. Bwwwwah-ha-ha.
And while Riley is getting older, I don't think he is so old that he founded the city of Miami on South Beach. So he can't put the natural lure of Miami on his résumé, either. But yes, let's still give Riley all the credit for making this happen. Let's also pretend his hair naturally grows in that direction. It will be fun!
Dwyane Wade: Up
He's the leader of the NBA's new dynasty. He was instrumental in pulling it together. And he already has an NBA title. The man is impenetrable right now. Which is good. Because a lot of people might be throwing things at LeBron and he could get hit.
Chris Bosh: Down
When it was just Wade and Bosh on the Heat, Bosh was the integral partner who could help Wade lead the Heat back to glory. But with LeBron in town, he's now just the third wheel. Still a very good NBA player, but not a main man. He just better not make too many demands, or he could be switched out in later seasons for a cheaper actor. I mean, "Seinfeld" got someone else to play Jerry's father halfway through its run, and I didn't notice a lot of people complaining.
Erik Spoelstra: Down
Erik Spoelstra's Heat bio doesn't say that he has a wife or any kids. He may want to get cracking, because it will be very suspicious when he announces he "wants" to spend more time with his family.
Cleveland: Up
Because it really can't go farther down. It would just be piling on at this point. The Decision now stands along with The Drive, The Fumble, The … It's Really Too Painful To Even Rehash It All, And I'm Not Even From Cleveland.
Cleveland needs The Mercy.
Dan Gilbert: Up
Wow. Sure, he will be remembered in Ohio as the owner who let LeBron James get away, but he will also be remembered as the Bard of Ohio's July 8 rage; the man who captured the thoughts and feelings of an entire fanbase and then crazied them up with Comic Sans font.
In one web posting, Gilbert went from unknown NBA owner to having more cachet than Mark Cuban and Prokhorov. Pretty impressive for being the owner of a team that stars Antawn Jamison.
Chris Grant: Down
Sure, he will be remembered in Ohio as the GM who let LeBron James get away, but he will also be remembered as … yeah, that's actually all he'll be remembered as. Because before Gilbert's missive went up on the Cavaliers official site, Grant put up his own statement. Only this one was reasonable and -- worst of all -- used a standard font. I think it was Arial Narrow. That's madness! And it generated absolutely no buzz. So today Dan Gilbert is a household name, while Chris Grant is still unknown. He should have gone the crazy route.
Comic Sans: Up
It's the hot new font. And it's all thanks to Dan Gilbert. In fact, I typed up and submitted this column in Comic Sans. Really! (Editorial note: It's true. He did. Sigh.)
So if you feel like firing off an angry letter today, remember that some of America's top executives trust Comic Sans to get their point across. Comic Sans: for when you want to show you're sans comedy!
LeBron James: Up
Everyone dislikes LeBron James. Right now. But that will change.
Kobe Bryant's image was tarnished by far more than a protracted free-agency decision. And he's back in commercials and on billboards. Tiger Woods was cheered on the first tee at the Masters in his first tournament back in April. Not booed. Not ignored. Cheered.
You really think LeBron James won't be popular again? Maybe even more so? He'll win a championship in Miami -- or several -- and he will be deified for picking winning over money, rings over ego.
And that will be that. He will go down as the superstar athlete who put championships above all else. History will smile on him.
Except in Cleveland. Yeah, they're going to hate him forever.
DJ Gallo is the founder of SportsPickle.com. His first book, "SportsPickle Presents: The View from the Upper Deck," is available from only the finest bargain-book retailers. His next book project will be released soon. You can follow him on Twitter at @DJGalloESPN.