Commentary
Inside the mind of the coaches' poll
Originally Published:
August 12, 2010
By
DJ Gallo
| Page 2
The first NCAA football coaches' poll of the season is out, and it's a great gauge on who the best teams in the land will be, because you know the coaches put a lot of thought into voting.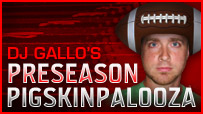 Some of them don't even hand the job over to an assistant! Really!
So I decided to run through the coaches' poll top 25 as though I was inside the mind of a real NCAA coach.
1. Alabama
They won the national title last year, right? So they should still be pretty good. And Nick Saban is currently still there. They're a lock!
2. Ohio State
Terrelle Pryor is a dynamic quarterback and I greatly respect coach Tressel. Plus, after what LeBron James did to these people, they deserve a championship contender. Second place it is! This is easy so far.
3. Florida
Tim Tebow. Heckuva player. I'd love to have a team full of guys with his heart and DETERMINATION. He's not on Florida anymore, but you have to think he's left some of his INTANGIBLES and DESIRE behind for that FOOTBALL team.
4. Texas
Me and the wife spent a weekend in Austin this spring. Great town. Great people.
5. Boise State
You have to admire this program. They've earned my respect. And it's time they get rewarded for it. So I'm giving them a top-5 spot in my preseason poll. Congrats, Broncos! (Or Stallions or whatever they're called.)
6. Virginia Tech
Oh, I should probably put an ACC team in here somewhere. Virginia Tech seems like a safe pick. They're usually pretty good.
7. TCU
Okay, so now I have the Boise Stallions and TCU in my poll. Can't no one ever tell me I don't care about non-BCS schools. So they best shut their trap now about not getting a national title shot.
8. Oklahoma
I heard the Big 12 now has 10 schools and the Big 10 has 12. That is funny. The names are mixed up!
9. Nebraska
My secretary is from Nebraska. She'll get a kick out of me voting for them. "Hey, Cheryl! Guess who I'm voting ninth? Yeah, Nebraska! You owe me lunch!" Ha. Cheryl owes me lunch.
10. Iowa
I wish we could paint our visitor's locker room pink. Every time I try to do it, the women's studies department freaks out. How much money have they brought to the university? I MAKE THE MONEY THAT PAYS FOR THEIR JOBS!
11. Oregon
They deserve it after their last year. There but for the grace of God, go I. With some of the players I recruited, I expected to have way more arrests this year than I did.
12. Wisconsin
"Cheryl! Isn't your mom from Wisconsin? Your dad? Oh, okay. Well tell him I put them 12th. Yeah, he'll get a kick out of it. Oh, he's dead? Sorry. Never mind then."
Still, though. Twelfth for the Badgers it is. May it give Cheryl's dad some peace.
13. Miami (Fla.)
Me and the girlfriend spent a weekend in Miami this spring. Good town. Good people.
14. Penn State
I hear they don't have much of a team this year, but if I'm still coaching when I'm 83, I hope my colleagues show me the respect of voting me into the top 14.
15. Pittsburgh
Oh, crap. I completely forgot the Big East. Should I put them in the Top 10? Probably. But I'm doing this in ink. Dammit. "Cheryl! Do we have any pencils?"
16. LSU
"Thanks, Cheryl. And sorry again about your dad."
17. Georgia Tech
I wonder whatever happened to Bobby Cremins? I met him at a coaches clinic once. Nice guy.
18. North Carolina
They deserve it after their last month. There but for the grace of God, go I. With some of the assistants I hired, I expected to have way more violations this year than I did.
19. Arkansas
I don't know. Have to throw in one darkhorse.
20. Florida State
There is no rule against two darkhorses.
21. Georgia
They deserve it after their offseason. There but for the grace of God, go I. With some of the decisions I've made, I expected to be pulled over with panties in my lap way more times this year than I was.
22. Oregon State
Wait, did I hear Oregon is supposed to be good this year or Oregon State? I can't remember now. I already put Oregon in, so I better put Oregon State in to cover myself.
23. Auburn
You know, I had no idea until recently that Auburn is also the name of a color. Is Oregon also a color? Could be. Maybe finding out could be a project for my graduate assistant. Let me make a note of that.
24. Utah
Also, what is Utah? Just a school? Or also a state? Maybe a color, too? Either way, they have a fine program. Especially now that they'll be in a real conference.
25. West Virginia
They deserve it after their last month. There but for the grace of God, go I. With some of the decisions I've made, I expected to have way more violations this year than I did.
DJ Gallo is the founder of SportsPickle.com. His first book, "The View from the Upper Deck," is available from only the finest bargain book retailers. His next book project will be released soon. You can follow him on Twitter at @DJGalloESPN.