Commentary
Five fantasy football anti-tips
Originally Published:
August 26, 2010
By
DJ Gallo
| Page 2
It's NFL fantasy draft season.
I won't tell you what to do. However, I will tell you five things not to do.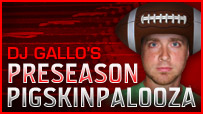 #1 -- Don't do too much research
Coming off a season in which he had 2,006 rushing yards and 503 receiving yards, Chris Johnson is the No. 1-rated fantasy player by every supposed fantasy "expert" this year. Shows what they know.
History, not follow-the-sheep hype, shows that running backs who break 350 carries in a season tend to decline the next season. If they break 370, they fall off a cliff. Look it up. Larry Johnson 2006-07, Jamal Anderson 1998-99, Eric Dickerson 1986-87, Eddie George 2000-01. The list goes on and on.
Johnson had 353 carries last season … and if you add in his 50 receptions, he had 403 touches. That's way, way, way past the danger zone.
And don't forget that he's undersized for an every-down back to begin with and is therefore more prone to injury. Plus, you have to consider that he got a big pay increase this offseason and might not be as motivated on the field.
In fact, Johnson's collapse is already being seen in the preseason. In a Week 1 loss, he had 7 yards on five carries. In Week 2, it was 22 yards on six carries for a 3.7 average -- well below the 5.6 yards a carry he averaged last season.
I could go on. But I don't think I have to because it's obvious: Not only is Chris Johnson not the No. 1 fantasy player but you'd actually have to be insane to draft him.
Right?
No! Not right, you idiot. Wow. What is wrong with you? If you pass on Chris Johnson, you deserve to be repeatedly punched in the face by LeGarrette Blount and Vince Young.
#2 -- Don't do too little research
Last year, if you had Kurt Warner, Sidney Rice and Ben Roethlisberger, you would have had the makings of a very good fantasy team. Not so much this year thanks to Warner's retirement, Rice's injury and Roethlisberger's … um, let's say … libido.
So you need to do at least some research. But picking up a random fantasy football draft magazine at the 7-Eleven before you head over to your draft will not suffice. Those things are printed months in advance. They have no current injury news, nothing on training camp position battles, some don't even have the NFL draft results. In fact, I don't even know whether 2010 fantasy guides are still available. They might now be selling 2011 or '12 guides. And won't you look stupid drafting Houston Texans quarterback Brett Favre in 2010.
#3 -- Don't be a homer
It's always tempting to stock your fantasy team with players from your favorite real team. All true fans believe this is the year their team will break through, so why not benefit from that in fantasy?
One problem: This is not the year your team will break through. No, really, it's not. Stop yelling. I don't care that some sixth-round draft pick made an amazing play in the third quarter of the last preseason game. I really don't. Your team's season will still end like every other season: in misery. Remember, there is only a 1-in-32 chance your team will win the Super Bowl, and it's just 3-in-8 it'll even make the playoffs. So you're probably going to lose double with a bad season in both real and fantasy football. (Seriously, shut up. It was a preseason game. Just one play in a preseason game against other backups. Not only will that guy not be your team's missing Super Bowl piece but he probably won't even make the team.)
So, please, don't be a homer.
The better approach might be to stock your team with guys you hate. Say you're a Steelers fan. A fantasy team of Joe Flacco, Ray Rice, Jerome Harrison, Chad Ochocinco, Terrell Owens and Todd Heap might make you want to kill yourself. As it should. However, if the Steelers have a bad season, you might just win some money in your fantasy league.
Or, even better, you might have the worst fantasy season of all time.
#4 -- Don't get greedy
Every draft begins by determining how much the league fee is … aka: how much sweet, sweet cash you're going to have given to you come January!
Because as good as you think your favorite real team will be this season, you think your fantasy team will be even better. "So what did we pay last season -- $75? You know, I'm totally cool doing $150 if everyone else is up for it. Come on! Don't you trust your team or what?"
But let me remind you again: 1-in-32, dude. One-in-32. You're not going to win. "But there are only 10 teams in my league, not 32 like in the NFL! Those are much better odds!" Oh, sure. Go crazy with that 10 percent chance. Why not make it $250? Scared?
Oh, by the way, make sure your league requires that the entry fee be paid at the start of the season, not the end. It's one thing to pay $150 (you'll never see again) when you're full of hope in August; it's entirely different to have to pay $150 in January when holiday bills are due and you're reminded of the fact that, many sad months ago, you thought your Carson Palmer/Ronnie Brown-led team was fantasy gold.
#5 -- Don't drink and draft
Many well-intentioned drafts have been done in by a fantasy owner imbibing too much during draft proceedings. Things start off well for the first round or two but then quickly fall apart. By Round 3, you're barely paying attention and make a terrible pick because you panic when you realize it's your turn.
By Round 4, you're reaching more than the Raiders in the real draft. In fact, even worse, you might even be drafting Raiders. In Round 5, you're picking guys with weird names because you think it's hilarious. "Oh, man. Can you imagine how hilarious it's going to be if I win the league with Madison Hedgecock and John David Booty on my roster?" Granted, though impossible, that would kind of be funny -- although not as funny as the fact that you're through six rounds of the draft and have somehow forgotten to draft a single wide receiver or tight end.
Round 7 begins your run on kickers. "If I pick all the kickuhz, youse guys won't even have anyeez 'n I'll win da whole lig!" But after three kickers, you change your approach. Now you're sentimental and decide to pick your favorite player from childhood, even though he's long since retired. "You dnt eve know howmch he means ta me! It's honor he's onmy tem! He could stillplay if he wantd to 'N YOU *&%$!@* KNOW IT!"
And then your draft is over because someone calls your girlfriend or wife or roommate to pick you up and drive you home, thereby ruining your planned 11th-round pick: Air Bud: Golden Receiver.
DJ Gallo is the founder of SportsPickle.com. His first book, "The View from the Upper Deck," is available from only the finest bargain book retailers. His next book project will be released soon. You can follow him on Twitter at @DJGalloESPN.