Commentary
Pigskinpalooza Preview: The NFC
Originally Published:
September 8, 2010
By
DJ Gallo
| Page 2
The NFL season is upon us. Let's enjoy it because there might not be one next year.
In fact, let's just set the 2011 NFL season over/under at 0.5. And while we're doing over/unders, let's take a look at the win totals for each team for this season, starting with the NFC.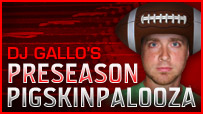 Arizona Cardinals: over/under 7.5
Under. A once-potent offense is down to pretty much just Larry Fitzgerald. The only way the Cardinals can possibly match their 10-6 record of last season is if Kurt Warner gets bounced early from "Dancing With The Stars" and returns to the team to feed his competitive fire. And considering Warner's DWTS competition includes Margaret Cho, Bristol Palin and Michael "The Situation" Sorrentino, it's unlikely he will be an early elimination.
Hmm. You know, the Cardinals should maybe look into getting one of those people to start at quarterback. I mean, all due respect to Sorrentino's abs, but when a team with playoff aspirations is starting Derek Anderson at quarterback, that's a true Situation.
Atlanta Falcons: over/under 9
Over. The Falcons are my pick for a surprise team in the NFC this season. I'd give you my reasons but that would ruin the surprise, wouldn't it? Plus, I don't really have any good reasons other than a hunch. And admitting that would just make me sound stupid.
Carolina Panthers: over/under 7
Under. "What are you talking about?! How can they get worse with Jake Delhomme gone? Of course their record will get better!" I disagree. I know, I know. It sounds counterintuitive. But if not having Jake Delhomme at quarterback was all that was needed to be successful, 31 teams would make the playoffs every year. The NFL isn't the NBA.
Chicago Bears: over/under 8
Under. Mike Martz and Jay Cutler have been avoiding the use of the word "interception" this preseason. Really. They believe not speaking the word will help Cutler stay positive and put his 2009 season behind him when he threw an NFL-leading 26 inter- ... completions to the other team.
So best of luck to you in 2010, Jay! And remember: "You're good enough, you're smart enough and -- gosh darn it -- people like you!"
(But, of course, that's all contingent on you not throwing so many interceptions. Really. You throw a ton of interceptions. Oh, right. Whoops.)
Dallas Cowboys: over/under 10
Over. The Cowboys are stacked. The question is, does America want to see its team fall just short of playing in the Super Bowl in its home stadium, or would we prefer our beloved team lose the Super Bowl at home? Tough choice. I assume that's what we're all voting for in November.
Detroit Lions: over/under 5
Under. A 4-12 record seems about right for the Lions. But I think they are a team on the rise. Zero wins in 2008, two in 2009, four this year, and then they might be ready to break through to the playoffs in 2011. Unfortunately, there will probably be no 2011 season. And then they'll go back to being bad again in 2012. But still, they'll always have that theoretically magical season of 2011.
Green Bay Packers: over/under 9.5
Over. The Packers are the hot pick this season and everyone is anointing Aaron Rodgers the new great NFL quarterback. And he may very well be. But let's wait to anoint him until he wins at least one playoff game in his career. Actually, let's make that two playoff games. Last year he lost in the playoffs to an NFC West team so that counts as a negative-1.
Minnesota Vikings: over/under 9.5
Over. Everyone is saying this is the year Brett Favre's consecutive-games streak ends. And maybe so. But that could be a good thing. The Vikings have a capable backup in Tarvaris Jackson and, with the streak at an end, Favre can get healthy for the playoffs and try to set a new personal streak for most consecutive playoff games not ended with an unfathomably bad interception.
New Orleans Saints: over/under 10.5
Over. But I'm just going with over because I'm ignoring Drew Brees foolishly agreeing to be on the cover of Madden. I have no idea what he was thinking. As though New Orleans needs to have more things stacked against the team. Brees agreeing to be on the cover of a cursed game makes about as much sense as the Heisman people trying to punish Reggie Bush by taking away his trophy. He's already lost Kim Kardashian, people. There's nothing else you can do to the man.
New York Giants: over/under 8.5
Under. The Giants are in the strange position of being overshadowed by the Jets. But they think they have fixed the problems that caused them to go 3-8 down the stretch last season, and you have to believe that they will ... oh, man! Did you hear that funny thing that Bart Scott just said? Ha! The Jets, man. They're awesome.
Philadelphia Eagles: over/under 8.5
Over. The Eagles sent Donovan McNabb packing and are starting anew with Kevin Kolb. In Kolb's first season as a starter, you'd have to think the notoriously demanding Philadelphia fans will be happy just to reach the playoffs. Oh ... wow. See what Andy Reid did there? Genius way of buying himself more time. Andy Reid is on, like, a whole different level of intelligence. I bet his midsection is just extra brain.
San Francisco 49ers: over/under 8.5
Over. The 49ers have surrounded Alex Smith with weapons and revamped their offensive line. Now they just need him to deliver a division title. Can he do it? Yes. But it's the NFC West. Gio Carmazzi could probably quarterback this 49ers team to a division title this year.
Seattle Seahawks: over/under 7.5
Under. But I don't think typical numbers or lines apply to the Seahawks. They should be measured on "over/under Forever". And then the easy pick is over.
St. Louis Rams: over/under 5
Under. Whoops. How did the "total points scored this season" line get in here? My apologies.
Tampa Bay Buccaneers: over/under 5.5
Under. And again. I'm sorry. This is unacceptable.
Washington Redskins: over/under 7.5
Over. Say what you will about Donovan McNabb ... go ahead ... I'll wait ... but the guy wins in the regular season. Plus, he knows the division quite well. Don't be surprised if the Redskins go 9-7 or 10-6 this season. Then Dan Snyder will convince himself they're just a piece or two away from a Super Bowl and will spend the 2011 offseason making insane signing after insane signing, and the owners and players will come to a quick labor agreement just because they all want to see his hilarious creation in action and football will be saved! YAY!
DJ Gallo is the founder of SportsPickle.com. His first book, "The View from the Upper Deck," is available from only the finest bargain book retailers. His next book project will be released soon. You can follow him on Twitter at @DJGalloESPN.