Commentary
The only UFL preview you'll find
Originally Published:
September 17, 2010
By
DJ Gallo
| Page 2
Who's got UFL fever! No? Well, how about football fever then? Great.
Because the UFL is set to kick off its second season this weekend. Here's what you need to know for the 2010 season.
Daunte Culpepper is now in the UFL
The former NFL star is now the starting quarterback for the Sacramento Mountain Lions. It sure is a long way from here. But a very short way from here.
[+] Enlarge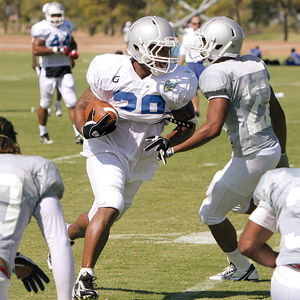 AP Photo/Casa Grande Dispatch, Steven KingThe UFL did what the NBA, MLB and others couldn't -- put a team in Las Vegas.
Jeff Garcia and Ahman Green are also now in the UFL
Garcia is quarterbacking the Omaha Nighthawks. His starting running back is Ahman Green. The Nighthawks also have Ricardo Colclough, Devard Darling, Dusty Dvoracek, DeMarcus Faggins, Robert Ferguson, Morlon Greenwood, Nick Greisen, Cato June, David Kircus, Jeb Putzier, and Lee Vickers.
Now, I'm not saying the Nighthawks could beat the Browns. Because this is a column. However, if you read the first sentence of this paragraph out loud in my voice, it would pretty much be like me saying the Nighthawks could beat the Browns.
Florida Tuskers quarterback Brooks Bollinger is the reigning UFL MVP
Oh, sure, sure. Laugh it up. "Brooks Bollinger! I remember when he started for the Jets! He's terrible! What a joke of a league."
OK. Fine. Now try to name one thing NFL superstar Mark Sanchez did on Monday night that was better than what Bollinger would have done. Or just look at their NFL career stats. Sanchez and Bollinger have had a similar number of career NFL attempts (385 to 360), but Bollinger's completion percentage is five points better, he has 11 turnovers to Sanchez's 23 and his 74.6 career quarterback rating is ... wait for it ... 11.9 points better than Sanchez's 62.7!
If only Bollinger were dreamy and Bollchise was a good nickname, the Jets might have more than a zero percent chance of winning the Super Bowl.
T-U-S-K! Tusk! Tusk! Tusk!
Maurice Clarett is back
He hasn't played in a regular-season game since 2002, but he's on the Omaha Nighthawks roster. Clarett is 26 now, 10 pounds lighter than he was at Ohio State and reportedly in good shape. But don't expect him to produce immediately. As Michael Vick showed on Sunday, prison -- like an ACL injury -- usually takes a full two years to come back from.
The New York Sentinels are the Hartford Colonials and the California Redwoods are the Sacramento Mountain Lions
Like any young league, the UFL has experienced some change. Half of the original four-team league changed locations, with the Florida Tuskers and Las Vegas Locomotives staying put. The league also added the expansion Nighthawks, paving the way for Mountain Lions head coach Dennis Green to rant after a game: "THEY ARE WHO WE THOUGHT THEY WERE! WAIT, WHO ARE THEY AGAIN? THE NIGHTHAWKS? AND WHO ARE WE? THE MOUNTAIN LIONS NOW? AND WHAT ABOUT THE SENTINELS? NO? THEY'RE GONE NOW? OK, WELL, WHATEVER! WE LET SOME TEAM OFF THE HOOK!"
The UFL has the opportunity to go bankrupt in an original way
Overexpansion? Nope. The UFL has only five teams, with a sixth set for 2011. No TV deal? Nope. The UFL has Versus and HDNet. What the UFL has a chance to do is go down as the first league to fold for having too much coaching.
[+] Enlarge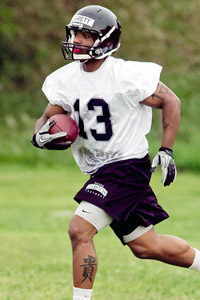 AP Photo/Nati HarnikMaurice Clarett is back! And he's better than ... well, he can't do worse than his time with the Broncos.
For example, the Florida Tuskers. They have 52 players on their roster and 15 coaches, including staff positions like defensive quality control coach and assistant secondaries coach. That's right, assistant secondaries coach -- for an eight-game schedule. There's no way the league can afford an almost 3-to-1 player-to-coach ratio. That's an even better teacher-student ratio than laws require for licensed day cares. I hope the parents of UFL players know the league will probably soon have to start charging tuition.
The UFL now has Mark Cuban
In April, Cuban purchased a stake in the UFL. He feels that, over the long-term, the league has a chance to challenge the NFL. And more power to him if it happens. But, in the short-term, he's probably just excited to yell at referees without the threat of other crowd noise drowning him out.
The UFL is good football
Really. It is. It's not NFL-quality football, but it's a better level of play than college football. The league is full of guys who were college stars. Of course, it doesn't have the fans, emotion or tradition of college football. But if you like football enough, you can do worse than watching the UFL. Just don't go overboard.
DJ Gallo is the founder of SportsPickle.com. His first book, "The View from the Upper Deck," is available from only the finest bargain book retailers. His next book project will be released soon. You can follow him on Twitter at @DJGalloESPN.