Commentary
DJ Gallo's NFL Hangover, Week 2
Originally Published:
September 20, 2010
By
DJ Gallo
| Page 2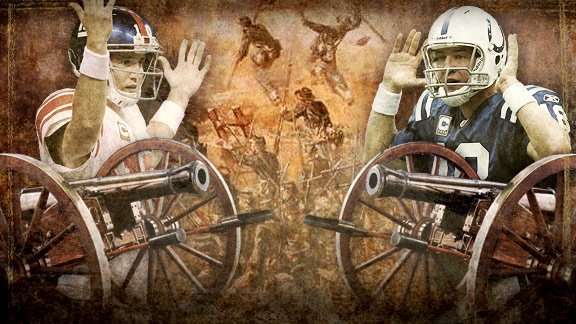 ESPN.com Illustration
As any historian will tell you, the Manning Bowl was one of the watershed moments in American football history. Not only was it the Sunday prime-time game of Week 2, but it pitted brother against brother before the eyes of the entire nation.
Here is the game correspondence between one such brother-brother combo. (And also the only brother-brother combo.)
---
My dearest brother Eli,
I hope this finds you well. Reports have come in that you are marshaling a great force not too far from here and are fixing to fight. I suppose we knew this day would come when you were drafted to a different team. And then again this spring when the season schedule came out. However, it does not make the reality of our intertwined fates any easier to bear.
May divine providence shine down upon us both and keep us safe on this day and through the entire regular and postseasons. If I should fall this day, please look after my wife. I shall do the same for you.
Fondly,
Peyton
---
My brother, whom I hold in the highest regard,
It is true. I have arrived with my New York regiment with designs on taking this game. Though we may be on opposite sides, I pray that heavenly mercies will see us both through.
Please give my best to Mother and Father and tell them I miss them to the point that my heart swells full. I have received word that they are safe in your luxury box, fully stocked with seemingly limitless bottles of water. I hope our dear father also has his circular horn-rimmed glasses. He does love them so, as he thinks they make him look intelligent for someone who has spent his whole life in football.
Godspeed, brother.
Eli.
---
Brother,
I write to you amidst the heat of battle. We drove quickly and efficiently through your defenses for an opening touchdown. We are now preparing for your counterstrike. I feel it will be just as quick and ruthless.
As you may have heard, the great safety, General Bob Sanders, fell again in battle just one week ago as we suffered a crushing defeat at the hands of those Houston boys. We surely could use him, but I fear he will never return to fighting form.
I hope my correspondence reaches you. I sent it during a commercial break with an intern. You know how they can be.
With love,
Peyton
---
My Brother,
This may be the last time I ever write to you and it is with a heavy heart. We are taking hits on all sides and the end is near. I know now that this day was not meant to be the day of my glory, as we are now trailing you by one score and eleven.
The morale of the men is slipping away as the minutes pass. One of my finest soldiers even threw his helmet into the crowd, striking innocent townfolk.
If I make it through this alive, would you want to meet up after the game at Applebee's? I know mom loves their jalapeno poppers.
Your loving brother,
Eli
---
Eli,
Would I? I love Applebee's! I'll make a reservation.
Also, maybe we should get on Twitter. It would be easier to communicate that way.
Sincerely,
Peyton
Horrible Fantasy Team That Crushed Your Fantasy Team This Week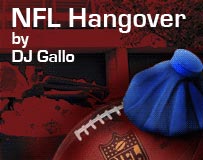 Mark Sanchez, QB, Jets: 21-for-30, 220 yards, 3 TD
Jason Snelling, RB, Falcons: 186 total yards, 3 TD
Mike Tolbert, RB, Chargers: 16 carries, 82 yards, 2 TD
Kevin Walter, WR, Texans: 11 catches, 144 yards, TD
Malcom Floyd, WR, Chargers: 3 catches, 95 yards, TD
Dustin Keller, TE, Jets: 7 catches, 115 yards, TD
Quotes of the Week
"There were six points given off [bad] calls. It's six points. They didn't earn it. You don't come into a lion's den and play nice, man. This is football, and football is getting hit. There's so many rules that take away from the game."
-- Ray Lewis, on Baltimore's 15-10 loss to Cincinnati
Last week, after Calvin Johnson's game-winning touchdown catch was overruled, Lions coach Jim Schwartz said: "The time I stand up here and start blaming officials for a loss is the time I don't need to be doing this anymore." Ray Lewis would disagree. Because it seems most every Ravens loss is the fault of the officials. In fact, Lewis probably complained to the director of his Old Spice commercial that the bear should have been penalized: "There are no bears in football! What's he doing on the field at all?! This is a man's game, you feel me? This ain't no bear's game. It's a man's game. And even if it was a bear's game, he's out of uniform! That's a blatant NFL uniform violation and a penalty. Come on, man!"
Stat of the Week
65.2: That's JaMarcus Russell's career passer rating. He was a terrible pro quarterback, right? Right.
Well, 13 different quarterbacks on 11 different teams had passer ratings worse than that yesterday: Derek Anderson, Charlie Batch, Jason Campbell, Matt Cassel, Jimmy Clausen, Trent Edwards, Brett Favre, Joe Flacco, Max Hall, Matt Hasselbeck, Matt Moore, Carson Palmer and Vince Young. And four of those guys actually quarterbacked winning teams.
Even with all of the rules favoring offense, and quarterbacks in particular, there is some absolutely dreadful quarterback play in the NFL right now -- which means it's all but a given that Russell, who's still only 25, will get another shot in the league.
That's right, I hear JaMarcus Russell's music. And it sounds like this.
Photos of the Week
• "It's weird to not be playing. It's even weirder that Tom Brady is standing right behind me."
• "Maybe if I would have laid off the Captain Morgan's last night I would have kept my 100-yard streak alive."
• "Look at these plays. Are there any of them that you can run properly?"
• "You're the Indians GM? I didn't know they still had a baseball team here in Cleveland. Huh."
• "Whoops. I missed my mouth. My accuracy is terrible."
• "Yeah, of course I root for the team from my hometown. I hate front-runners who don't do that. Oh, really? He does? And the Yankees? Wow. Well, LeBron excluded, I guess."
• "They also control the placement of apostrophes."
• "AAAAHHHH. Feels so much better. I do NOT remember eating that."
• "Oh, no. The bullet is no longer in my gun's chamber."
• "Ah, crap. They've started praying that I'll take what remains of my talents to South Mississippi."
• "What do you mean this game's being played in a dome? Well, I can't take them off now. I'll look stupid."
• "Just wanted to say goodbye. I'll probably be getting fired soon."
• "Girl, it ain't no lie. Baby, bye, bye, bye. Bye! Bye!"
• "I don't know what else I can say. Now you get back out there and you win forever."
• "I better warm up in case he plays like he did last week."
• "Whoo. I just caught a glimpse of myself and I'm getting the vapors."
• "I'll make it come to me by using my dreamy gaze."
• "Is this heaven? No, it's San Diego."
• "Brah, there was, like, smoke in the tunnel and I was all like: 'Is this heaven?' And then I was like: 'Nah, dude. It's San Diego.' It was crazy."
• "Neil, great kick, but are you aware you have your legs wrapped around him?"
• "What should we do for all those cameras?" "I don't know. Why don't you moon them like you did that girl in college?"
• "Ah, man. This night stinks. Cheer me up with some low-fives, imaginary friends."
DJ Gallo is the founder of SportsPickle.com. His first book, "The View from the Upper Deck," is available from only the finest bargain book retailers. His next book project will be released soon. You can follow him on Twitter at @DJGalloESPN.