Commentary
DJ Gallo's NFL Hangover, Week 4
Originally Published:
October 4, 2010
By
DJ Gallo
| Page 2
It's been a bad year for the image of Philadelphia fans. There was the guy purposely vomiting on the little girl at a Phillies game. There was the on-field fan tazing. There was the beer-swilling child caught on camera. There was every Flyers game.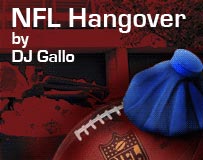 I'm probably missing a few things.
But yesterday Philadelphia fans did a lot to help their image around the country. The pregame standing ovation for Donovan McNabb was deserved and heart-warming. It was the perfect expression of fan gratitude for the greatest quarterback in franchise history, a guy who also was a good citizen off the field. It was everything you'd expect from a passionate fanbase that understands football and understands there are things bigger than football.
And it was terrible.
Why ruin decades of fanbase branding with 30 seconds of goodwill? Philadelphia fans are universally thought of as terrible, loathsome people. Are all Philadelphia fans terrible, loathsome people? Of course not. But they have that image. And an image, even a negative one, isn't something you just throw away.
Think about it. Which fanbase has a better image: Eagles fans or Titans fans? What about Eagles fans or Panthers fans? Easy answer: it's the Philadelphia fans. Because they actually have an image.
Now that image is in danger. How reckless. How foolish. Especially when there were so many things Philadelphia fans could have done.
The Bait-And-Boo
Donovan McNabb gets announced to the Lincoln Financial Field crowd. The fans stand and applaud and McNabb, touched, looks up and waves to the crowd … which is the signal to change to boos. His psyche is permanently crushed.
The Misplaced Ovation
Donovan McNabb gets announced to the Lincoln Financial Field crowd. The fans stand and applaud and McNabb, touched, looks up and waves to the crowd. He then sees that everyone is cheering because the stadium JumboTron is showing a Michael Vick highlights package.
The Silent Treatment
Donovan McNabb gets announced to the Lincoln Financial Field crowd and no one does anything. It's much worse to be ignored than despised. Really. Just ask … umm … I don't know. Someone whose name I'm forgetting.
The Silent Treatment With Props
College basketball fans are known to hold newspapers up to their face when the opponent gets announced. Instead of newspapers, the Eagles could have distributed Donovan McNabb commemorative Super Bowl XXIX barf bags to the crowd.
The Tazing
Kind of self-explanatory. For bonus points, have Andy Reid or Kevin Kolb do it.
The Surprise Ending
Donovan McNabb gets announced to the Lincoln Financial Field crowd. The fans stand and applaud and McNabb, touched, looks up and waves to the crowd. The ovation continues unabated. A special moment is made.
Meanwhile, with that diversion created in Philadelphia, an elite squad of Philadelphia fans break into McNabb's D.C. residence and spray paints "You suck, CHOKER!" on all of his belongings.
You know, this one actually could have happened. Stay tuned.
This Week's Horrible Fantasy Team That Crushed Your Fantasy Team
David Garrard, QB, Jaguars -- 17-for-22, 163 yards, 2 TD, 44 rushing yards, TD
Mike Tolbert, RB, Chargers -- 16 carries, 100 yards, TD
Derrick Ward, RB, Texans -- 12 carries, 80 yards, TD
Terrell Owens, WR, Bengals -- 10 catches, 222 yards, TD
Eddie Royal, WR, Broncos -- 8 catches, 113 yards, TD
Joel Dreessen, TE, Texans -- 5 catches, 73 yards, TD
Quotes of the Week
"I think all the quarterbacks got booed today."
-- Donovan McNabb
That's McNabb talking about the Redskins-Eagles game. I think. He could easily be talking about the entire NFL. We are seeing more and more the wisdom of having every NFL rule written in favor of quarterbacks. It's the only way offenses can score.
"I thought he was going to be outstanding. But he's better than that."
-- Rex Ryan on LaDainian Tomlinson
Well, it looks like we have the title of Rex Ryan's inevitable coaching book. "Better Than Outstanding," from the publishers that brought you "Win Forever"!
Stat of the Week
9 -- The Giants set a record in the first half against the Bears for the most sacks in a half in NFL history. Everyone who said the Mike Martz-led Chicago offense wouldn't rewrite the record books looks pretty stupid now!
Pictures of the Week
• "Look, I'm not leaving until I get a kiss."
• "I am committing this penalty for breast cancer awareness."
• "Mmmm. Saw bacon. Are you making any of your famous wrench muffins today?"
• "Let's do this Brunchise style!"
• "He is the worst Robin ever. Even Chris O'Donnell would be an improvement."
• "Clapping. Is this how you do it? I can't remember."
• "Well, I know your parents aren't happy about our living situation. But on Sundays, it's some great real estate."
• "Yeah, real funny. Ha. Ha. I'm dropping one behind the couch later tonight."
• "I don't know. I think he's zooming in on my nose pores. Should I say something?"
• "I'm just saying: you look ridiculous and should take them off!"
• "Wheeee! Cartwheels! Kyle! Look!"
• "Want to hear the most annoying sound ever?"
• "I need to get back to L.A. for a collagen injection."
• "Oh, you think you're so cool with your bald head and your uniform and your roster spot and your accuracy."
• "Uh-oh. They dropped eight bros into coverage."
• "Come on, man. Stop. You're embarrassing me in front of those cheerleaders."
• "Hey, guy. We just met. That's as far as we're going for now."
• "I'm as worthless as an empty paper towel dispenser."
• "Why are we the only team in the NFL not wearing pink for breast cancer awareness? It's called branding, Mike. Branding."
• "Why are they booing me. Oh, right. All that stuff that I did and said."
• "Ohmigod! The mascot knows my name!"
How They Spent Their Bye Weeks
Dallas Cowboys: Hazing Dez Bryant again with a team trip to Olive Garden -- and refusing to order the Never Ending Pasta Bowl!
Minnesota Vikings: Cleaning up the locker room to try to get rid of that old-man smell.
Tampa Bay Buccaneers: Doubling attendance at Rays games.
Kansas City Chiefs: Checking the standings, rubbing their eyes, rechecking the standings.
DJ Gallo is the founder of SportsPickle.com. His first book, "The View from the Upper Deck," is available from only the finest bargain book retailers. His next book project will be released soon. You can follow him on Twitter at @DJGalloESPN.