Commentary
Cracking Rich Rod's offense
Originally Published:
October 7, 2010
By
DJ Gallo
| Page 2
I am probably breaking some sort of ethical code here, but I got hold of Rich Rodriguez's Michigan playbook and I'm going to share a few of the play descriptions with you.
QB Keeper: On this play, Denard Robinson takes the snap, finds a hole and runs upfield.
QB Accidental Keeper: This is similar to the QB Keeper play but is run when Robinson tries to hand off to a running back, realizes the back doesn't know the play or is out of position, and is therefore forced to run the ball himself.
QB Jailbreak: Here the offensive line pretty much lets the entire defense through unblocked and Robinson has to run around in circles, spinning and jumping over people, just to salvage a few yards.
QB Receiver: A vertical passing play, Robinson takes a seven-step drop, heaves the ball as far down the field as he can -- some 60 or 70 yards -- and then sprints downfield to catch the pass.
QB Bath Slippers: This is an entire offensive package in which Robinson can run any of the plays above. However, in this package he is wearing fuzzy bath slippers to raise the level of difficulty so football is a bit more fun and challenging for him.
QB Tackle: This is a trick play in which Robinson allows the defense to tackle him to burn some clock and/or give the Michigan defense a rest.
QB Audible: On this play, Robinson looks to the sideline and realizes Rodriguez has absolutely no idea what he's doing. So Robinson just decides to take the snap and make a play all by himself again. Michigan runs this play 90 percent of the time.


Game of the Week
No. 17 Michigan State at No. 18 Michigan -- 3:30 p.m. ET on ABC
Last year when Michigan State beat Michigan, the Spartans held Denard Robinson to negative-9 rushing yards and zero passing yards. Granted, Robinson wasn't Michigan's quarterback then, did not attempt a pass and carried the ball only three times. But if the Spartans pull that off again, you have to like their chances to win.


Another Game of the Week
No. 1 Alabama at No. 19 South Carolina -- 3:30 p.m. ET on CBS
Steve Spurrier needs just one more victory to move into sole possession of second place behind Bear Bryant on the SEC's all-time list. The lesson is clear: If you want to have success as an SEC coach, wear eccentric headgear. (Hear that, Ole Miss? The only way to turn things around is to give Houston Nutt a sombrero.)

Cupcake of the Week
Louisiana-Lafayette: No. 22 Oklahoma State goes on the road Friday night (9 p.m. ET on ESPN2) to take on the Ragin' Cajuns of the Sun Belt Conference. At 2-2 the Cajuns might seem like a possible threat, but their two wins are by a total of eight points while their losses are by 48 to Georgia and by 20 to mighty Middle Tennessee. As Adam Sandler's Cajun Man might say himself, this game will be an "annihilation."


Rivalry Game of the Week
No. 23 Florida State at No. 13 Miami -- 8 p.m. ET on ABC
This is the first time Florida State and Miami both enter this game ranked since 2006. And in addition to their rivalry, this game has major ACC title implications. It's a very big game. Therefore, if you go to this game and are sitting to the right or left of the goalposts, expect to get a football souvenir kicked to you!


Rivalry Game of the Week II
New Mexico at New Mexico State -- 8 p.m. ET on ESPN3.com
The Lobos are 0-5. The Aggies are 0-4. The state of New Mexico is, like, "Ohmigod. This is embarrassing."

Heisman Candidate in the Crosshairs
Denard Robinson, QB, Michigan:
As the Heisman front-runner and the only reason Michigan is undefeated and Rich Rodriguez is still employed, Robinson will remain as the front-runner as long as he keeps beating Michigan's opponents without the help of anyone else on the team. Easy!
Along those lines, Rodriguez might want to remember that the last defensive player to win the Heisman was Michigan's Charles Woodson. Yes, Rich, I'm suggesting you play Robinson on defense, too. Then your game plan on both sides of the ball can just be: "Whatever. Denard will handle it."

Mascot Fact of the Week
New Mexico State's mascot is Pistol Pete. Pistol Pete is also the name of Oklahoma State's mascot. Pistol Pete is also the name of Wyoming's mascot.
The "Pistol Pete" name is in honor of Frank "Pistol Pete" Eaton, an American cowboy who died in 1958. Here is a picture of Eaton, who once famously said: "I'd rather have a pocket full of rocks than an empty gun." I assume he also armed himself with a T-shirt cannon, which is what made him such a popular mascot choice.
Tailgate Tip of the Week
Wear layers: It's getting cold outside. And the best way to stay warm is to layer up. Plus, if at some point during the tailgate you think it's a good idea to take off your clothes, the many layers you'll have to go through will give you time to change your mind. Or time for someone to stop you. Or call the police.
Tailgate Recipe of the Week
Les Miles Tailgate Gumbo: Combine all of your favorite gumbo ingredients and let it simmer all day. Or as long as it takes you to call a play.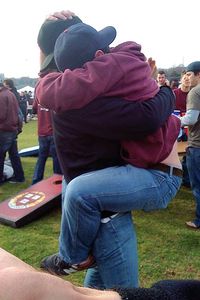 Courtesy of DJ GalloThis picture taken while Whitney Houston's "I Will Always Love You" was playing in the background.
Tailgate Photo of the Week
This is from reader Ray, a Harvard student (my readers ah wicked smaht!). He writes: "There's a lot of man-love going on in this picture that was snapped at a recent Harvard-Yale tailgate. You might be surprised but yes, we have sports other than polo and croquet in the Ivy League. Yes, we tailgate (and tailgate pretty well). Yes, that is me with my legs wrapped around my buddy and former teammate, Joe. I was excited to see him. I apologize for nothing."
(Have a tailgate photo to share? Send it to VarsityTailgate@gmail.com or @DJGalloESPN on Twitter.)

Quote of the Week
"Here's the truth about steroids. They work."
-- Brent Musburger, to a group of journalism students at the University of Montana.
Uh-oh. I hope we don't have to asterisk all of Musburger's broadcasting records.

Stat of the Week
2 That's what Stanford went for last year in the waning moments of a blowout win over USC, prompting then-Trojans coach Pete Carroll to say to Jim Harbaugh after the game: "What's your deal?"
The No. 16 Cardinal and the Trojans meet again Saturday (8 p.m. ET on ABC) in a game that both teams should go for 2 at every opportunity. Against these defenses, kicking an extra point is just leaving points on the field.

Coach on the Hot Seat
Les Miles, LSU: Yes, 5-0 Les Miles is on the hot seat. And it's completely deserved after yet another clock management debacle last week against Tennessee. Miles tried to explain the end of the Tennessee game this way: "I understand the responsibility of the way we managed the back end of the game is mine. I can tell you that the issue was trying to use and have utility in an extra down. We used way too much time in substitution."
Oh, Les. You're hopeless. You even took too long to say "I have no idea what I'm doing."

Name of the Week
Blaze Caponegro, LB, Temple: A linebacker named Blaze. Great name. Defintely much better than Blasť.

Stone Cold Lock of the Week
Following LSU's game Saturday, Les Miles will begin his 2007 Christmas shopping.
DJ Gallo is the founder of SportsPickle.com. His first book, "The View from the Upper Deck," is available from only the finest bargain book retailers. His next book project will be released soon. You can follow him on Twitter at @DJGalloESPN.