Commentary
How to really compute the BCS
Originally Published:
October 21, 2010
By
DJ Gallo
| Page 2
The season's first batch of BCS standings came out this week, and everyone started freaking out. It's one of the true mysteries of modern times: Each October, college football fans are shocked and outraged by the BCS standings. "I was caught by surprise. This year, I thought the system would be GREAT!"
Like it or not, we are stuck with the BCS for at least the near future. So, instead of complaining about it, I decided to run the BCS program on different computers and operating systems to see whether they might give us a more desirable outcome.
Windows 98 -- As I was beginning to run the BCS program, a paper clip popped up on the screen and said: "It looks like you are trying to ruin college football. Would you like some help?" For purposes of this exercise, I clicked "Don't show me this tip again." The only other option was: "Continue pretending a playoff isn't a viable option."
Windows NT -- I ran the BCS program on my old desktop computer with a Windows NT operating system and, while I was doing it, my Outlook e-mailed the BCS virus to all of the other college football divisions. So now the Division I FCS, Division II and Division III are without a playoff, too. Sorry!
Windows Vista -- Every time I tried to run the BCS formula, a window popped up saying I was trying to run a "malicious program." Have to agree with you there, Vista. It's the first thing you've done right.
MacBook -- The BCS program ran flawlessly on my MacBook Pro, but it unfortunately gave the exact same results as the current BCS system. However, in the plus column, the results were given while music from a hipster band was playing in the background. So now I feel like I'm pretty cool and that the BCS is, too.
Commodore 64 -- My 8-bit Commodore 64 caught fire while it was trying to crunch the BCS formula. In conclusion: This is definitely the computer to run it on.


Game of the Week
No. 6 LSU at No. 4 Auburn: 3:30 p.m. ET on CBS
Two top-10 teams. Two undefeated SEC teams. Cam Newton. There's almost no wrong way for CBS to promote this game. But there's really only one right way: "Les Miles coaching a big game on national television. Tune in and be AMAZED!"


Another Game of the Week
No. 1 Oklahoma at No. 11 Missouri: 8 p.m. ET on ABC
The Sooners and Tigers are both 6-0 overall and 2-0 in the Big 12, but Missouri has a lot more standing in its way for a national title shot. The Tigers have lost seven in a row to Oklahoma and 19 of 20; their offense isn't as explosive; and star pass-rusher Aldon Smith has struggled with a leg injury. And the biggest thing standing in the way of Missouri and a title shot? Not being ranked in the preseason. The Tigers really screwed up there!

Cupcake of the Week
UAB travels to Starkville, Miss., to take on No. 24 Mississippi State this week (7 p.m. ET on ESPN3.com). The Blazers really aren't that bad. They're 2-4 on the season, but they took Tennessee to overtime this year and trail just 2-1 in their series with Mississippi State, with one of those losses coming in overtime. But when a ranked SEC team is playing a Conference USA team at home in late October, that deserves Cupcake of the Week consideration. UAB just might not be a delicious, sugary cupcake that goes down easy; it might be some sort of whole wheat abomination with the sugar replaced by applesauce that your health-conscious friend makes and somehow believes is actually good and should be shared with guests. Gross.


Rivalry Game of the Week
Notre Dame at Navy: Noon ET on CBS
Until 2007, Notre Dame had won 43 games in a row in this series and had to defend putting Navy on its schedule. But the Midshipmen have won two of the past three, and if that trend continues, look for the Irish to finally drop Navy and announce that they've discovered they have a much deeper history with another service academy: the Coast Guard Academy.

Heisman Candidate in the Crosshairs
Cam Newton, QB, Auburn
The Heisman race has been chewing up multi-threat quarterbacks in recent weeks. Denard Robinson was the front-runner, then Taylor Martinez, now it's Newton's turn. And he can learn from those guys about how to stay in the race: Don't get hurt or benched. Crazy advice, I know. But getting hurt or benched is not what you want to do if you're trying to win a Heisman. That's more like post-Heisman behavior.


Mascot Fact of the Week
This is Auburn's official tiger mascot. This is LSU's official tiger mascot. No matter who wins this Saturday's game, I think we all know the real winner.
Tailgate Tip of the Week: Be careful picking your music
There's nothing wrong with an ironic playing of "Don't Stop Believin'" by Journey. It's fun. There's not even anything necessarily wrong with playing "Party in the USA" by Miley Cyrus. But with every "ironic" playing of a song, realize you go from being seen as someone who has a few funny songs in his or her iPod to being someone who has terrible taste in music.
[+] Enlarge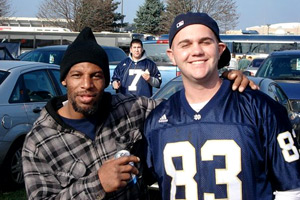 DJ Gallo Which one of these guys was the intended subject of the photo?
Tailgate Photo of the Week
Reader Ray from Chicago sent this week's picture in. It was taken at a Notre Dame tailgate. What I like about it is that any of the three people pictured could be photo bombing. A triple photo bomb? What does it mean?
(Have a tailgate photo to share? Send it to VarsityTailgate@gmail.com or @DJGalloESPN on Twitter.)

Quote of the Week
Joel Maturi, Minnesota AD, after firing Tim Brewster this week: "You're not following Vince Lombardi here. This is a situation where, you know what, somebody can come in and win some games and people are going to feel good about him, and they win a few more games and they're going to feel really good about him. And if we go to the Rose Bowl, we might even put a statue of them outside of TCF Bank Stadium."
College football fans debate all the time what job is the best in the sport. USC? Texas? Florida? After Maturi's comments, it's hard to argue that Minnesota's not the best job. Six figures, zero expectations, you might even get a statue.

Stat of the Week
9.5: Army defensive end Josh McNary leads the nation in sacks with 9.5. Awesome. A true "Army of One." Here's hoping the Army has some cool, world-beating plans for him. But after his military career is over, McNary has a career in action movies waiting for him. Think about it: a sack machine with military experience. He'll be like Brian Bosworth and The Rock mixed with A-Team.

Coach on the Hot Seat
Turner Gill, Kansas Jayhawks: Gill's 5-year, $10 million contract does not include a buyout. Whoops. If Kansas fired him, it would have to come up with $8 million in 90 days. So, approximately one dollar for every point Kansas' defense allows this season. That is a ton of money.
By the way, not that Gene Chizik's job is in jeopardy with Auburn being undefeated and ranked No. 4 in the country, but if the Tigers ever do replace him, they probably should make sure Charles Barkley doesn't lead the selection committee.

Name of the Week
Tisunge Mkwezalamba, CB, Illinois: The University of Illinois has a chapter of Alpha Kappa Lambda, Alpha Psi Lambda and Lambda Upsilon Lambda, but no fraternity called Tisunge Mkweza Lamba. Absurd.

Stone Cold Lock of the Week
Noting that, by beating Ohio State at home, Wisconsin (with the same record as the Buckeyes) still placed behind Ohio State in the AP poll and BCS standings, Iowa will purposely lose to Wisconsin this week so it can leap over the Badgers and Buckeyes. Because that makes perfect sense -- if not logical sense, then college football sense.
DJ Gallo is the founder of SportsPickle.com. His first book, "The View from the Upper Deck," is available from only the finest bargain book retailers. His next book project will be released soon. You can follow him on Twitter at @DJGalloESPN.