Commentary
DJ Gallo's NFL Hangover, Week 7
Originally Published:
October 25, 2010
By
DJ Gallo
| Page 2
Another week, another NFL memo.
TO NFL PLAYERS AND COACHES: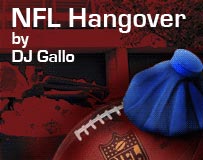 One of our highest priorities is safety. But we covered that last week. One of our other highest priorities is parity. We all know that the NFL fosters parity via the draft, scheduling and the salary cap. However, beyond those measures, you have the obligation to attempt excellence. Mediocrity is dangerous to the NFL brand, to your future employment in the league and to our fans' health. (Watching hours of this on a Sunday can't be good for the eyes or digestion, and for fans who gamble, many are at risk for broken limbs or worse.)
Please watch the accompanying video. And make sure to have the sound all the way up. Our sound editor worked very hard to match up the Benny Hill music with the appropriate plays.
The video you just saw illustrated the kind of plays we would like to do away with. (We thank the Bears, Broncos, Chargers, Vikings, Bengals and Saints for giving us their internal tapes that provided additional angles.) Accordingly, from this point forward, you should be clear on the following points:
1. Players are expected not to be embarrassingly awful. Those who are embarrassingly awful risk increased discipline, including suspensions, starting with the first offense. You have the right to appeal, but do you want to publicly argue that you were merely bad and not embarrassingly awful? Didn't think so.
2. Norv Turner, Josh McDaniels, Marvin Lewis, Mike Singletary, Chan Gailey, Lovie Smith, Brad Childress, Wade Phillips and Jack Del Rio should not be employed anymore. Come on. Enough already. No offense, guys, but there's really no way you could be doing worse. This is business, not personal.
3. Here we have a special section for Bears offense coordinator Mike Martz and Bears offensive line coach Mike Tice. My God.
4. The defending Super Bowl champions simply cannot lose to Max Hall and the Arizona Cardinals and Colt McCoy and the Cleveland Browns. It can't happen. No exceptions.
5. Todd Bouman started a game at quarterback? In the NFL? In 2010? How is that possible?
6. Seriously, again: the Bears. All teams must strive to be the opposite of the Bears. Please watch this next video that contains nothing but Chicago Bears line play and Jay Cutler passes. It is three hours long, but you will learn a lot and also have some laughs.
In conclusion, despite our strongly worded safety mandates of last week, any players who see other players or coaches behaving in the above manner should feel encouraged to take them out with hard tackles. It's for the good of the league. You will not be suspended or fined. In fact, you very likely will receive a reward.
Let's please work together to achieve these goals immediately. The Dallas Cowboys and Eli Manning are playing Monday night. There is no time to waste.
Sincerely,
The NFL League Office
This Week's Horrible Fantasy Team That Crushed Your Team
Carson Palmer, QB, Bengals -- 36-for-50, 412 yards, 3 TDs
Marcel Reece, RB, Raiders -- 58 total yards, TD
Beanie Wells, RB, Cardinals -- 14 carries, 54 yards, TD
Kenny Britt, WR, Titans -- 7 catches, 225 yards, 3 TDs
David Gettis, WR, Panthers -- 8 catches, 125 yards, 2 TDs
Michael Hoomanawanui, TE, Rams -- 2 catches, 12 yards, TD
Stat of the Week
105.1 -- Not including Ben Roethlisberger's 124.4 quarterback rating in a somewhat abridged performance, 105.1 is the highest rating by a quarterback in the NFL since Week 17 last season. And that lofty statistic is owned by ... Peyton Manning? No. Tom Brady? No. Drew Brees? Nope.
Ryan Fitzpatrick.
And there you go.
Quote of the Week
DeAngelo Hall, on intercepting Jay Cutler four times: "It's kind of mind-blowing. I had my mom, my aunt and my two cousins in the stands. The first ball went to my mom, the second ball went to my aunt and the next thing you knew, everybody had a ball."
Cutler is more fun than a family theme park. And the Bears will play Antonio Cromartie and the Jets later this season. We could see a 10-interception performance. At a minimum.
Titans coach Jeff Fisher on Kenny Britt having a career game after getting into a bar fight: "His performance has absolutely nothing to do with what happened [Friday], OK? Absolutely nothing. It was a great performance. I mean, an outstanding performance. It is two separate issues right now."
Sounds as if someone is protesting too much. (Psssst. Kenny Britt. Psssst. You should totally get in a bar fight before your next game. It can be your pregame ritual. Some people stretch; you can break a bottle over someone's head. Do it! Your team needs you!)
Random Factoid of the Week
The Saints like to choke people, gouge out eyes and grab crotches. It's true. Remember, this is a random factoid section, not a random opinionoid section. Check out the Browns-Saints game story.
"Cleveland safety Nick Sorensen said some Saints players were gouging at his eyes and ripping at his face while he was down on the ground recovering a fumble on a kickoff return, according to the Cleveland Plain Dealer. He also said that linebacker Blake Costanzo reacted angrily after the opening kickoff of the third quarter because the Saints were choking people.
Josh Cribbs, who was on the bottom of the pile after that return, said, 'They were grabbing my crotch.'"
OK. I think I get it. The Saints name is like an ironic thing. They're like a hipster football team. Oh! And them losing to the Cardinals and Browns is part of an ironic title defense. So cool.
How They Spent Their Bye Weeks
Detroit: Trying out for the Pistons' spirit section.
Indianapolis: Trying to replace the JimCaldwellBot's head coach operating system with a tight end operating system.
New York Jets: Doing something that will eventually result in an NFL investigation, suspension or official reprimand.
Houston: Picking up hitchhikers who jumped off the Cowboys' bandwagon.
Pictures of the Week
• "If any of you watch my show, I'll give you this ball. No? No one? Not a single person?"
• "This is the most mobile I've felt in my entire career."
• "Yes, I'm angry! What? So what if my face is always this red?"
• "You're right. Devin Hester is No. 23. But you've been throwing it to No. 23 on the other team."
• "Oooh! No. 23 is open again!"
• "Mmmmmm. Salt-and-pepper beard. May I have a bite?"
• "I can't believe I got stuck on a team that's even more embarrassing than the Bills."
• "Hey, before you go, I wanted you to know I love this year's 'Madden' game."
• "Fans love cheering for a soldier carrying the stars and stripes."
• "Put me down! Did Coach tell you to put me in the trash?!"
• "Now, this is how a true No. 1 overall bust throws an incompletion."
• "Old man, please stop writing on my Tom Brady jersey."
• "When I get fired, should I do a Queen Elizabeth-style goodbye wave like this, or should I do something different?"
• "Come on, look at me. Come on. Do it. Acknowledge your quarterback looks like this. Come on. Do it. Do it. Come on."
• "Can we get a touchdown, Coach? We're the only guys on offense not to score yet."
• "Are you there, Tebow? It's me, McDaniels."
• "What are we cheering about?" "I don't know."
• "OK, time for my sad trombone solo."
• "Look at these chunks! I leave, and the mowing goes to crap. Disgraceful."
• "Tough one, Brett. Hey, text me sometime. Oh, man. I'm sorry. Awkward."
DJ Gallo is the founder of SportsPickle.com. His first book, "The View from the Upper Deck," is available from only the finest bargain-book retailers. His next book project will be released soon. You can follow him on Twitter at @DJGalloESPN.