Commentary
College-inspired Halloween costumes
Originally Published:
October 28, 2010
By
DJ Gallo
| Page 2
Need a last-minute Halloween costume idea? Try out these easy college football-inspired costumes:
Les Miles: Wear an LSU windbreaker, LSU hat and headset.
Extra credit: Show up for your Halloween party late. Like, in mid-November or so.
Nick Saban: Slick back/spike your hair, wear a white Alabama polo shirt that you washed the night before with reds, and walk around with your knees in your shoes to get the appropriate Nick Saban height. Also, never change your expression. Someone spills a drink on you? Scowl. Someone buys you a drink? Same scowl. No: BIGGER scowl.
Extra credit: At the end of the night, leave your girlfriend for someone hotter.
Rich Rodriguez: Wear a Michigan windbreaker, a Michigan hat, a headset and repeatedly grab your head and sigh. Like this. Or this. Or this.
Extra credit: Rent a pony and paint "One Trick" on his coat. Also, after the bars close, stay longer despite what the law says.
The BCS: Dress up like the Grim Reaper.
Extra credit: Have a friend dress up in a Boise State football uniform. Then kill him.
Sexy ... any of these: The above costume ideas are for males only, as it is apparently a societal law that girls can only dress as Sexy (something) for Halloween. So, ladies, pick any of the above costumes, follow the directions exactly, but then show a ton of cleavage.
Extra credit: Show no cleavage. It will be the most unique female Halloween costume in years!


Game of the Week
No. 1 Oregon at No. 24 USC -- 8 p.m. ET on ABC
The Ducks and Trojans played last year on Halloween and Oregon, ranked No. 10 at the time, destroyed the fourth-ranked Trojans 47-20 behind 613 yards of offense. We didn't know it at the time, but the USC program was dressed up as the living dead due to a coming NCAA punishment. Bwahhh-ha-ha. Scaaaaaary.


Another Game of the Week
No. 7 Missouri at No. 14 Nebraska -- 3:30 p.m. ET on ABC/ESPN
Missouri didn't get to celebrate its big win last week over Oklahoma knowing they had a trip to Nebraska staring them in the face. I mean, there's simply not much to do in Lincoln and there are countless better places to spend a weekend. Also: the Cornhuskers are hard to beat, so that's an additional bummer.

Cupcake of the Week
Tulsa: It's tough to label any Notre Dame opponent a cupcake at this point, but the golden domers vs. the Golden Hurricane is not a classic matchup (2:30 p.m. ET on NBC). And if the Irish manage to beat Tulsa, they have a chance to go for history Nov. 13 on Senior Day against Utah. A loss in that game would mean Notre Dame seniors got to witness more losses in four years than any other class in school history, as this senior pointed out in a letter to a Notre Dame paper.
Really. It's true. A college student wrote a letter to a newspaper. Amazing.


Rivalry Game of the Week
No. 5 Michigan State at No. 18 Iowa -- 3:30 p.m. ET on ABC/ESPN
The undefeated Spartans know it will be difficult to pull out another victory on the road in Iowa City. "The next step is probably what we thought going into the season, one of our bigger challenges: going on the road to play at Iowa," said Michigan State coach Mark Dantonio. "They win the right way. I think they win with execution."
Oh, in other execution-related college football news, a convicted murderer was put to death in Arizona on Tuesday night. His final words? "Boomer Sooner." Really. Good luck living that one down, Oklahoma fans. I think we'll be seeing Texas fans holding signs that say, "We're Not Murderers" for the next, oh, 50 years to life.

Heisman Candidate in the Crosshairs
LaMichael James, RB, Oregon: If James doesn't put up huge numbers against USC's poor defense, it will hurt his Heisman chances. If he does put up huge numbers, critics will say it doesn't mean much because they came against USC's poor defense. It's a bit of a Catch-22. You know what? That sounds like a good number. If James can average 22 yards per carry, he should impress just about everyone.

Mascot Fact of the Week
If you think Oregon's Duck looks a lot like Donald Duck, so did Disney's lawyers. Because it looks exactly like Donald Duck. Oregon's athletic director in the 1940s, Leo Harris, reached an informal agreement with Walt Disney which gave the university permission to use Donald as its mascot. But by the '70s, Disney's lawyers wanted more than a story of an informal verbal agreement. So Oregon produced this photo of Harris and Disney wearing matching Oregon Ducks jackets. That was good enough for the Disney lawyers.
That was also pre-PhotoShop. Because, if you give me a few minutes, I can give you a photograph of me and Walt Disney shaking hands right after he told me I get half of all future revenues related to Mickey Mouse. We were also in space at the time. Riding unicorns.
Woo-hoo! This is the last Varsity Tailgate! Next week I retire and live off my Steamboat Willie money!
Tailgate Tip of the Week
Remember the call of nature: You wouldn't invite people over to your house for a party if you didn't have a working bathroom, so don't invite people to a tailgate unless there are restroom facilities nearby. But don't send your guests to wait in line for the port-a-potties with the other riff-raft. No, provide your own portable toilet -- the Sanitation Equipment Visa 268 Deluxe Portable Toilet!.
Take the word of this Amazon.com reviewer: "We are big NASCAR fans and attend at least 3 race weekends per year and we have thought about getting one of these for a long time (sick of using public port-o-pots). This unit is the answer to our prayers. If you have used a toilet in a camper, this is very similar. Before I actually used the unit, I filled it with CLEAN WATER to test the seals and they held with NO Leaking. It is also easy to use and dispose of the waste. Good Product, Very Happy."
There you have it! No leaking! That's almost enough to get over the fact that you'll be squatting on the ground in front of everyone you know.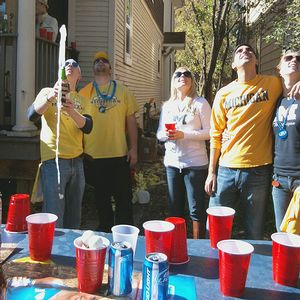 Courtesy of DJ GalloPoppin' bottles is poppin' bottles -- who cares if you've subbed out Cristal for formaldehyde?
Tailgate Recipe of the Week
The NCAA reported a 69 percent graduation rate for players at FBS schools this week, an increase of 3 percent. "We are by no means satisfied by what we are reporting, but it's a step in the right direction," said NCAA president Mark Emmert.
In honor of that, this week's tailgate recipe is for NCAA graduation rate burgers! They're made with Grade C beef. Are they good? Eh. But they're edible and better than eating nothing at all. Enjoy!
Tailgate Photo of the Week
Submitted by reader Brian: "Not many things fascinate drunk tailgaters like a cork shooting off of a $4 bottle of champagne."
This is true. In this economy, it makes for great, budget-friendly entertainment.
(Have a tailgate photo to share? Send it to VarsityTailgate@gmail.com or @DJGalloESPN on Twitter.)

Quote of the Week
"Right now we're like the Germans in World War II. Here come the boats, they're coming. You have the binoculars, and it's like, 'Oh, my God, the invasion is coming.' ... "I don't want the German people to get upset at me," he said. "I'm not attacking them, but that's what happened. You had one group, they weren't worried about what the plan was and orders and all that. When the war hits, things change. You've got to go. You had the other group, and they go, 'Wait a minute, they told us the invasion was way further north,' where we had the empty tanks and we were hiding Patton out. 'We weren't ready for this, now what do we do?' 'We better wait until Rommel tells us what to do.'"
-- Derek Dooley, on Tennessee's 2-5 start.
Another Quote of the Week
"Sweat saves blood, blood saves lives and brains save both."
-- That's not actually a quote from this week. It's from 70 years ago. And it was said by Erwin Rommel. Maybe try it out on your players this Saturday, Coach Dooley!

Stat of the Week
1978, 1979, 1980 A candidate for sheriff of Washington County in Nebraska has been questioned about his claims of playing for the Cornhuskers from 1978 through 1980. If he doesn't win the sheriff's election, maybe he can join George O'Leary's staff at Central Florida.

Coach on the Hot Seat
Urban Meyer: He's not at risk of being fired, but the natives are restless. And with a game against equally disappointing Georgia and Mark Richt this week (3:30 p.m. ET on CBS), the losing coach is going to emerge with a ton of pressure on him. It's hard to think that Meyer's sub-24-hour retirement in the offseason didn't really hurt Florida. His players got way out of shape that evening.

Name of the Week
Max Johnson, TE, UNLV: You can probably find a listing like this in the classifieds section of a Las Vegas newspaper: "Max Johnson, tight end, Las Vegas." And it will have nothing to do with the football player.

Stone Cold Lock of the Week
To give Oklahoma fans some cover, a Texas inmate will be executed after making the Hook 'em Horns sign. I mean, the chances are pretty good, right? Texas executes people at a pretty good rate.
DJ Gallo is the founder of SportsPickle.com. His first book, "The View from the Upper Deck," is available from only the finest bargain book retailers. His next book project will be released soon. You can follow him on Twitter at @DJGalloESPN.