Commentary
DJ Gallo's NFL Hangover, Week 10
Originally Published:
November 15, 2010
By
DJ Gallo
| Page 2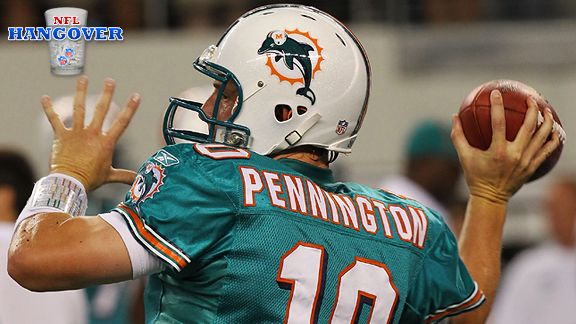 Ronald Martinez/Getty Images
Chad Pennington's return to the field as an NFL quarterback was wildly successful. He took only two snaps before getting hurt again, sure, but just by getting on the field, he earned a $200,000 bonus. That's a good day's work.
With a lockout likely on its way, it makes you wonder whether other NFL players are acting for purely financial reasons, hoping to trigger obscure bonuses of their own. That might explain some of the weirdness of this NFL season.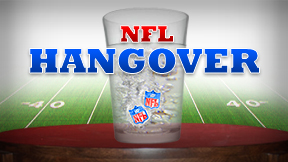 ESPN.com illustration
Are NFL players paid to deliver dramatic finishes in Gus Johnson-called games? This week, he did Texans-Jaguars, which, not surprisingly, ended on a deflected, 60-yard Hail Mary. This finish resulted in this reaction, which sort of sounds like the noise a bobcat would make if it were informed it had won the lottery.
Are AFC West and NFC West players receiving bonuses for each loss, paid by the MLS, in a conspiracy to grow the popularity of soccer in the western half of the United States? Also, are the majority of players on Western division teams actually soccer players? Could David Beckham start at quarterback for the Cardinals? (Possibly, maybe, definitely.)
Did Brett Favre, in his manipulative genius, persuade the Vikings to pay him by the turnover? (Yes.)
Did Rob Ryan, in his genius, persuade the Browns to pay him in apple turnovers? (Again, yes.)
Do Patriots offensive players earn a bonus every time they make it through one of Tom Brady's yelling, hair-flipping tirades without laughing? If not, they definitely should. I can't imagine the internal strength needed to pull that off. They're like a team full of David Blaines.
Were Cowboys players paid on the side to lose under Wade Phillips so as to get another ginger in a power position in the NFL? I'm looking at you, Roger Goodell!
Is Brad Childress paid? Really? Wow. What a ridiculous bonus. He's doing a poor job even if it was on a volunteer basis.
This Week's Horrible Fantasy Team That Crushed Your Fantasy Team
Matt Cassel, QB, Chiefs -- 33-for-53, 469 yards, 4 TDs
Fred Jackson, RB, Bills -- 170 total yards, 2 TDs
Knowshon Moreno, RB, Broncos -- 156 total yards, TDs
Mike Thomas, WR, Jaguars -- 8 catches, 149 yards, TDs
Mario Manningham, WR, Giants -- 10 catches, 91 yards, TDs
Rob Gronkowski, TE, Patriots -- 5 catches, 72 yards, 3 TDs
Stats of the Week
25 -- With a 14-12 loss to the previously winless Bills on Sunday, the Detroit Lions established an NFL record for consecutive road losses with 25. The latest record really gets the 2001-03 Detroit Lions, who held the previous record with 24, off the hook. Congratulations, Detroit!
65 -- Chad Ochocinco scored his 65th career touchdown versus the Colts, moving him into second in Bengals franchise history. Pete Johnson has the most with 70. Of course, had Pete Johnson played in modern times, he would be better known as Pete Quatroseis.
Quotes of the Week
Randy Moss, after having one catch in his Tennessee debut, a loss: "I just want to fit within the offense and help this team win. If me being a decoy and moving the ball and helping the team win is what I need to do, that's what I need to do."
I don't really have any comment on his quote. I just want to have it on record for the future -- the future being next week, probably -- when Moss starts complaining about not getting the ball enough and/or jogging on many of his routes.
Raheem Morris, Buccaneers coach: "You can't have any hangovers. This team is too young for hangovers."
Too young for hangovers? That's insane. Morris must have had a very different college experience than most people.
Kyle Orton, smiling: "Clean pants the whole game for me."
I'm going to leave that quote as is, completely out of context. And let's just pretend it supports my earlier point about hangovers.
Maurice Jones-Drew, on Jacksonville's last-second win on a Hail Mary: "I'm assuming we're all going to the ESPYS this summer, play of the year."
Whoa, whoa, whoa. A little presumptuous, don't you think? We still have almost half the season to go. The Texans could easily lose in far more dramatic ways in that time.
Pictures of the Week
• "This fog makes it look as if my body has been intercepted."
MORE GALLO PHOTO CAPTIONS!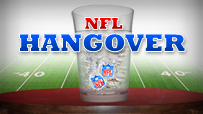 They're an important part of easing your Monday pain. These bonus NFL photos make you feel good and help you laugh at your friends.
DJ Gallo's NFL Hangover photo gallery

• "I'm passing the mantle to you now. Go. Make amazing turnovers."
• "What should I do next, oh Silver God of the Sky? And are you sure again that you're not a sticker?"
• "You know, son, to this day I regret putting a bounty out on your triplet, Randy, for not doing his chores. He could have been a coach, too."
• "Maybe if you ever become a head coach you'll be able to afford a tie like mine."
• "Hey, did you see that touchdown? Was that awesome or what?"
• "Don't be scared. I think this means Bon Jovi is about to take the stage."
• "Michael Keaton must be preparing for a movie in which he plays an old Wes Welker."
• "Good luck on the rest of the season. I hope to see you in the AFC Championship Game."
• Gallo's Week 10 bonus photos!

How They Spent Their Bye Weeks
Green Bay Packers: Making anonymous calls to newspaper reporters and pretending to be Vikings players to say how much they hate Brad Childress.
Oakland Raiders: Thinking up stupid slogans.
New Orleans Saints: Going holiday tattoo shopping with Jeremy Shockey.
San Diego Chargers: Trying to find some way to get through an off week in San Diego.
DJ Gallo is the founder of SportsPickle.com. His first book, "The View from the Upper Deck," is available from only the finest bargain-book retailers. His next book project will be released soon. You can follow him on Twitter at @DJGalloESPN.