Commentary
Page 2: Peyton Manning vs. Tom Brady
Originally Published:
November 19, 2010
By
DJ Gallo
| Page 2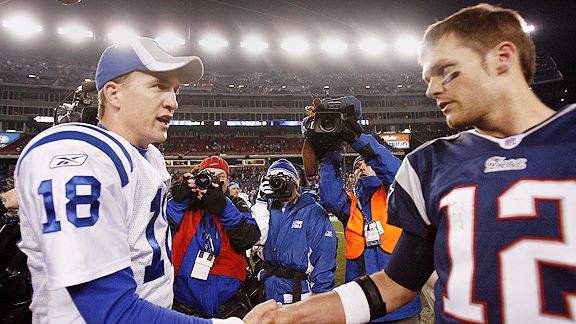 Jim Rogash/Getty ImagesPeyton Manning and Tom Brady are forever linked based on their teams' rivalry. Who's the better QB?
The Tom Brady vs. Peyton Manning debate has been argued for a decade.
Brady has more rings, but Manning has far better career statistics and his Indianapolis Colts have owned the New England Patriots in recent years. There are no good football ways to decide which quarterback is better. The only way to do it then is to compare the two via completely vacuous and superficial criteria.
Hairstyle
Tom Brady's hair has been an NFL-wide punchline since training camp opened, so it would be easy to give Peyton Manning the nod here. But it's Peyton Manning. He doesn't so much have a hairstyle as a brief, fuzzy interruption in his vast forehead. So maybe it's easier to give Brady the nod because he actually has a hairstyle.
However, Brady's dirty, lady-hair secret isn't so much that he's a Belieber, but that his hairline isn't in much better shape than Manning's. By growing his hair out he is able to conceal the fact that's he's going bald. But instead of wrapping his hair beehive-style around his head a la Donald Trump, he's gone with the Biebover. Nice try, Brady, but we're not as dumb as you think we are (thanks to the fact that we aren't exposed to toxic aerosol fumes several times a day).
But I've already gone way too far into this. So let's move on. Hairstyle advantage? Peyton Manning. He's not trying to pretend he's something he's not any more than he's trying to pay more than $7 for a haircut. Score: Manning 1, Brady 0.
Commercials
SPORTSNATION PICK 'EM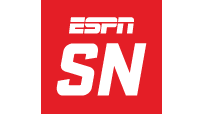 SportsNation joins the Manning-Brady fray with a serious poll and one for fun:
• Who's better QB: Manning or Brady?
• Off the field: Manning vs. Brady
Two or three years ago there wasn't a commercial break during an NFL game that didn't feature a Peyton Manning ad. It was unbearable. But now that he's backed off the quantity a little bit we can appreciate Manning for what he is -- and there is no question: the best and funniest athlete "actor." Heck, outside of Justin Timberlake, he might have been the funniest performer on "Saturday Night Live," cast members included -- no, cast members especially -- since back when he was still mooning people in Tennessee's weight room.
Whereas Brady's SNL performance was a Jeter-esque disaster and his ads are wince-inducing. You might recall that back in 2005 Brady took a not-so-subtle shot at Manning by saying that when it comes to doing ads "the most important thing" for him is "winning games" and that he won't take just any ad deal that comes along
Oh, I see. Because I'm sure endorsers are banging down Brady's door to get in on some of this charisma. Even Eli Manning probably watches Brady's ads and thinks to himself: "Wow. That guy is not comfortable on camera. I'm glad I'm not that bad." (That is, if they show Tom Brady ads on Nick, Jr.) Advantage: Manning. (Peyton, not Eli. Never Eli. Just wanted to be clear.) Score: Manning 2, Brady 0.
Lady friend
Tom Brady is married to a supermodel. Peyton Manning is married to a … a … who knows. His bio says he's married, but I'm pretty sure no one has ever actually seen his rumored bride. Do we even know she exists? I bet if you asked Manning about her, he'd say that his wife is a really hot girl from Canada who he met at summer camp. And maybe she is. But, still, she's no supermodel. Advantage: Brady. Score: Manning 2, Brady 1.
Things everyone ignores because they're superstar quarterbacks, but other players would get crucified for
The security guards at Tom Brady's wedding shot at people. As for Manning … umm … I can't really think of anything. Perhaps it's because I'm forgetting something because he is a superstar quarterback. I can't say. So Brady wins the category? Sure, why not. I don't want to anger him or his bodyguards. Score: Manning 2, Brady 2.
Embarrassing Internet photographs
Brady has the baby goat. And the NFL draft combine. And his time as a member of N*SYNC. And tiny hats. And getting fed like a child. And golf celebrations even lamer than anything you'd see on the PGA Tour.
Manning has this. But that's just a screen cap from an intentionally self-deprecating commercial. You can also find pictures of him warming up before every game while wearing a wristwatch. But being dorky doesn't trump goat-cuddling, let alone everything else a Google Image Search produces on Brady. There are also a ton of photos online of Manning signing with Kenny Chesney. But, believe it or not, there are large portions of America where that's actually cool, not embarrassing.
Maybe this category would be a little more even if the paparazzi would start stalking Manning and his super-hot Canadian wife, too. But until that happens, Advantage: Manning. Score: Manning 3, Brady 2.
Charity work
Brady and Manning are both active and generous with charity organizations. Boooooo-ring. That's not vacuous or superficial. So it has no place in this column. Let's move along to more important things.
House size
Here is Peyton Manning's house. He paid $7.5 million for it.
This is Brady's current place in Manhattan, which you can get for only $18.5 million! That's just a $73,642 monthly mortgage statement. A bargain! While that's on the market, he and Gisele are building a $20 million home down the street from Arnold Schwarzenegger's home in Brentwood, Calif. It is quite large. The servants' quarters are bigger than Manning's whole house. Shameful. Advantage: Brady. Score: Manning 3, Brady 3.
Verdict
We're clearly not getting anywhere doing this. Maybe the Colts and Patriots should just play football or something and try to decide it that way.
DJ Gallo is the founder of SportsPickle.com. His first book, "The View from the Upper Deck," is available from only the finest bargain book retailers. His next book project will be released soon. You can follow him on Twitter at @DJGalloESPN.