Commentary
What if Favre's streak never happened?
Originally Published:
December 14, 2010
By
DJ Gallo
| Page 2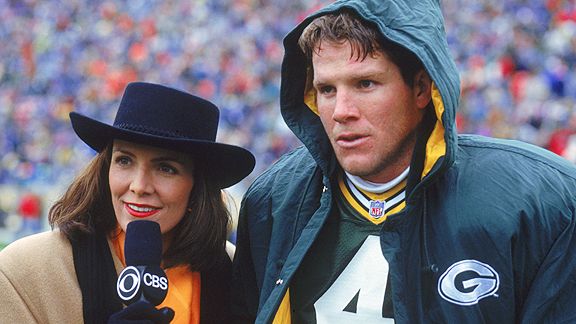 AP Photo/David StlukaEven if Brett Favre's record streak never occurred, the media would find myriad ways to worship him.
Brett Favre's fabled streak is over. We'll likely never see anything like it again in the NFL.
While many aren't sad to see the old gunslinger go, it's difficult to underestimate Favre's impact on football. But what if his streak had never gotten started? What if his early struggles had short-circuited his football career? The NFL, the world and life itself would be very different.
1992: Brett Favre gets the first start of his career against the Pittsburgh Steelers. He finishes his first season as a starter with solid numbers -- 18 touchdowns and an 85.3 passer rating -- but also 13 interceptions and six fumbles.
1993: Favre regresses noticeably in his second year, throwing 19 touchdowns and an NFL-worst 24 interceptions with eight fumbles. Favre's poor play sabotages a talented Green Bay team, which includes Reggie White, and the Packers finish 9-7 and lose to the Cowboys in the playoffs & behind two more Favre interceptions.
1994: Because of Favre's disappointing '93 season and off-the-field concerns, the Packers reacquire Don Majkowski, who threw for 4,318 yards with the Packers in 1989, and open the job up in training camp. "The Majik Man," now 30, beats out Favre for the starting job. Behind Majkowski's veteran leadership, the Packers get by the Cowboys and 49ers in the NFC playoffs and dominate the Chargers in the Super Bowl.
1995: With Majkowski having a firm hold on the starting job and in light of Favre's continued immaturity, the Packers release Favre in the final round of cuts in training camp. He is unable to catch on with another team. NFL broadcaster John Madden announces his retirement, saying, "There is an unexplainable void in my life." The Packers win Super Bowl XXX over the Pittsburgh Steelers.
1996: Favre's former team, the Atlanta Falcons, gives him a shot in training camp to compete for a job with Jeff George. The competition pushes George, the former No. 1 overall pick, to finally reach his potential. Favre is eventually cut, as Atlanta chooses veteran Bobby Hebert as backup. Favre announces he is done with football at age 27. George wins NFL MVP, and Majkowski and the Packers beat the Patriots in the Super Bowl. The Madden video game franchise folds. The video game industry itself also suffers major financial setbacks.
1997: His competitive fires still burning, Favre takes up lawn mower racing. He wins the U.S. Lawn Mower Racing Association title in his first season. Majkowski and the Packers win their fourth consecutive Super Bowl, as "Majikslinger" becomes a household term. With the video game industry in ruins, the tech bubble bursts.
1998: The economy goes into steep decline. Because of lack of competition from Majkowski's complete dominance, interest in the NFL wanes. High ticket prices in a poor economy also keep many fans away. Meanwhile, Favre wins another USLMRA title with a dramatic comeback on the final lap. Attendance soars for the down-home, affordable sport. Favre signs a lucrative endorsement contract with Wrangler.
1999: The NFL pushes through another season but announces it will take the 2000 season off in hopes of restructuring and staving off bankruptcy. The economy continues to crumble. Favre loses his first USLMRA title but wins countless more fans by accidentally mowing off his foot with a lead on the final lap. He has his foot re-attached and grittily finishes the race. He also serves as USLMRA commissioner in 1999, and the circuit enjoys record profits and earns a national TV contract.
2000: Despite two bright spots -- the jeans and lawn mower industries -- the U.S. economy continues to freefall. In such a climate, many voters seek out a populist, outsider candidate. They seek out Favre. Despite initially rebuffing a run for president with his aw-shucks charm, Favre gives in to pressure and goes on a late mower-stop tour around the country.
Polls leading up the election see Favre with a massive lead over Al Gore and George W. Bush, and the two major party candidates all but concede to the former quarterback on Election Day. However, the write-in candidacy fails, as the vast majority of voters misspell Favre's name as "Farve." A protracted recount eventually lands in the Supreme Court and all "Farve" votes are thrown out.
2001: The country falls into anarchy. With riots in the streets, Favre -- the country's desired leader -- finally addresses the nation, requests calm and appeals to America's better instincts. "This is a big world with adult problems," Favre says. "But remember the hope and promise of our youth. Let's all be like a kid out there." The president, vice president and Speaker of the House all resign, paving the way for Favre's ascension to president in a special election.
2002: President Favre immediately gets the country back on track with common-sense reform policies. The work week is expanded to seven days, even if you are hurt or sick. And people can still collect Social Security after age 65, but only after retiring and unretiring and retiring again five times -- which ultimately pushes the retirement age to 70. Even President Favre's unpopular moves are sold to the public by an adoring media, which celebrates everything he does.
2003: The economy, still led by the lawn mower and jeans sectors, continues to rebound, thanks to an uptick in the tech market behind the smashing success of "President Favre's Lawn Mower Racin'" by EA Sports and the president's support for the camera phone industry. Other industries struggle, though. Most razor manufacturers go out of business, as do men's clothing companies that specialize in anything not denim.
2004: President Favre easily wins re-election but international pressures start to mount, specifically from Canada. While the NFL was shuttered, the CFL made a grab for the league's top players. Americans begin to resent Canada's attempt to profit from a weakened United States.
2005: American-Canadian tensions continue to rise. French-speaking Canadians taunt the American president by openly pronouncing his name as it's spelled. The president fires back by saying much of the tundra-covered, frozen nation is not even worth mowing.
2006: Favre's popularity begins to wane as the economy keeps sputtering, and the public pushes back against the media's over-the-top love affair with the president. Favre announces he is considering retiring at the end of the year, which would turn the nation over to his young, promising vice president. But then he announces he will return. Favre also cuts off jeans imports to Canada, forcing the nation to weather its winters in nothing but hockey pants.
2007: President Favre enjoys a successful legislative season, after which he announces his resignation. The vice president takes office. His removal eases tensions with Canada.
2008: Favre announces he wants to be president again and attempts a coup. Even some in the media, long his biggest supporter, start to turn against him. His coup attempt is put down and he instead becomes mayor of New York City.
2009: After a disastrous year as mayor, Favre announces his retirement. He then suddenly unretires, becomes a Canadian citizen and takes over as the nation's prime minister. Bent on revenge, Favre restarts Canada's nuclear program. U.S.-Canadian tensions hit an all-time high.
2010: Prime Minister Favre launches a nuclear weapon at the United States. It is intercepted.
The Packers win the Super Bowl again behind Majkowski.
DJ Gallo is the founder of SportsPickle.com. His first book, "The View from the Upper Deck," is available from only the finest bargain-book retailers. His next book project will be released soon. You can follow him on Twitter at @DJGalloESPN.