Commentary
DJ Gallo's NFL Hangover: wild card
Originally Published:
January 10, 2011
By
DJ Gallo
| Page 2
"The underdog role, I think we cherished it and kind of took it to heart. Nobody gave us a chance and we just kind of shrugged our shoulder. We knew we were going to come out and play our ball." -- Marcus Trufant, CB, Seahawks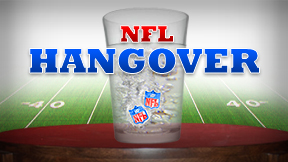 ESPN.com illustration
I hope you realize the significance of that quote. I hope you realize that centuries from now it will be included in books -- or whatever book-like things exist then -- of famous quotations. For it is the first time in NFL history in which a player said that "nobody gave us a chance" … and was actually telling the truth.
Every year playoff teams -- by definition the best teams in the league -- declare that "nobody thought we could do it!" They say this before a stadium full of adoring fans and to ever-complimentary media. The Patriots of the early half of the past decade, coming off three Super Bowl titles, would still try to claim they were underdogs. Even in 2005, when the Steelers won the Super Bowl as the AFC's sixth seed, they pulled the underdog card … despite being favored in the Super Bowl against the Seahawks. It's all invented nonsense. Athletes are better than us normals in three areas: athleticism, strength and -- most of all -- creating disrespect out of absolutely nothing.
But then came a 7-9 team from the NFL's worst division, facing the defending Super Bowl champion before a home crowd that wanted it to miss the playoffs and -- for the first time ever -- we got a team that literally no one believed in. And look what happened? They won! Fairly easily, too. It seems legitimate motivation works better than fraudulent motivation.
The other seven remaining playoff teams could be in serious trouble. With no one believing in the Seahawks, they could be a real threat. (And come on, even now no one really believes in the Seahawks. You don't go 7-9 and lose all of your games by 15 or more points by accident. The already-tired line from Saturday is: "The Seahawks weren't 7-9, they were 0-0!" Riiiiight. Regular-season record doesn't matter. The Falcons and Bears just got first-round byes because they won a lottery.)
Patriots, Falcons, Steelers, Bears, Ravens, Packers, Jets: you better invent some fake disrespect and fast or you're going to get run over by the 8-and-9 train.
Let me help.
Falcons: 74 percent of the American population never heard of the Atlanta Falcons. (Don't bother checking into this stat. It might not be true. But it sounds believable to me so go with it.)
Steelers: You lost four times this year. See how those four teams are looking at you? Yeah, they're skeptical.
Bears: Your quarterback is Jay Cutler.
Packers: A lot of people like you and your quarterback and are rooting for you to win to spite Brett Favre. Being liked is not the same as being feared. DISRESPECT!
Ravens: I think you can handle this on your own. The only thing you do better than celebrating tackles and lateraling interceptions is playing the victim.
Jets: You're the Jets.
Patriots: Hmm. Tough one. Everyone is picking you to win the Super Bowl. Everyone believes in you. There's really no way to claim that's not true. Except … wait … what's this? What is that tiny sliver of green? Is that … is that MARYLAND?! Maryland doesn't think you can win. Why, Maryland borders Washington, D.C. … only our nation's capital! This pretty much means the nation's capital thinks you suck! And, therefore, that kind of means the WHOLE COUNTRY does, too! Disrespect! DISRESPECT!
There's probably a Patriots intern printing out 53 copies of that poll right now on Bill Belichick's orders.
Stat of the Week
298 -- That's the combined rushing yards for Marshawn Lynch, Willis McGahee and James Starks this weekend, all for teams that advanced in the playoffs -- the Seahawks, Ravens and Packers, respectively. Lynch and McGahee also scored game-clinching touchdowns. What do these three players have in common? All of them have Buffalo roots. Lynch and McGahee used to be feature backs for the Bills, of course, while Starks -- who ran for 123 yards against the Eagles -- is an undrafted rookie out of the University at Buffalo.
Poor Buffalo fans. They can't even turn on football on a weekend that doesn't include a Bills game without ending up feeling like crap. It's like ex-Buffalo players are purposely rubbing in their success. BUFFALO CHEERED YOU 24/7!!!!!! AND THIS IS HOW YOU DO THEM!!!!! YOU EXPECT THEM TO LEARN FROM THIS??? HOW???!!! THEY'LL NEVER FORGET THIS!! EVER!!! THX THO ...
Quote of the Week
Reggie Wayne, WR, Colts, on the one reception (for 1 yard) he had in Indianapolis' loss to the Jets -- "It's bull. It's bull, man. I give everything I've got no matter what. Every day, I give it everything. And … one ball, that's all. I shouldn't have even suited up. I should have watched the game like everybody else. I was irrelevant."
Note: I find it's best to read that quote while listening to the Revis Island national anthem in the background. And if you don't have that on your iPod, then read the quote while listening to the Lady Gaga-inspired parody, "Manning Face."
Pictures of the Week
• "Make a move, bird, and I will kill you."
• "So we'll just run this like a scrimmage. We'll practice some plays we want to use next week and in exchange you guys will get a nice workout before heading into the offseason, sound good?"
MORE GALLO PHOTO CAPTIONS!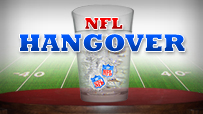 They're an important part of easing your Monday pain. These bonus NFL photos make you feel good and help you laugh at your friends.
DJ Gallo's NFL Hangover photo gallery

• "I really hope we win. I've invested a lot in this team."
• "You're the one that had to go and get the Madden cover, jerk.
• "I'm putting this on in case Marshawn Lynch tries to hit me."
• "For a guy who went to Cal, you're not so bad."
• "Ha-ha, Drew Brees! I can put one of these on my shoulders, too!"
• "I'm not crying, I just have an eighth win in my eye."
• "And my wife, who many think is only a 4 or 5, is incredibly beautiful."
• "Woooooo! No self-respect all the way to the Super Bowl! Woooooo!
• "I spent good money on this jersey for a one-year window. Don't mess it up!"
• "Another game-winning kick for you! Congratulations! This will be remembered forever.
• "Come on. Be brave. Show the world your Manning Face."
• "Nice kick. Nice earring. Call me when you do it in the Super Bowl."
• "Why are we always surprised by this?"
• "Sooooooo ... up for some make-up-for-a-loss sex?"
• "A 23-point lead? There's no way I'm shaking his hand after this game. Jerk."
• "Oh, no. We appear to be stuck. What do you want to do?" "I think we have to celebratory dance apart. You dance that way and I'll dance the other way."
• "I know you want to cry. So I won't make eye contact until you compose yourself."
• "Ahhhh! Split ends! It hurts! Help! Help me!"
• "Hey, why are you taking pictures of me. I'm just a kicker. Move along."
• "This sucks. Although, in the grand scheme of it all, things could be worse."
• "Dammit! I had a really annoying celebration planned for the Super Bowl!"
• Gallo's wild-card bonus photos!

DJ Gallo is the founder of SportsPickle.com. His first book, "The View from the Upper Deck," is available from only the finest bargain-book retailers. His next book project will be released soon. You can follow him on Twitter at @DJGalloESPN.