Commentary
NFL Hangover: Divisional round
Originally Published:
January 17, 2011
By
DJ Gallo
| Page 2
The divisional round of the NFL playoffs is over. Let's honor it with some Golden Globes-style awards. (Note: There will be no jokes about Tom Cruise or John Travolta, as I don't want to get disappeared like Ricky Gervais.)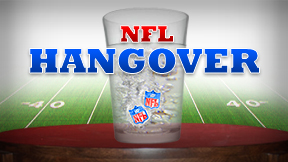 ESPN.com illustration
Best performance by an actor in a television series: Comedy -- Tom Brady, QB, Patriots
Brady has better range than any star of our time. He's gone from serious actor at the beginning of his career to the star of hilarious comedies over the past six years. His 10-0 start to his playoff career had critics raving, but it's his recent 4-5 playoff record -- with 16 touchdowns to 13 interceptions and repeated poor play against underdog playoff opponents -- that has truly delighted audiences nationwide. It might be lowbrow, slapstick comedy full of malaprops, sacks and inaccurate passes, but it works. Few Hollywood pretty boys are legitimately funny.
The question is: Is Brady now typecast as a comedic actor like fellow star Peyton Manning? It seems those are the only scripts he's given anymore.
Best director -- Rex Ryan, head coach, New York Jets
It's rare to see a production live up to its hype. Audiences can't wait to see what Ryan will come out with next, but there is concern he could be out of ideas after putting so much into Jets versus Patriots. We could be in for a letdown. Something like Rex Shyamalan's "The Lady Feet in the Water," if you will.
Best lighting -- Seattle Seahawks
Cast in the Qwest Field glow a week ago, the Seahawks looked somewhat competent. Seeing them outside of that light proved how horrid they are.
Breakthrough performance in a drama -- Antonio Brown, WR, Steelers
Catching a 58-yard pass on third-and-19 on his helmet gives Brown the award. But catching a big pass on your helmet? A little derivative. Hollywood continues to be out of ideas.
Best screen play -- Atlanta Falcons
Two of Aaron Rodgers' three first-half incompletions were on screen plays. So the Falcons did a good job of diagnosing those. So congratulations to the Falcons on that. (Note: they were nominated for no other awards.)

Best motion picture -- Rex Ryan
For better or worse, Rex Ryan "running" down the sidelines to celebrate New York's game-clinching touchdown ... I will forever have a mental picture of his body's motion. Isn't that what art is supposed to do to you? Stay with you? Make you think? Specifically: I think I really need to stay diligent about my diet and exercise.

Special effects -- Baltimore Ravens
I don't know how they do it -- CGI wizardry, I guess -- but every year the Ravens almost convince people that Joe Flacco is actually good. Of course, then you take the 3-D glasses off and it looks terrible, but still ... it almost seems real.

Best performance by an actor in a drama -- Aaron Rodgers, QB, Packers
Rodgers' performance continues to improve as Brett Favre's life continues to fall apart. Aaron Sorkin couldn't have written it better.

Does Brett Favre still have any of our attention? He has the minimum amount. The rest of our attention is back on the NFL playoffs, where his colleagues are doing things that no one on his team, including and especially Brett Favre, is intellectually or athletically capable of doing.
Quotes of the Week
Joe Flacco on losing to the Steelers again: "We're both good football teams and the bottom line is they're better at winning right now than we are."
I don't get it. That is way over my head.
Jets linebacker Bryan Thomas to the New York Post on Deion Branch accusing the Jets of being "classless": "Oh wow. Oh wow. That's a strong statement. We don't have any classless guys in here."
You know, I'm going to have to side with Thomas and the Jets here. It's not like the Patriots have always conducted themselves with class. It's kind of the pot calling the kettle black. Let's see, I think we have space for one more quote ...
Bart Scott on beating the Patriots and getting ready for the Steelers: "We'll flush this turd and re-focus on the next opponent."
OK. You know what? I think I might change my mind and side with Branch instead. The Jets might be a smidge lacking in the class department.
Stat of the Week
127.3 -- That was Mark Sanchez's quarterback rating against the Patriots, good for fourth best in Jets playoff history. He also has the second-best mark in team history from his game last year against the Bengals. The other two guys on the list are Chad Pennington and Pat Ryan. He also became just the fifth Jets quarterback to throw three touchdown passes in a playoff game, joining ... another list of past Jets quarterbacks. You know, this isn't very fair to Sanchez. He's rewriting the Jets' passing record books. But just comparing him to other Jets quarterbacks is -- to borrow Bart Scott's terminology -- like saying someone is the best turd.
Let's instead make "four" the stat of the week because Sanchez now has four career playoff road victories -- as many as Dan Marino and Brett Favre combined. There. That's more impressive because that list contains only one other former Jets quarterback.
Pictures of the Week
• "I wonder what my brother would do. I bet it would be really smart."
MORE GALLO PHOTO CAPTIONS!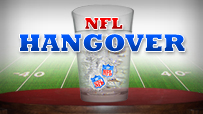 They're an important part of easing your Monday pain. These bonus NFL photos make you feel good and help you laugh at your friends.
DJ Gallo's NFL Hangover photo gallery

• "Uh-oh. Forgot to tweeze up there."
• "Can you move your legs? Yes? OK, then please close them."
• "Nice hit." "Thanks." "But I trust you know you'll be fined for it." "Yep."
• "What's that, ball? You can't believe they let me get deep on third-and-19? Yeah, me neither."
• "Would you consider not beating me all the time in exchange for a Jim Harbaugh autograph? I can get you one, you know."
• "Hey, don't get down on yourself. You played terribly and blew that lead with great poise out there today. There was a great calmness to your failure. Good job."
• "All right. Time for my monthly shower."
• "Nope. They were right. It's definitely not natural grass."
• "So that's what the Matt Ryan Face looks like. Huh."
• "Give us more respect! We're 1-0!" "Eh. You're 8-9. About to be 8-10."
• "I never thought I'd see a quarterback who's better than Rex Grossman, but we may have found the guy."
• "Mmmm. You know, I'm not gonna lie -- they're actually quite delicious."
• "No one is going to make a crack about my hair now that I'm wearing full-body tights. Take that, haters."
• "Fellas, uhh ... we didn't happen to, you know ... accidentally tape any of their practices this week, did we?"
• "Uh, helloooooooo. I'm on the ground. Flag, please."
• "OK, does anyone have any good lines about Vince Wilfork? We haven't talked enough trash about him. All I've got is something about being fat and forks. Let's workshop it."
• "I don't need this. I could be in Banff right now."
• "What? Nothing you haven't seen before."
• "I really enjoyed watching you win Super Bowls when I was a kid, Mr. Brady."
• "You won this round, you weird, giant freak."
• "If only I had a special someone's foot to help me get through this."
• Gallo's wild-card bonus photos!

DJ Gallo is the founder of SportsPickle.com. His first book, "The View from the Upper Deck," is available from only the finest bargain-book retailers. His next book project will be released soon. You can follow him on Twitter at @DJGalloESPN.