Commentary
An NFL to TV show wish list
Originally Published:
February 24, 2011
By
DJ Gallo
| Page 2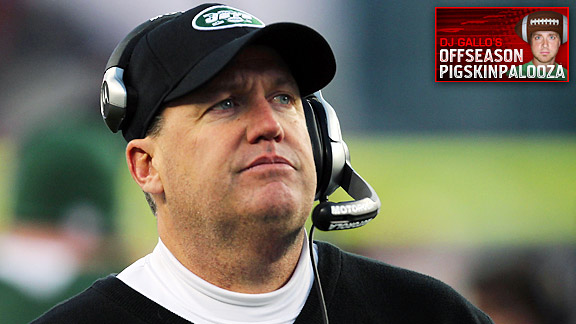 Getty ImagesRex Ryan better hope that CSI's producers didn't ask Wes Welker to be a guest writer.
New York Jets head coach Rex Ryan and general manager Mike Tannenbaum are set to appear in an upcoming episode of "CSI: NY." We don't know what the episode is about yet, but Ryan will reportedly have lines, so we can safely assume he is called in by the investigators to analyze crime scene footprints.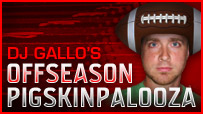 "Your perp is a petite woman, very pretty, no bunions. I'd suggest you ask around at a foot model photo shoot. In fact, I was on my way there now anyway. You should come along." Something like that.
It's unfortunate more football coaches and executives don't appear in TV shows -- both past and present. We have been robbed of many memorable television moments.
"The Office"
Washington Redskins owner Daniel Snyder shows up at the office to inform Michael Scott that Dunder Mifflin is being sued because someone wrote a mean letter to him on paper he traced back to the Dunder Mifflin warehouse. Scott takes Snyder out to lunch at Chili's to see if he can get him to drop the suit. Not only does he convince Snyder to do that, he earns Dunder Mifflin a six-year, $54 million contract to be the official paper supplier of the Washington Redskins. Snyder also somehow spends $124 on a coconut shrimp salad and Diet Pepsi. Before he leaves the office, Snyder hires Dwight as his new offensive coordinator, wowed by his theories of how beet farming crop rotation relates to the spread offense.
"House"
In a guest appearance that has been foreshadowed on a previous "House" episode, Steelers head coach Mike Tomlin stops by the hospital after discovering that Dr. Eric Foreman (played by Omar Epps) is his twin brother who was separated at birth. While the twins are catching up at lunch in the hospital cafeteria, they both suddenly -- and mysteriously! -- fall ill. Steelers players and coaches race to Tomlin's side as Dr. House investigates the twins' condition. While doing his investigation, House cracks a few racial jokes and is beaten with his cane by James Harrison.
While House is in a coma, Foreman and Tomlin get better (it turns out they had just stupidly eaten egg salad from the hospital cafeteria) and it's just in time: Ben Roethlisberger had found the nurses' lounge.
"$#*! My Dad Says"
Justin tries to convince his dad to get into sports management after a chance meeting with Jerry Jones and Jerry Jones Jr. at the airport.
"Community"
The small community college decides to start a football team. Despite having little football experience and only a handful of offensive plays, they win their first game, 82-40, against their rival community college team, which is coached by Rich Rodriguez.
"Grey's Anatomy"
A flood of horribly injured New Orleans Saints are rushed into Seattle Grace Hospital after getting run over by Marshawn Lynch. When traditional medicine fails to save them, Seattle head coach Pete Carroll steps in and tries to heal them with the power of positive thinking! They all die.
"American Idol"
Looking to bring back the edge lost with Simon Cowell's departure, FOX hires Nick Saban as a new judge. He is unimpressed and even annoyed by every performance. After the champion wows the crowd and a national audience in the finale performance, Saban says with a frown on his face: "Eh. There was definitely room for improvement." He then accepts a bigger contract to be a judge on "America's Got Talent."
"Desperate Housewives"
The ladies have their relationships tested when a hunk moves into the neighborhood: New England Patriots head coach Bill Belichick.
"Glee"
It's just a typical episode of "Glee." Except Tony Dungy happens to be there to talk to the school's football team. Or something. I don't know. I just think it would be funny to see Dungy's reaction to being on an episode of "Glee."
"The Brady Bunch"
In a "Brady Bunch" reunion episode, the Bradys get a visit from their relatives from Northern California. They are instantly drawn to their youngest cousin, Tom, due to his good looks and thick hair. Unfortunately, in the final scene, during the Brady Family football championship game in the backyard, Tom chokes and horribly overthrows his intended receiver. The ball hits Marcia in the face, rebreaking her nose.
"24"
Jack Bauer needs to disarm a bomb. If he doesn't, the entire world will explode. Unfortunately, time is running out and Bauer has been captured. He briefly breaks free in order to make a phone call with instructions on how to disarm the bomb to the one man he can trust: his former football coach. Now just seconds remain … tick tick tick tick … tick tick tick tick … tick tick tick tick … Les Miles makes himself a sandwich … tick tick tick tick … the fate of the world is at stake; Les Miles cracks his knuckles … tick tick tick … tick tick tick … 3, 2, 1 … Les Miles tries to call a timeout … there are no timeouts in bomb disarming … THE ENTIRE WORLD EXPLODES.
Admittedly, this "24" idea isn't all that original. I hear Will Forte came up with "MacGruber" after watching an LSU game.
"Seinfeld"
In a special new episode, George gets a job with the New York Jets. He quickly hates it and, as during his tenure with the Yankees, tries to get fired. He oversees a series of embarrassing incidents for the franchise, but only becomes more popular. In fact, he is even offered a guest appearance on "CSI: NY."
DJ Gallo is the founder of SportsPickle.com. His first book, "The View from the Upper Deck," is available from only the finest bargain-book retailers. His next book project will be released soon. You can follow him on Twitter at @DJGalloESPN.