Commentary
'Madden 12' cover candidates
Originally Published:
March 24, 2011
By
DJ Gallo
| Page 2
EA Sports and "Madden 12" have teamed up with ESPN.com to let fans vote for the upcoming Madden cover athlete. It's a great promotion that puts the power in the hands of the people.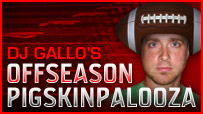 But that's also kind of scary. Ask any dictator. That's why I think we should instead rig the voting to put a pre-selected player on the cover. Like one of the players below. You vote for any of the below who actually appear in the bracket -- or start a petition for those who don't -- and I'll see what strings I can pull at ESPN.com. (Note: I have access to no strings.)
Behold the best candidates for Madden 12:
Ethan Albright, long-snapper, free agent: Albright has long-snapped for the Dolphins, Bills, Redskins and Chargers. But he is best-known among Madden gamers for being rated a 53 overall in the 2007 game -- or, according to the EA folks: the worst player in the NFL. Why not apologize to the NFL vet by putting him on the EA cover?
Just imagine the excitement on his face when he sees his picture on the cover of the most popular sports game in America. From worst player in the NFL to Madden cover boy! What a story! And then just imagine the disappointment on his face when he opens the game, starts it up and sees EA gave him a 12 overall rating. (Hey, he's an unemployed long-snapper. I feel I'm being generous with a 12.)
Chad Ochocinco, WR, Bengals: A few years ago, before his football career started to decline, Ochocinco was probably a legit contender for the Madden cover. Today he'd be a good choice not because of his on-field production, but because of his off-field salesman abilities.
He would tweet about Madden to his 1.8 million followers. He would mention the game in every interview. He would work it into his Mad Chad smartphone game. He would do some sort of Madden-related touchdown celebrations (assuming the Bengals ever score). He would probably even consider changing his name to Chad MaddenDoce. No, he wouldn't just consider it, he'd do it.
And while the Madden franchise is so ubiquitous it's hard for sales to jump much from year to year, MaddenDoce's dedicated promotion would still be able to boost them a bit across the nation. Except maybe in Cincinnati. They're kind of tired of MaddenDoce.
Eli Manning, QB, Giants: Watching Eli Manning play quarterback is nothing but fun. The confused faces, the terrible throws, the awkward falls. Now imagine that same player with a curse on him! Wow. A sight to see.
Putting Eli on the cover gives the EA folks a big name from a big market and also significant cost savings. Instead of paying for the rights for a few rock and hip-hop songs for the game's soundtrack, all they'd have to do is pay for the rights to one song: the Benny Hill theme song.
Danny Woodhead, RB, Patriots: Like Eli Manning, he's another popular player whose selection would also provide cost savings. Creating the Madden cover requires the dedicated work of a graphic designer using expensive software to manipulate the cover photo. But you don't need any of that for Woodhead. He is the exact size of a video-game box, so put away the Photoshop.
Brett Favre, QB, retired?: Another Favre cover appearance would serve as a test for the strength of the Madden brand. Would fans still buy Madden 12 even with Favre on the cover? Would sales dip? Or would sales possibly even rise as gamers buy it for its game-within-a-game feature: playing Madden with the disk and using the cover as a dartboard? It might be worth doing it just as a test case for business schools.
Aaron Rodgers and Brett Favre: OK, so maybe just having Favre on the cover is a terrible idea. But what if the EA people told Favre he was going to be on the cover and brought him in for a photo shoot ... only when he arrives, Aaron Rodgers is there, too?
So the cover is just a depressed Favre sitting on a stool while Rodgers peeks out from behind him, smiling and holding up the Super Bowl trophy? "Madden 12" sales would be huge.
Tim Tebow, QB, Broncos: It has to be difficult for the Madden designers to come out with new game-play features every year. Passer vision cones, lead blocking, the hit stick ... it would be no surprise if they're almost out of ideas.
Which is why Tebow would be a great pick. He's a huge name who led the league in jersey sales, but he also solves the new feature problem. "Madden 12" would introduce, for the first time in the franchise's history: the jump pass!
When it's third-and-short, fourth-and-short or any down at the goal line, just press the pass button and tap up on the joystick at the same time. Or if your gaming system is enabled with voice control like Xbox's Kinect, just press the pass button and say "God bless" at the same time.
NFL owners: I have no idea what kind of budget the NFLPA has, but it might help its cause to throw some toward EA in hopes of getting a group shot of NFL owners on the "Madden 12" cover. The owners are the ones who have locked out the players, so it's very relevant to the new season.
It also might be our best shot at having a 2011 NFL season. When Madden sales plummet due to a bunch of old men being on the cover, the owners might remember that absolutely no one goes to NFL games, watches them on TV or buys NFL product because of old guys, and may give the players a deal they will accept.
Bob Sanders, S, Chargers: The perpetually injured former Colts safety would put the Madden curse to the test. Would a Sanders Madden cover cause him to get hurt even more? Barring spontaneous combustion, that's not really possible. It's more likely the Madden cover would instead have the reverse effect on Sanders and make him indestructible. He'd go from Mr. Glass to Unbreakable. I think every football fan who enjoys seeing Bob Sanders play would want him on the Madden cover. Make it happen, EA.
DJ Gallo is the founder of SportsPickle.com. His first book, "The View from the Upper Deck," is available from only the finest bargain-book retailers. His next book project will be released soon. You can follow him on Twitter at @DJGalloESPN.