Commentary
Our first 2012 NFL draft preview
Originally Published:
May 5, 2011
By
DJ Gallo
| Page 2
The 2011 NFL draft is old news. It's time to project the 2012 draft.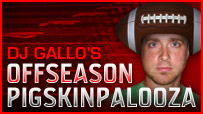 1. New England Patriots
Patriots fans have long wondered why Bill Belichick keeps stockpiling future draft picks for down the road instead of addressing immediate needs. Well, your wait is over, New England fans! Instead of trading down, the Patriots will trade their massive haul of 2012 picks to move up to No. 1 overall, where they will take … strong-legged Rice punter Kyle Martens! Mysterious as ever, Mr. Belichick.
2. Indianapolis Colts
The Colts, off the heels of a disastrous 1-15 2011 campaign owing to Peyton Manning's arrest and incarceration (there's not enough space to get into all the details here), are lucky enough to find their new franchise quarterback still available at the No. 2 spot: Stanford quarterback Andrew Luck.
3. Cincinnati Bengals
With Andy Dalton and A.J. Green coming off of their rookie season, South Carolina receiver Alshon Jeffery gives the Bengals another young offensive weapon to help them try to convince their fan base to believe that the future will be better, no really this time, just give us a few more years!
4. Washington Redskins
Desperate for a quarterback, the Redskins reach and take Terrelle Pryor with the fourth pick in the draft. Higher-rated quarterbacks are available, but Dan Snyder falls in love with the Ohio State quarterback in pre-draft interviews after Pryor promises Snyder he can tattoo advertising on him to open up an additional revenue stream.
5. Seattle Seahawks
With Matt Hasselbeck and Charlie Whitehurst not working out, Pete Carroll has a chance to draft USC quarterback Matt Barkley. Instead, he will select San Diego State QB Ryan Lindley. At the last moment, Carroll will be spooked by Barkley, remembering that one of his last seasons with a USC quarterback was so unsuccessful that it resulted in zero wins.
6. Denver Broncos
After a 15-minute delay at the draft due to a power outage from a passing thunderstorm, the Broncos will beef up their defensive line with North Carolina's Quinton Coples.
7. Arizona Cardinals
Barkley's draft free fall continues when the Cardinals pass on him out of fear he might be like Matt Leinart. They take Oklahoma quarterback Landry Jones instead.
8. Tennessee Titans
The Titans take USC offensive tackle Matt Kalil to help protect Kerry Collins, who during the 2011 season was proven to still be the team's best long-term option at quarterback despite Jake Locker's arrival.
9. Jacksonville Jaguars
With Blaine Gabbert still learning from the bench, the Jaguars select Virginia cornerback Chase Minnifield so Gabbert can throw against an elite corner in practice.
10. Baltimore Ravens
The Ravens address their aging defense by selecting Alabama linebacker Courtney Upshaw in hopes of grooming him to be Ray Lewis' eventual replacement. Baltimore says it likes Upshaw's size, tackling ability and toughness, and hopes he can develop a pregame dance and a willingness to scream clichés.
11. Oakland Raiders
Having long ignored traditional pre-draft scouting procedures, the Raiders decide to use the 2008 high school recruit rankings for their 2012 draft and select the best player still available: Miami's Arthur Brown. Unfortunately, Brown now plays for Kansas State after transferring, is only a junior and did not declare for the draft.
12. San Francisco 49ers (acquired via trade with Vikings)
The 49ers and Vikings swap the 12th and 13th picks for the sole purpose of screwing with everyone who spends so much time doing mock drafts. Too bad for them: I project this. The 49ers take South Carolina cornerback Stephon Gilmore.
13. Minnesota Vikings (acquired via trade with 49ers)
The Vikings take BYU offensive tackle Matt Reynolds. Ha! I'm smarter than you, 49ers and Vikings!
14. Cleveland Browns
The Browns seek to give Colt McCoy another weapon by taking Notre Dame wide receiver Michael Floyd. Unfortunately, they say his name backward and instead draft Floyd Michael, a 54 year-old plumber from Wichita, Kan.
15. Miami Dolphins
His drop ends. Matt Barkley is taken by the Dolphins. Miami scouts say they see Barkley as the "next Marino" because saying someone projects to be the "next Fiedler or Pennington is far too depressing."
16. Chicago Bears
The Bears select Stanford offensive tackle Jonathan Martin to protect quarterback Jay Cutler, who missed the entire 2011 season to rest the knee sprain he suffered in last year's NFC Championship Game.
17. Buffalo Bills
Resolved to the fact they'll never beat Tom Brady, the Bills will take Alabama cornerback Dre Kirkpatrick in hopes he will one day help them beat Ryan Mallett.
18. Kansas City Chiefs
Wanting to be just like the Patriots, as always, the Chiefs select a punter, Florida Atlantic's Mickey Groody.
19. New York Giants
Following another late-season collapse, head coach Tom Coughlin was fired. New player-coach Tiki Barber takes Michigan State offensive tackle Mike Adams to block for him.
20. Dallas Cowboys
The Cowboys select Oklahoma State wide receiver Justin Blackmon to take the place of Dez Bryant, who is being indefinitely held by mall security over reports that Bryant did not pay for soda refills at the food court.
21. St. Louis Rams
The Rams draft Chicago Cubs first baseman Albert Pujols in a desperate, last-ditch effort to keep him in St. Louis.
22. New York Jets
With defensive-minded Rex Ryan fired as the team's head coach due to an incident at a carnival in December, the Jets go offense and take Texas A&M receiver Jeff Fuller.
23. Philadelphia Eagles
The Eagles select Michigan State quarterback Kirk Cousins, intrigued by the idea of making him sit on the bench beside Kevin Kolb as they both watch their careers waste away.
24. Houston Texans
The draft is briefly interrupted again when President Obama breaks in to announce the capture of the last remaining high-level al-Qaida target. Then the Texans select Boston College linebacker Luke Kuechly.
25. San Diego Chargers
As a drunken streaker runs across the stage, commissioner Roger Goodell announces San Diego's pick: North Carolina defensive end Donte Paige-Moss.
26. Los Angeles Matadors
The former Tampa Bay Buccaneers franchise selects Notre Dame linebacker Manti Te'o.
27. Cleveland Browns
Using the pick they got from the Falcons in the Julio Jones trade in 2010, the Browns reach for Arkansas running back Ronnie Wingo Jr., the Razorbacks' third-leading rusher, who they hope can develop into the next Peyton Hillis.
28. New England Patriots
The Patriots select another punter, Cal's Bryan Anger. They then trade Anger to the Chiefs for Jamaal Charles. Then they trade Charles for 25 picks in the 2015 through 2024 drafts.
29. Green Bay Packers
The Packers select Oregon cornerback Cliff Harris for his coverage abilities and willingness to wear colors that are harsh on the eyes.
30. Pittsburgh Steelers
Pittsburgh was rolling into the AFC Championship Game, but was upset by the Patriots when starting running back Rashard Mendenhall went AWOL right before kickoff upon reading on the Internet that the world will end in 2012. The Steelers replace him by selecting Alabama running back Trent Richardson.
31. Carolina Panthers (acquired in trade with Patriots)
The Panthers select Florida quarterback John Brantley to compete with Jimmy Clausen and Cam Newton.
32. Detroit Lions
With the final pick of the first round, the Lions bolster their roster by picking the highest-rated player available: Jerel Worthy, defensive tackle, Michigan State. They are picking last, of course, because they won Super Bowl XLVI on the momentum gained by their 2011 draft getting high marks from most draft analysts.
DJ Gallo is the founder of SportsPickle.com. His first book, "The View from the Upper Deck," is available from only the finest bargain-book retailers. His next book project will be released soon. You can follow him on Twitter at @DJGalloESPN.