Commentary
Imagining USC's alternate reality
Originally Published:
June 9, 2011
By
DJ Gallo
| Page 2
The Bowl Championship Series stripped USC of its 2004 national championship this week. Many have already said that the punishment is toothless. And they're probably right. Nearly seven years after the fact, all of the USC players and coaches have capitalized off the success of the 2004 season, as well as the 12 wins in 2005 that were stripped by the NCAA. There's no way to undo it all and turn back the clock.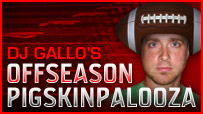 All we can do is imagine how history would have changed if USC had been caught and punished during the 2004 season. Look at it this way: If Ohio State's current scandal was uncovered in 2018 instead of now, Jim Tressel would still be the Buckeyes' coach today and Terrelle Pryor wouldn't be choosing between the UFL and CFL.
So put on your revisionist history caps, travel back to the year 2004 with me (you may want to sell your house before the housing bubble bursts) and let's imagine how the sports world would have changed.
Pete Carroll
Coaches facing scandals that result in wins and titles being vacated don't keep their jobs. But chances are that Pete Carroll, armed with his "Win Forever" philosophy, would have slipped out of L.A. before everything fell apart -- just as he took the Seahawks job last year right before the NCAA turned up the heat on the Trojans.
But where would Carroll end up? Midway through the 2004 season, Miami Dolphins head coach Dave Wannstedt resigned. Considering the Dolphins eventually hired Nick Saban out of the college ranks, it's very likely they would have targeted Carroll as their new head coach; Saban wasn't yet available, Carroll had already been a head coach in the NFL, and -- I think we can all agree -- Carroll exudes the South Beach mentality a bit more than Saban. Just a tiny, very slight, bit more.

So Pete Carroll is head coach of the Miami Dolphins. And Nick Saban remains the head coach of LSU ... until 2006 when he signs a long-term contract to become the head coach and general manager of the Buffalo Bills, a team Lou Saban led for much of the '60s and '70s. After one disastrous season -- even by Bills standards -- and despite assurances that he wants to stay in Buffalo forever, Saban takes the Alabama job.

Meanwhile, Pete Carroll piles up mediocre season after mediocre season in Miami, but manages to keep his tan going strong. All in all, not a terrible outcome for the guy.

Back in Southern California, the reeling USC program tabs 30-year-old Lane Kiffin as its new head coach. During the press conference announcing his promotion, huge rainbows appear over Oakland and Knoxville, Tenn. But no one comprehends the good fortune that they symbolize.

And five years later, facing NCAA violations of his own doing, Kiffin bolts L.A. for the vacant Seattle Seahawks job -- proving that no matter what course history takes, Seattle sports have no luck.
Reggie Bush
As the focal point of USC's infractions, Bush would have been forced to go the Terrelle Pryor route and leave school a year early. For the sake of this exercise -- because I'm making everything up, so I can continue to make up whatever I want to -- let's say that Bush left USC in time to be available for the 2005 NFL draft.

Tarnished reputation aside, Bush would still have been a top NFL prospect -- unlike Pryor is now. Who knows, maybe Bush's stock would even be higher without having the NFL curse of the Heisman on him.
GALLO PHOTO GALLERY
DJ Gallo takes you into not only AmericanAirlines Arena in Miami but also the American Airlines Center in Dallas for a dazzling look at the NBA Finals in photographs.
DJ Gallo's NBA Finals photo gallery

San Francisco had the first pick in 2005 and still likely would have reached for Utah quarterback Alex Smith. (Sorry, 49ers fans. Alternate histories are not always better histories.) But remember who had the No. 2 pick: the Miami Dolphins. And they chose Auburn running back Ronnie Brown. With Pete Carroll now running the show in Miami, he may have wanted to reunite with his own running back. So it's Carroll and Bush in Miami. How does Bush playing for the Dolphins and not the Saints impact the Saints? If you have paid attention to Bush's NFL career, you already know the answer: not one bit.
Matt Leinart
In actual history, Matt Leinart made the decision to return to USC for his senior season in 2005. That year he lost the Heisman, lost to Texas in the BCS title game and lost his ranking as the No. 1 prospect in the draft. It was a very poor decision. So there's no reason to think he doesn't make a poor decision in our alternate history, as well, choosing to return to USC for one more year -- and, with Carroll and Bush gone, resting his fate in the hands of Lane Kiffin and LenDale White.
Yikes.
There isn't much mystery here. USC has a terrible season. With the national media focused on the program, the young Kiffin appears in over his head. And stressed out by being the feature back, White gains 115 pounds and is switched to offensive tackle midseason.
Leinart's play suffers without his premier weapons. Off-the-field problems plague him, too. His friendship with singer Nick Lachey ends when Lachey decides that he can't be associated with scandal while trying to jump-start his post-98 Degrees solo career. Spending less time out of the house, Lachey saves his marriage with Jessica Simpson and today the couple is seen as the king and queen of American arts. OK, maybe not. Back to Leinart ...
He doesn't really lose the Heisman this time because he's never in contention. And USC doesn't get upset by Texas in the championship game. Both possible positives. But his draft stock still plummets. Now, instead of falling from the presumed No. 1 overall pick to the Cardinals at No. 10, he goes to the Cardinals in the fifth round for far less money.
With less money, Leinart has much more focus. He is groomed behind Kurt Warner, and when Warner retires after the 2009 season, Leinart steps in and -- a la Aaron Rodgers in Green Bay -- leads the Cardinals to new heights.
And Leinart has all the time in the world to throw the ball thanks to his blindside being protected by the 10th overall pick in the 2006 draft: Pro Bowl offensive tackle LenDale White.
DJ Gallo is the founder of SportsPickle.com. His first book, "The View from the Upper Deck," is available from only the finest bargain-book retailers. His next book project will be released soon. You can follow him on Twitter at @DJGalloESPN.