Today is the most depressing day on the American working calendar. Many people are back at work for the first time after the long holiday break. The return is worse for sports fans because the past few days have been an orgy of leisure time, BCS bowls and NFL playoff games.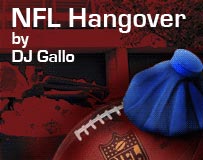 But it's over. Now we must go back to the grind for the next several months because there isn't a single universal day off on the horizon until Memorial Day.
So how can you make it through this first day back? By using some of the same principles that are used in playoff football, of course.
Key No. 1: Don't force the issue
Look at yourself as Joe Flacco, a rookie quarterback on the road. You don't need to go out and try to make plays. Let the game come to you. Do only what is absolutely necessary. Are there a bunch of e-mails in your inbox? Respond only to those that ask you a direct question and request an immediate response. Is your office or work cell phone ringing? Let it go to voice mail. Did you have a meeting scheduled for today? Reschedule for next week. Remember: Channel your inner Flacco. Let your co-workers worry about the overall success of the company today. Your job is simply to fill your position and not do anything stupid.
Key No. 2: Give 110 percent
Here is what Fox's on-the-field cameras caught Adrian Peterson telling his fellow Minnesota Vikings running backs before kickoff against the Philadelphia Eagles: "It's win or go home. This is what we [prepared] for, this day right now. Let's go out there and play 110 percent and leave it on the field. Let's go out … [inaudible] … let's play as one. RBs on 1 … 1, 2, 3 … RBs!"
If you use just half as many clichés and jargon today, you'll be golden. Litter your speech with terms such as "thinking outside the box" and "core competencies," and you'll sound as if you're working and as if you know what you're talking about. You won't be and you don't, of course. But that's not important today.
Key No. 3: Make halftime adjustments

Three of the four teams that won this weekend took the lead in the third quarter (Cardinals) or increased their margin of victory after halftime (Ravens and Eagles). Great teams adjust at the break. You must adjust during your lunch break. For example, did you almost bump into your project manager outside the bathroom this morning? Whoa. Close call. Better find another route for the second half of the day. Or maybe just hide in the bathroom. And don't forget to hydrate at halftime. A beer at lunch can give you the strength you need down the stretch.
Key No. 4: Focus on special teams
Special-teams players may not get all the glory, but they are just as important as everyone else. Chargers punter Mike Scifres showed how good special teams can make the difference, just as Minnesota's punt-coverage unit showed how bad special teams can cripple a football team. So talk to the special-teams unit at work today. The janitor, for example. Did he find anything disgusting in the bathroom lately? Has he caught Steve from marketing huffing glue again? Now pop over to the cubicle of that attractive intern. Stare at her. She doesn't see you yet. Oh, yeah. Whoops … yes, she did see you. "Oh, hey, uh … how was your holiday, Michel- … is it Cheryl? Brittany?" OK, that was awkward. Not every punt can be Scifresesque.
Key No. 5: Don't let their stars beat you
The Falcons had to stop Larry Fitzgerald. He caught six passes for 101 yards and a touchdown. The Vikings had to stop Brian Westbrook. He put the game away in the fourth quarter with a 71-yard touchdown reception. Chad Pennington had to take care of the ball. He threw four interceptions, two of which went to Ravens safety Ed Reed.
All of which is to say: Don't even go near your boss' office today unless you want work. Don't be stupid.
Key No. 6: Run out the clock
You have the lead. The day is almost over. You just have to go through the motions and not do anything stupid. That's right, it's time to make unnecessary copies of documents. And slowly. Consider it a test run for making copies of NCAA tournament brackets in two months.
Photos of the Week
• "Arthur's heart … Arthur's hopes … Arthur's dreams … Arthur's last name … all blank."
• "Without you, we couldn't have had just one home playoff win in 61 years. Thanks a bunch."
• "You know, in that I don't look stupid for wearing an Edgerrin James jersey."
• "Do not question me! I audibled to leapfrog. Now do it!"
• "I wonder whether I'm doing his bummed-out face right. I need to show I can stand in for him in any circumstance."
• "I'm open, Chad! I'm open! Hit me!"
• "Great job. I think Miami is still stuck in the culture of losing that you established last season."
• " … and the Dolphins still make me cry ..."
• "Now we've all been exposed."
Stat of the Week
328: Darren Sproles had 328 all-purpose yards against the Colts, good for third all time in a playoff game behind Ed Podolak of the Chiefs (350 in 1971) and Keith Lincoln of the Chargers (329 in 1963). Sproles' mark is more impressive to me, though. Podolak and Lincoln were both 6-1, bruising backs who could just fall forward and pick up 2 yards. When Sproles falls forward, he doesn't even advance the ball past the line of scrimmage -- you know, barring a light breeze happening along and carrying him way downfield.
Quote of the Week
"A lot of people coming into this game said we were the worst playoff team ever to get in. … I think we rallied around that."
-- Ken Whisenhunt, head coach, Arizona Cardinals
So the Cardinals played the disrespect card. It's about time. Some teams -- such as the Ravens, or the Patriots back when they were winning -- play the disrespect card every week for even the smallest slights. And sometimes for invented slights. But the Cardinals have been called the worst franchise in the NFL and an embarrassment to football for decades. Yet all that time they kept the disrespect card hidden away, waiting for the right time to play it. But now it has been played. And it worked. Considering they're 10-point underdogs on the road next week at Carolina, can it work again? I have my doubts. That disrespect card has been tucked inside their sleeve for so long, gradually becoming more and more caked in dry skin, dirt and sweat, that if they try to pull it out and play it again, it's apt to disintegrate. And I really doubt that Bill Bidwill will spring for a new deck of cards. Those things go for $1, sometimes $2.
10 Things I Think I Think with 110 Percent of My Thoughts
1. Darren Sproles is listed at 5-foot-6. But considering most professional athletes are actually 1 to 3 inches shorter than their listed height -- especially the smaller guys -- who knows, Sproles could be closer to 5-foot-3. The only way to know would be to measure him, but he probably wouldn't be up for that. What we do know is that he is small enough to be issued the mandatory Oompa Loompa gloves but big enough that it appears to be a bit of a struggle to toss him against a Velcro wall.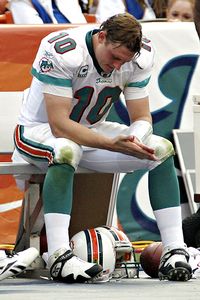 AP Photo/ Jeffrey M. Boan
Congrats Chad! You're well on you way to defending your "crown."
2. Peyton Manning won league MVP for leading an injury-riddled Colts team to the postseason. Now he is out of the playoffs. Mike Smith won coach of the year and Matt Ryan won rookie of the year for turning the Falcons from 4-12 to 11-5. Now they are out of the playoffs. And Chad Pennington won comeback player of the year for putting together a solid season after stinking it up last season. Now he is out of the playoffs, too. Awards obviously didn't equal postseason success. But although the others simply lost, at least Pennington was savvy enough to lay the groundwork for winning his award again next season.
3. I think we all owe an apology to the West. All season we made fun of how awful the two West divisions are, and look what happened: Arizona and San Diego both advanced to the divisional round of the playoffs. Our scorn should have been directed at the center of the country. With Indianapolis and Minnesota out of the playoffs, the only team that remains from the so-called flyover states is the Tennessee Titans. Middle America always talks about how it is ignored and, well -- this time it is right. So, really, we must apologize to the Midwest: We apologize for not giving you the attention you deserve for having lousy football teams.
4. Andy Reid is growing a playoff beard, and I support him wholeheartedly. More football players and coaches should do it. If you think about it, football is perhaps the best sport for playoff beards. This calls for rankings. Here are my rankings of best pro sports to grow a playoff beard:
1. NHL: The NHL started it, and it's a proud tradition.
2. NFL: Playoff football is played outdoors in the cold. Why not grow a beard? It should be a tradition here, too.
3. MLB: The temperatures drop in October, and growing beards is the sort of thing that binds a team together during the grind of daily games.
4. WNBA: Beards are too hot for indoor sports. On the other hand, WNBA playoff beards might sell a few more seats to carnival-goers.
5. NBA: See above about indoor sports. Plus, considering the length of the NBA playoffs, by the Finals, most players would get their crossovers stuck in their beards.
5. Another early postseason exit by the Colts means Peyton Manning is 7-8 in his career in the playoffs. The questions are starting again: Is Peyton Manning a choker? Is he a pathetic loser when it counts? Can we all admit he is far inferior to Tom Brady and should forever be thrown out of the National Football League? (For proper context, all the above questions should be read aloud in a Boston accent.)
6. I now present the short play: "Al Davis Interviews Kevin Gilbride by Telephone."
(Scene: Al Davis' office. An assistant hands him the phone.)
Assistant: "Kevin Gilbride, Mr. Davis."
Davis: "Kevin Gilbride, please."
Gilbride: "Hello, sir. This is Kevin Gilbride."
Davis: "What? What do you mean, young lady? I didn't even tell you where yet. I want Kevin Gilbride, New York, New York, home offices of the New York football Giants."
Gilbride: "Yes, sir. This is him. This is Kevin Gilbride."
Davis: "Look, missy -- I don't care for tomfoolery from switchboard gals! Just connect me to Kevin Gilbride, New York, New York!"
Gilbride: "Umm …"
(Davis' assistant takes the phone.)
Assistant (whispering): "Mr. Gilbride, my apologies. Al thinks you are a switchboard operator. Just go along with it."
(Hands phone back to Davis.)
Davis: "Kevin Gilbride, New York, New York! Now!"
Gilbride: "Umm … yes, sir, Mr. Davis … umm, beep, boop … boop, boop?"
Davis: "Beep, boop, boop? What kind of newfangled switchboard is that?"
Gilbride: "Umm … a newfangled one? OK, I'm connecting you now, sir … here he is … hello, Mr. Davis, this is Kevin Gilbride."
Davis: "This is Kevin Gilbride? Who I am talking to right now? Kevin Gilbride of the New York Giants?"
Gilbride: "Yes, sir."
Davis: "You are Kevin Gilbride?"
Gilbride: "Yes I am."
Davis: "Why, you have the voice of a switchboard gal! You can't be a leader of men! This interview is over!"
(Davis slams down phone.)
(End scene.)
7. Why was Ed Hochuli assigned to ref a playoff game? I thought he was supposed to be graded down for that early-season Chargers-Broncos debacle, yet there he was Sunday, sunning his guns in Miami. I guess that means that despite his poor calls this season, many officials were graded even worse. Yikes. Perhaps it's time for the NFL to adjust how it evaluates officials. I can see how the bench press is helpful in evaluating college prospects at the NFL combine, but the league should rid it from grading referees.
8. The NFL's overtime system must be changed for the playoffs. Sudden death works in hockey because there is fluid change of possessions between scores. And, heck, even if a hockey team does score on its first possession, at least it had a shot at the puck via the faceoff. The teams don't flip a coin. But it makes no more sense to have sudden death in football than it does to use sudden death in baseball or basketball. Sudden death : the integrity of football :: "Sudden Death" : the integrity of your DVD collection.
9. The Ravens recently were told the story about how Muhammad Ali kept saying "What's my name?" while he was pummeling Ernie Terrell in a 1967 bout. Inspired by the tale, for the playoffs the team printed up T-shirts that read "What's My Name?" because the players want to make their opponents learn their name and respect them -- or some such manufactured nonsense. But underneath "What's My Name?" on the shirt, the answer is printed: "Ravens." I guess that's a reminder to the Ravens themselves. Or maybe it's a helpful aid to their opponents?
"What's my name?"
"Ravens."
"Yeah, you know me now, don't you? You respect me!"
"Well, no, not really. It's just that the answer to your little query was right there on your snazzy purple tee."
10. If you read this column at work, congratulations. You followed my game plan up top, then went above and beyond. That's the mark of the great ones: Tom Brady, Joe Montana, the 1972 Miami Dolphins, that guy in your office who keeps getting promoted even though he doesn't work hard or do his job. You can be him!
DJ Gallo is the founder and sole writer of the sports satire site SportsPickle.com. He also is a regular contributor to ESPN The Magazine and has written for The Onion and Cracked. His first book, "SportsPickle Presents: The View from the Upper Deck," is on sale now.