A match for the ages
2008 Wimbledon final: Nadal over Federer 6-4, 6-4, 6-7 (5), 6-7 (8), 9-7
Originally Published:
December 14, 2009
Page 2
In the end, it's the games that matter. The anticipation that this game may produce something special. It's why we sit through Titans 47, Rams 7. It's why we sift through blogs and trade rumors and box scores. We like the games. We picked the 25 best games, matches and races of the decade -- believe us, it wasn't easy -- and listed them in reverse chronological order. We want you to rank the best. Enjoy the look back as ESPN.com writers remember these classics.
ESPN.com's 25 best games of the decade: 1 | 2 | 3 | 4 | 5 | 6 | 7 | 8 | 9 | 10 | 11 | 12 | 13 | 14 | 15 | 16 | 17 | 18 | 19 | 20 | 21 | 22 | 23 | 24 | 25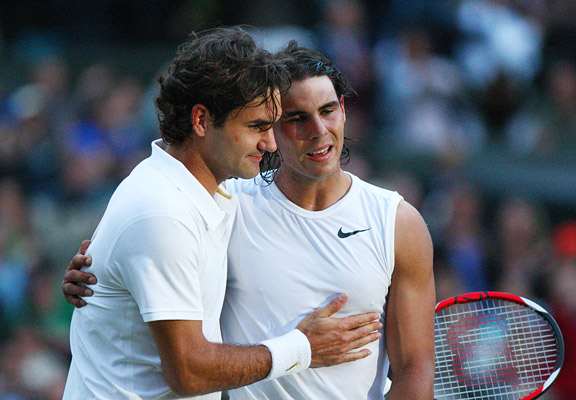 Ryan Pierce/AFP/Getty Images
Rafael Nadal arrived at Wimbledon in 2008 as a one-trick pony.
A month past his 22nd birthday, the muscular Spaniard had won four Grand Slam singles titles -- all on the cloying red clay of Roland Garros. True, he had reached the final at the All England Club the two previous years, but each time, Roger Federer had lifted the sterling trophy that goes to the most gifted player on grass.
Nadal is a punishing, physical player willing to rally as long as it takes his opponent to show weakness. But to win on grass, his Uncle Toni constantly reminded him, he would have to play out of his comfort zone -- move forward when every instinct screamed retreat.
A month earlier, Nadal had humiliated Federer in the French Open final, allowing him only four games. But in the Wimbledon final, Federer's private game reserve, the Swiss player was seeking his record-breaking sixth consecutive title.
Playing as close to the baseline as he dared, Nadal took the first two sets from Federer, then lost consecutive tiebreakers to send the match to the ultimate fifth set. Three rain delays took the match to the very edge of darkness, and, at 9:16 p.m. local time, after 4 hours and 48 minutes, Nadal prevailed 9-7.
A service break at 7-all and a crazy final hold -- down love-15, Nadal serve and volleyed for the first time in the match -- that saw Federer's last forehand fall into the net was the difference. Nadal collapsed on his back, his arms and legs splayed wide.
"It is impossible to explain what I felt in that moment," he said later. "It's a dream to play on this court."
It was the longest men's singles final on the books, going all the way back to 1877. Most observers -- John McEnroe, Boris Becker and Bud Collins among them -- agreed that it was the finest match they had ever seen. A distinguished silver-haired gentleman who had watched from the front row of the Royal Box agreed.
"That's the best tennis match I've ever seen in my life," said Bjorn Borg, whose record Federer had attempted to break. "I was just happy to be there, to be a part of the final. You cannot see a better tennis match."
In some ways, the loss defined Federer as the great champion he is.
"Probably later in life, I'll go, 'That was a great match,'" Federer said afterward. "Right now, it's not much of a feel-good thing. Probably my hardest loss, by far."
--Greg Garber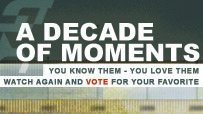 ESPN CLASSIC BEST GAMES: DEC. 26-JAN. 2
BEST OF THE DECADE
DECADE TRIVIA QUIZ
NHL
BASEBALL
NBA
SOCCERNET
HIGH SCHOOL SPORTS