Birth of a dynasty
Super Bowl XXXVI: Patriots 20, Rams 17
Originally Published:
December 14, 2009
Page 2
In the end, it's the games that matter. The anticipation that this game may produce something special. It's why we sit through Titans 47, Rams 7. It's why we sift through blogs and trade rumors and box scores. We like the games. We picked the 25 best games, matches and races of the decade -- believe us, it wasn't easy -- and listed them in reverse chronological order. We want you to rank the best. Enjoy the look back as ESPN.com writers remember these classics.
ESPN.com's 25 best games of the decade: 1 | 2 | 3 | 4 | 5 | 6 | 7 | 8 | 9 | 10 | 11 | 12 | 13 | 14 | 15 | 16 | 17 | 18 | 19 | 20 | 21 | 22 | 23 | 24 | 25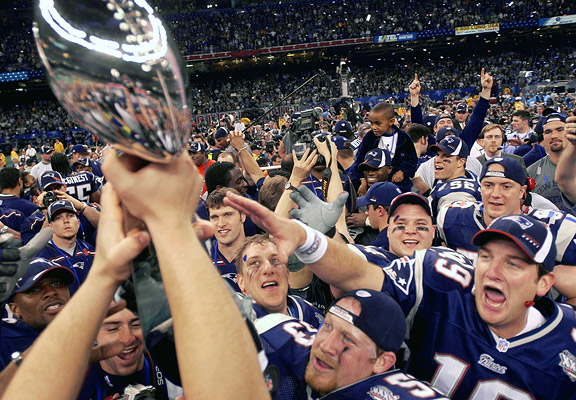 AP Photo/David J. Phillip
Mental intensity and focus are the things I remember most about Super Bowl XXXVI.
I watched the regular-season meeting between the Patriots and the Rams in Foxborough and came out of that game sensing there might be something special about the Patriots. Mike Martz, then the Rams coach, told me afterward that the Patriots might be the best team he played that season, which caught me off-guard. Tom Brady was in his first year as a starter. Bill Belichick protected him by limiting him to mostly short throws during the regular season, but that smart baptism allowed him to gain confidence as the starter who replaced the injured Drew Bledsoe.
Like many, I incorrectly predicted an easy Rams victory. The Rams billed themselves as "The Greatest Show on Turf." The Patriots were upstarts with a low-scoring offense and an unproven quarterback. The intensity and focus of this Super Bowl manifested itself in the fourth quarter. Brady, who threw for only 145 yards in the game, led 17-3 heading into that final period.
In the fourth quarter, Martz became focused as the play-caller. His calls were brilliant. Kurt Warner opened the quarter with a 77-yard drive to cut the deficit in half, but some of this throws had been off all day. I remember asking Martz after the game about Warner's injuring his thumb. He had no idea what I was talking about, but everyone else in the Superdome and watching on television had seen Warner shaking a bruised thumb a couple times coming off the field early in the game.
With 1:51 left, Warner put aside any pain in the thumb and made one of the best drives of the decade in the Super Bowl. I remember watching Warner throw the game-tying 26-yard touchdown pass to Ricky Proehl and saying "wow," because it was the perfect pass for the defense called by Belichick.
Next thing you know, Brady turned into Joe Montana. He focused on short completions in the game-winning 53-yard drive over the final 90 seconds. Adam Vinatieri, the best clutch field goal kicker of the 2000s, nailed a 48-yard field goal, and a potential Rams dynasty ended while a Patriots dynasty began.
--John Clayton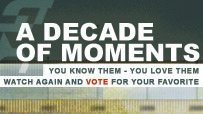 ESPN CLASSIC BEST GAMES: DEC. 26-JAN. 2
BEST OF THE DECADE
DECADE TRIVIA QUIZ
NHL
BASEBALL
NBA
SOCCERNET
HIGH SCHOOL SPORTS