The most valuable eyeglasses in sports
Originally Published:
February 23, 2010
Page 2
Can you imagine Joe Paterno without his trademark eyeglasses?
Of course not. Paterno without those thick lenses is like Superman without a cape. But the legendary Penn State football coach recently donated a pair of his glasses to a local charity auction, and Michelle and Kevin Coppola of Elkridge, Md. -- husband and wife, both Penn State grads -- paid a pretty penny for them: $9,000, to be exact.
That got us thinking. What other iconic sports glasses should be auctioned off for charity? Here's a few pairs we'd like to see on the market (click on the person's name to see the spectacles):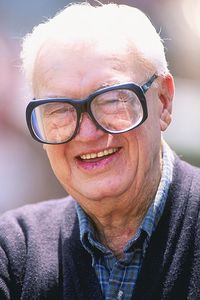 Getty ImagesIt doesn't get any better than Harry Caray's spectacles.
• Kareem Abdul-Jabbar
Perhaps Kareem's futuristic goggles are so memorable because they mirror the graceful curves of the thousands of hook shots he hit en route to 38,387 career points and six NBA rings.
• Raymond Berry
His eyes were very light-sensitive, so he used Bausch & Lomb swim goggles as frames and inserted heavy shaded lenses supported by trainer's tape and a primitive headstrap to create his own sunglasses. The original set sold on eBay for $155 in 2007.
• Harry Caray
No caricature of Harry Caray would be complete without his oversized glasses. As much as these spectacles bring to mind a face, they conjure up a voice that called thousands of games and capped "Take Me Out to the Ball Game" with "Let's get some runs."
• Al Davis
A one-of-a-kind collector's item, these glasses had to be pried from Davis' cold, dead face.
• Eric Dickerson
Rec Specs may not have helped many high school football players get prom dates in 1984, but they sure looked good under Eric Dickerson's helmet as he ran for 2,105 yards with the Rams.
• Leon Durham
Maybe he should've had his prescription checked before the 1984 NLCS.
• David Duval
Wraparound shades helped plenty of athletes handle the glare of the spotlight in the 1990s -- including David Duval, who was the PGA Tour's top money-winner in 1998. Like many in the spotlight, his fall from the top was almost as swift as his rise. He's struggled since winning the British Open in 2001.
• Eric Gagne
From 2002 to 2004, Eric Gagne saw the strike zone clearly enough to save 84 consecutive games and win a Cy Young Award. With hindsight (and the Mitchell Report), there were some blind spots in his vision that now lead to "regrets."
[+] Enlarge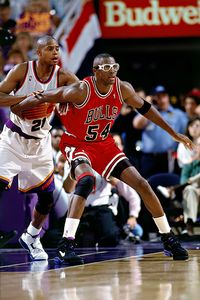 Andrew D. Bernstein/Getty ImagesHorace Grant's goggles worked on the court, and in the pool.
• Horace Grant
Grant always looked as though he'd just rushed from a scuba-diving trip right onto the court -- as if he'd thrown his flippers and snorkel to the team manager right before tipoff.
• Bob Griese
Bob Griese quarterbacked the Miami Dolphins to two Super Bowl titles. He threw 192 TDs in 14 years in the NFL. He is a member of the College Football Hall of Fame and the Pro Football Hall of Fame. His son, Brian, is a member of no football Halls of Fame and played 11 forgettable season in the NFL. But he played then without looking like his dad. Therefore, Brian > Bob.
• Tony Gwynn
All the better to not lose hamburgers in the sun.
• The Hanson Brothers
Forever proved that while you may not punch a man wearing glasses, he sure as heck will punch you.
• Tom Henke
Tom Henke had 311 saves in his career and won a World Series with the Toronto Blue Jays. His weapons? A devastating fastball and forkball. But more devastating to batters was the knowledge that they'd just been struck out by a nerd.
• Kei Igawa
Looked like a blind man wearing dark glasses. Pitched that way, too.
• Reggie Jackson
Sometimes he wore glasses, sometimes he didn't. Kind of similar to the way he played defense -- sometimes he did, sometimes he didn't.
• Vince Lombardi
It's shocking to go back and look at old pictures of the great NFL coach. Might change the way you think about him. Lombardi: Champion. Legend. Hipster.
• Joe Maddon
The Tampa Bay Rays have even given away replicas of Maddon's glasses in a promotion to honor their brainiac skipper.
• Moses Malone
No way Jon Koncak could've pulled off this look.
• Jim McMahon
McMahon would rock sunglasses everywhere -- from magazine covers to the inside of a dark closet. It's like he wasn't protecting his eyes from the sun, he was protecting the sun from his eyes.
• George Mikan
People made fun of his glasses behind his back, but back then, no one was tall enough to say it to his face.
• Martina Navratilova
A true trailblazer in the world of sports, she proved that rocking funny-looking eyewear wasn't purely a man's game.
[+] Enlarge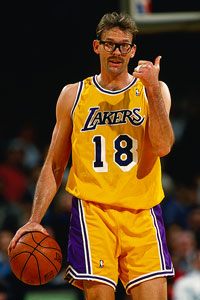 Andy Hayt/NBAE/Getty ImagesYes, this man is now an NBA head coach.
• Alex Ovechkin
He actually pulls off the Village People chic look.
• Richard Petty
Plenty of athletes have worn sunglasses, but none with a definitive look like Richard Petty's 200-win racing ensemble crowned with a cowboy hat.
• Kurt Rambis
Rambis' nearly even lens-size-to-shorts-length ratio will never be approached again.
• Manny Ramirez
Wore the Oakley Thumps on the field for one inning in 2005. Terry Francona later claimed it was "because of the glare."
• Chris Sabo
We're pretty sure Sabo was a carpenter in his spare time. Those Bob Vila glasses were better suited for making his own coffee table than for laying down a bunt.
• Kent Tekulve
Impossible to think of him without his tinted glasses. They're even shown on this T-shirt.
• Ricky "Wild Thing" Vaughn
Just imagine what he could have accomplished in the California Penal League if his problem had been discovered earlier?
• James Worthy
Man, look at those things. They should have called him Big Frames James.
Kelley Carter, Kieran Darcy, Matt Friedrichs, DJ Gallo, Greg Hardy, Jemele Hill, Lynn Hoppes, Paul Lukas, Toby Mergler, Thomas Neumann, David Schoenfield, Adam Watson and Jennifer Williams contributed to this list.