It seems everyone is either talking to Kevin Durant or getting fined for talking about him.
Is he going to the NBA?
What kind of shoes is he going to wear?
Would you take him over Oden?
No doubt, the kid is special.
But if you really comb through the Big 12 Conference, you will find a sophomore who actually had a better season than Jesus Shuttlesworth 2007. That player finished in the top five in the nation in scoring, rebounding and blocked shots while shooting 57 percent from the field.
That player has 60 consecutive double-doubles and is nicknamed "Baby Shaq."
No doubt Courtney Paris is special.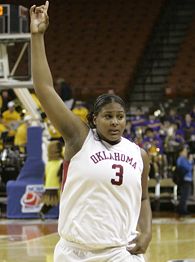 AP Photo/Sue Ogrocki
It's not Courtney Paris' problem
if you're intimidated by a 6-foot-4,
240-pound women.
If the Oklahoma star were to declare for the draft, she'd go No. 1. But the WNBA doesn't allow for early entry -- not that Paris would leave school for the pros ahead of schedule anyway. Unlike Durant, Paris doesn't have the seduction of fame and fortune waiting for her after college. At least not to play ball. The WNBA doesn't generate the same kind of revenue as the NBA, and more importantly, its athletes don't have that level of respect. It may not be politically correct to say, but since the average sports fan can only name the "hot chicks," I don't think I'm going that far out on a limb.
At 6-foot-4 and 240 pounds, you will not see Courtney Paris gracing too many magazine covers. Not because she's undeserving -- obviously she is -- but because she's not "cover girl material." Paris is pretty. But she's also big. Not just tall -- but big. And she's strong and athletic and confident, and she and others like her make a lot of people feel uncomfortable. Particularly men. Consequently magazines, including the one I write for, will always hesitate to put her on the cover even during the height of basketball season despite the fact she's the best college basketball player in the country.
This is March madness.
Actually, I take that back. I do have a better description for it. It's blatant discrimination. And it's something that happens a bit too comfortably in a country that is quick to wave its moral finger at other nations when it comes to gender equity issues. True, we do not force our women to marry men they don't know or walk several paces behind their mates, but the way we portray big women in the media -- or worse yet, ignore them -- can be as painful as a closed-hand strike to the face.
We all know the story about the guy who grew up in the 'hood, surrounded by violence, but is able to escape poverty, and even death, because of the game of basketball. But understand that the game can save a different kind of life as well. A life handcuffed by low self-esteem because she's taller than everyone else in class. A life so desperate to be liked that she'd rather be promiscuous than continue being alone. Her story may not sound as dramatic as the guy who makes it out of the 'hood, but it is just as important. Basketball gives larger women a place to belong and often starts the healing process from years of psychological abuse.
"By the time I was 10, I was wearing a size 10 shoe," former WNBA All-Star Kym Hampton says. "She didn't know she was hurting me, but my mom would say stuff to me all of the time about my size like, 'I just don't know what to do with you,' and, 'Why are you so big?' Plus I am dark-skinned, and growing up in the '60s, lighter-skinned African-Americans were treated better than the darker ones. So growing up, life for me was really hard. I felt as if I had no worth."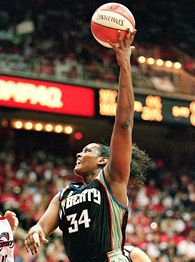 Todd Warshaw/Getty Images
Former WNBA All-Star Kym Hampton says "society can be really cruel" to big women.
In fact Hampton, who is 6-2 and 210 pounds, still remembers the exact words she overheard a group of boys saying about her in high school one day.
"They were like, 'Big Kym is cute, but dang she's too big,'" the 44-year-old said. "That just reinforced all of my feelings that no one liked me because of my size. When you're a guy and you're bigger than everyone else, you're worshipped. But for a woman? Let's just say society can be really cruel.
"But basketball saved my life because it was the first time I started to feel good about my body and who I was. I had confidence for the first time."
San Antonio Silver Stars center Chantelle Anderson is 6-6 and 192 pounds. She also said basketball was her saving grace.
"You know, everyone wants to be accepted and treated well," Anderson said. "And I know some women who are tall like me and they will slouch so they don't stick out, or maybe sleep with a bunch of guys just so people would hang around them. I didn't do that because I had basketball and it helped me develop confidence in myself."
Anderson said she believes some men like to joke that all female basketball players are lesbians because it makes them feel better about being intimidated by a woman who is taller or stronger than them.
"When me and my girls go to the club, we'll all wear high-heeled shoes and dress real cute," she says, "and if you're not man enough to approach me, then obviously you're not man enough to date me."
Paris was fortunate because she grew up in a tall family, especially her father, 6-6 former NFL star Bubba Paris.
"If you don't have a circle of influence that tells you being big is beautiful and you only look at what society tells you how you should look, then you're going to have self-esteem issues," Bubba said. "But we always taught our children (Courtney's twin sister, Ashley, also plays at Oklahoma) that being big was beautiful, and we were always playing sports, so they knew about the advantages of size.
"Our society paints a picture that girls are supposed to be tiny, but in other cultures like Russia, bigger women are considered very sexy and appealing. That just tells you that all of these judgments we put on each other are arbitrary, and that there are no set rules as to what a woman should look like or be."
Bubba particularly understands what it's like to be discriminated against because of size, thanks to legendary 49ers coach Bill Walsh.
"He had a 270-pound rule, and he would fine me $50 for every pound every day I was over 270 pounds," Bubba said. "It wasn't that I was fat. I am just a big man. I lost over $1 million in fines and was constantly tormented because of my size, and it affected my self-esteem very much in the same way a woman's self-esteem would be affected because of her size.
"But things are getting better for women now because of things like the WNBA and NCAA Tournament. Little girls who may be bigger than everyone else can see bigger women playing and smiling and being confident, and it gives them role models they can look up to. It still is not easy for some because there is a lot of discrimination out there, but basketball is helping."
So what about Courtney? Are you proud to be a big girl?
"This is who I am, and there is nothing wrong with it," she said. "I was fortunate to have good role models in my life, so I didn't have to feel ashamed about my size. I do know other girls who are playing basketball now and are still struggling with their confidence. I know it can be hard, but I don't care what anybody says, big is beautiful."
Kia Vaughn, Rutgers' 6-4, 198-pound center, agrees.
"I love basketball, and I love my friends, and I love me," Vaughn says. "Now my friend Courtney Paris … that's a big girl."
And she's loving every minute of it. So what's our problem.
LZ Granderson is a senior writer for ESPN The Magazine and host of the ESPN360 talk show "Game Night." LZ can be reached at l_granderson@yahoo.com.