New balls please.
Those three words -- racy, if your mind is in the gutter -- anchored an ATP campaign launched back in 2000, designed to attract interest in men's tennis -- which was being overshadowed by the Williams sisters.
Classy? No. Effective? Definitely.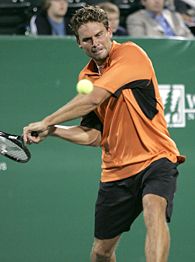 AP Photo/Pat Sullivan
Gambill had all kinds of potential, but potential doesn't always pan out.
I stumbled across those old ads, which featured a group of up-and-coming players, a couple weeks ago. And my eyes were immediately drawn to two players in particular -- a then-18-year-old Roger Federer and one Jan-Michael Gambill, the lone American featured.
Talk about two ships passing in the night.
Since that campaign, Federer has elbowed his way amongst the all-time greats, while Gambill's gone from "the future of American tennis" -- which Pete Sampras once called him -- to the No. 668-ranked player in the world.
A career full of promise was derailed by injuries: chronic back pain, followed by severe shin splints, followed by an ailing shoulder. With each new affliction, Gambill would overcompensate when playing matches, which inevitably caused a new injury.
Few things in sports are tougher to watch than a promising athlete being betrayed by his body. We saw it with Bill Walton, Ken Griffey Jr. and Grant Hill.
No one knows if Gambill was destined for greatness. But what is clear is that he was cruelly robbed of his chance to try.
The truly ironic thing about Gambill's injuries is that, at the height of his popularity, no one in his sport appeared to have a better body to work with. At 6-3 and 200 pounds, Gambill was the Matthew McConaughey of tennis -- ripped and perpetually shirtless.
He had a contract with one of the top modeling agencies in the country. Sports Illustrated for Women included him in its swimsuit issue. And People named him to its "50 Most Beautiful" list.
But Gambill was more than just guy-candy. He was a very good player.
Utilizing a booming serve and excellent court movement, Gambill won three singles titles and five doubles titles, reaching No. 14 in the world rankings and beating some of the game's greats along the way -- including Sampras, Andre Agassi and even his "Balls" mate Federer.
Between his good looks and rapidly improving game, Gambill should've become one of the most sought-after athletes in the country. But as an old college friend once told me, potential rain don't grow no crop. And so today the 29-year-old is trying to find a place in a sport that has since moved on without him.
"I'm not bitter," Gambill says. "I have nothing to be bitter about. Tennis has been very good to me. I mean, sometimes I think about what could've been, but you can't spend too much time thinking about that because that's in the past.
"Climbing back to where I was will be difficult. I have to be able to go and grind just like I did when I first started. The question is, is my game there? I believe my game is, but at the same time I have to prove it. And it's been hard."
For sure.
This past weekend Gambill lost in the opening round of the U.S. Clay Court Tennis Championships in Houston. He also lost in the first round of his previous event. Gambill only played in three singles tournaments in 2006, and he was forced to retire due to injury in two of them.
With a game more suited for grass and hard courts, Gambill plans to skip the heart of the clay season in favor of rest and preparation. He'll also use this time to work at the Gambill Tennis Academy, which he founded with his father and coach, Chuck, in Hawaii. Since turning pro in 1996, Gambill has earned over $3.6 million, but most of that came during the good times. In tennis, if you don't win, you don't make much -- and if you don't play, you don't make anything. Between singles and doubles, Gambill's made only $11,350 this season. So his tennis academy not only allows him to pass along his knowledge, it also help pays the bills.
"The school is something I wanted to do after I got done playing," Gambill said. "I didn't think I'd be looking at the end of my career like this, but who does?
"The strange thing for me is I was going to the gym two hours a day to make sure those things didn't happen to me. But I've done a lot and have seen a lot of the world. So if this is the way it's supposed to go, then that's the way it goes."
Gambill has a lot of peace about where he is right now. But I'll always be restless at the thought of where he could be.
LZ Granderson is a senior writer for ESPN The Magazine and host of the ESPN360 talk show "Game Night." LZ can be reached at l_granderson@yahoo.com.