It's a good thing Tennessee Titans coach Jeff Fisher has one of the best defenses in the NFL. He needs it to overcome the play of his quarterback, Vince Young.
"Can you beat good teams with a bad offense?"
"Should he run more?"
"Oh God, he's passing!"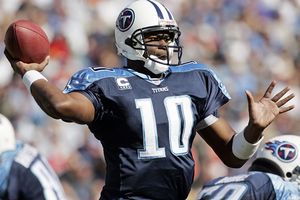 AP Photo/Mark Humphrey
Vince Young hasn't exactly put up gaudy passing statistics so far this season. But his team is winning.
Those were comments made by Titans fans during their team's manhandling of the Carolina Panthers last Sunday in Nashville. The 20-7 win was Tennessee's 12th in its past 15 regular-season games. You would think, between that and a 6-2 start -- with the two losses coming by a combined five points -- there would be no room for haters in this town. But when your starting quarterback is statistically one of the worst in the league, there's always a little room.
"We're winning games, that's all that matters," Fisher said repeatedly during his press conference the following day, deflecting criticism from the local media.
And he's right. Only four teams have better records than the Titans right now, and none of them -- the Colts, Cowboys, Packers and Patriots -- are giving up fewer than the Titans' 15.5 points allowed per contest.
But Music City probably would feel a heck of a lot better if the offense weren't so ... well, offensive, at times. Young hasn't thrown a touchdown pass since September, and he has yet to eclipse 200 passing yards in a game this season. Meanwhile, Young's backup, Kerry Collins, threw for 280 yards in his only start of the season, a 38-36 win over the Houston Texans.
No one is calling for a quarterback change, mind you. But you can't help but wonder how much better this team might be if its starting QB didn't own the second-worst QB rating in the league. Yes, I know it's weird to think like that, especially considering how Young electrified us all just a season ago, improvising out of the pocket and keeping drives alive with his legs. But, so far this season, last year's AP Offensive Rookie of the Year has had two games with less than 100 yards passing, four games with a QB rating of 50.3 or below, and five games in which his longest completion went for fewer than 25 yards -- not exactly the kind of numbers you would expect from a Pro Bowler who's gracing the cover of "Madden 08" and playing in a Norm Chow offense. And, perhaps even more disturbing is the fact that all those great runs Young was known for have basically disappeared.
In less time than it takes Don Shula to backtrack from a controversial statement, Young has gone from being "the truth" to being "the question." As in, "What happened to you?"
"I don't pay any attention to what people on the outside are saying about me," Young said. "Only thing that matters is what my coaches say and my teammates.
"I'm just a piece of the puzzle. I'm going to try to make plays and do whatever I can to help my team win. That's all I care about, winning as a team. It's not all about me."
True. But it's your face on the cover of the team's media guide, dude. And in a conference dominated by Tom Brady and Peyton Manning, any hope of being regarded as an elite team starts with the quarterback. Particularly his arm.
Young might not admit that. But he's certainly aware of it.
Which is why he occasionally dons a T-shirt in practice that reads, "I am a quarterback." When I asked him about that, he said the NFL distributed the shirts as part of a promotion. But only a fool would believe Young -- whose rookie highlights were dominated by running plays -- is not also making a statement.
Think about it.
The last black, fleet-footed quarterback to take the NFL by storm in his first season spent his last three seasons not getting better -- racking up more turnovers (53) than touchdown passes (49), as teams dared him to beat them with his arm.
I don't know how Young feels about dogs. But he doesn't like being compared to Michael Vick, who eventually became nothing more than a rushing highlight reel. Sure, Vick was exciting. But he also won only two playoff games. Young doesn't want to draw those comparisons, so he seems to have abandoned the thing that links the two of them -- running -- in exchange for attempting to do what No. 7 couldn't do -- become complete.
It's like Tiger Woods changing his swing: taking two steps back, hoping to make a quantum leap forward.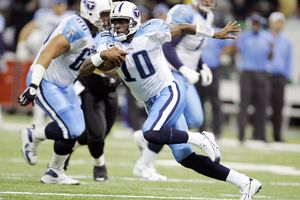 AP Photo/Alex Brandon
Many Titans fans would probably like to see more of this.
Last season, Young rushed the ball 83 times for a rookie-QB record of 552 yards. This year, he has rushed 47 times for only 165 yards. That decline in production is not about the spies defenses have been employing on him this year-- although teams are doing that more -- as much as it is about Young not looking to run as often as he did a year ago. He's scrambling with "pass" on the brain, looking to make plays with his arm rather than his legs. And his struggles appear to be a byproduct of his re-invention.
"Last year, I would struggle sometimes trying to figure out what was going on on the field," Young said. "So when things started to break down, I would take off and try to make something happen.
"This year, I'm understanding more and can really see the field. I'm getting a whole lot better. This is only my second year. Be patient with me, be patient with the offense."
But for how long, and at what cost?
Fisher can afford to let Young go through his growing pains now, because the team is winning. But it's quite possible the Titans, not the Colts, would be sitting atop the AFC South if Young were running more. In the Titans' 22-20 loss to the Colts in September, Young ran five times for 53 yards. A couple more rushing attempts, and who knows? Last season, the Titans beat the then-10-1 Colts, with Young rushing nine times for 78 yards.
"We're not telling him to run the ball more or anything like that," Fisher said. "Vince is a very smart player, and he's taking what the defense gives him.
"I'm happy with his play. He's working hard, he's reading defenses and he's putting us in a position to win. People want to see 300 and 400 yards passing, and we're not that kind of team right now. I'm not sure if we'll ever be. But we're winning games, and that's the most important thing."
Yes, it is. Whatever Young is doing seems to be working, and whatever he isn't doing hasn't seemed to hurt. Remember, the defenses of the Chicago Bears and Baltimore Ravens dragged their teams -- shoddy quarterback play and all -- all the way to the Super Bowl in recent years. And the good news for the folks of Nashville is, in game simulations performed by stat-analyzing giant AccuScore, Young actually has outperformed both Rex Grossman and Trent Dilfer.
Of course, neither Grossman nor Dilfer is a starter anymore.
But that's beside the point.
LZ Granderson is a senior writer for ESPN The Magazine and a regular contributor to Page 2. He can be reached at l_granderson@yahoo.com.